When a customer holds a Lush product in their hands, they are holding so much more than just a product. They are holding a complex web of relationships, flows of materials, creativity, human labour, movement and life that had to be arranged in a particular way so that the product could end up in their hands.
From the Lush Labs all the way into the hands of the #LushCommunity, there is so much that goes into what we do. We invent every product from scratch, source each raw material carefully, make the products fresh by hand in one of our local factories around the world and transport the product to our shops or our digital fulfilment warehouses. We reach out to our customers through the staff in our shops, the articles on our website and our videos on YouTube. We also give a platform to ethical causes through our campaigns and support amazing groups through our giving programmes.
Every movement we make in this journey is an opportunity to Leave the World Lusher than we Found it, and to help create a cosmetics revolution that can save the planet.
100

%
recycled Plastic Packaging since 2008
89

%
UK&I estate powered by renewable vegan electricity
346

252
Total individual packaging items returned via our return scheme
How we are creating a revolution
naked cosmetics & circular packaging
fighting animal testing
fresh & self-preserving
regenerative & wildlife friendly supply chain
fair tax & living wage
digital ethics
So just how is Lush trying to Create a Cosmetics Revolution?
Our direct impact is very small. All of the recycled paper we use in our carrier bags and ballistics bags is the same as avoiding 6 minutes of deforestation. Six minutes! The real difference we can make is in how we use our impact and integrity to make a bigger contribution relative to our size: how we can influence and how we can leverage this web of relationships for systemic change. While our direct impact in the world may seem small, it is through selling products that we can manifest this systemic transformation together. This is what matters. This is why Lush matters. We still have a long way to go and we can't go alone. We need partners, allies, staff and customers to be engaged on the shop floor and online. We need the #LushCommunity to rise with us.
Naked cosmetics and circular packaging
What sets us apart is that we continue to push the envelope in what we do. It is not simply the fact that we sell naked products which require no packaging (and have done so for 25 years), but it is the fact that we then go and open four completely naked stores where you can meet pretty much all of your cosmetics needs with zero packaging. We revolutionise by making innovative naked products such as solid hair gel, solid shower gel, shower bombs, deodorants and have you seen the new solid self-emulsifying moisturisers?
We're different because we have been using 100% recycled plastic for our pots and bottles for over a decade. We've even set up our own recycling centres, have a closed loop take-back scheme that is 10 years old and source 84% of all our packaging from recycled materials. In addition, we are removing legacy plastic, taking back bottle tops, and collecting nearly 30 tonnes of litter through #plasticgrab.
Not only that, but how about utilising packaging that sequesters more carbon dioxide than it emits? And not just a little more, but 33 times its weight. That's 1.2kg of CO2 per 33g of packaging! This is the Lush Cork Pot, which is also reusable and encourages refilling.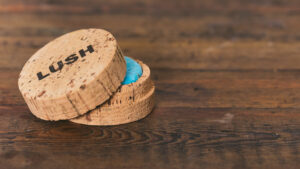 The curious case of cork
Meet the group behind helping Lush create a new, truly-sustainable shampoo bar case, and discover how it travels by boat…
33

x
sequesters more carbon dioxide than it emits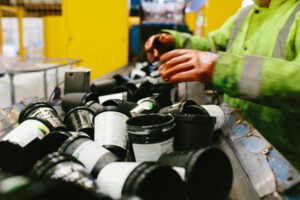 Closed Loop
Get involved in the Lush Bring it back scheme to help us close the loop and also get money off your next Lush purchase!
Packaging and gifts
It has been more than 11 years since we started using 100% recycled paper for our gift wrap. We have continued developing ways to support communities that produce materials from waste, whether it is banana fibre paper (also propping up the oldest paper mill left in the UK) or cotton paper made from waste fibres in Nepal.
The difference we are making goes beyond our reusable canvas bags and goes beyond the Furoshiki tradition of Japan which we have adopted to start a whole new trend on how to use reusable textiles for wrapping. As well as using vintage scarves in a complete circular economy, we also partner with re-wrap for full traceability of our organic cotton. Here, we work with networks of farmers doing human scale water techniques that help to rehydrate the land while supporting re-wrap's amazing work to convert conventional cotton farmers to agroecology farming in the suicide belt of India.
And how about packaging as a service? At Lush when you bring back your old knot-wrap, we will give you a new one and you will only pay 50% for the service of cleaning and wrapping.
Our role is to help change the culture around packaging.
227

k
miles of wrapping paper can be saved by switching to knot wraps
Carbon positive supply chains
After much work and a new software – Makersite, we were able to calculate the carbon emissions in our supply chain. In our efforts to absorb much more CO2 than we emit as a business, we have developed an insetting model and strategy. We will strive towards becoming a climate positive company through improving land use practices in our supply chain rather than buying offsets. An annual sum of £300k will be dedicated to improving land practices in the top 50 materials causing the highest pressure on land. Please read the buying report for more information. Lush Japan have now also mapped their value chain carbon emissions, including operations, supply chain and customer use.
What next?
Complete scope 3 emissions, including emissions from customer use and product waste, also for other markets. We are now working on actioning land based improvements for top emitting ingredients.
113k tonnes tCO2e
Lush's supply chain greenhouse gas emissions
Essential oils and absolutes
74%
Total UK supply chain footprint is 113,000 tCO2e. 30 materials make up 80%, 25 of those are essential oils and absolutes.

Lush Campaigns
A brief history…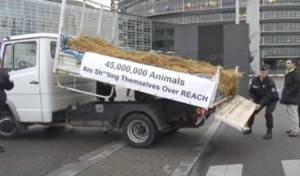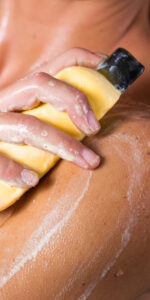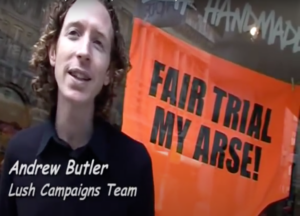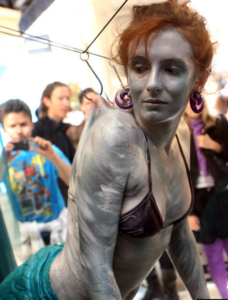 2008
Reprieve: Guantanamo Bay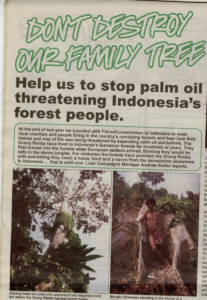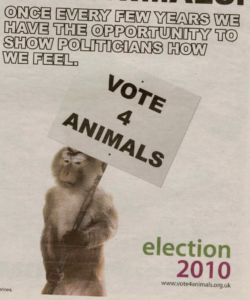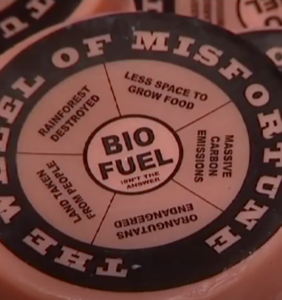 2010
Wheel of Misfortune: Biofuel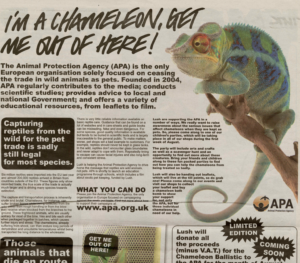 2010
I'm a chameleon get me out of here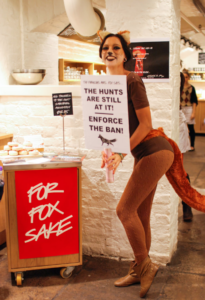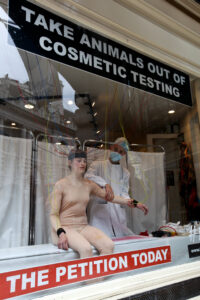 2012
Fighting Animal Testing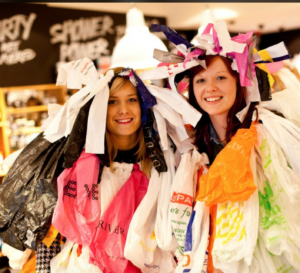 2012
No cop out for wildlife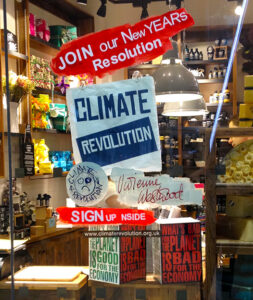 2013
Climate Revolution with Vivienne Westwood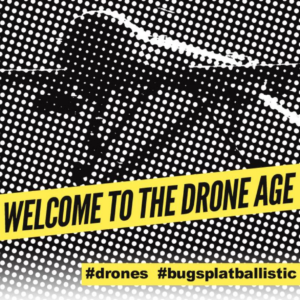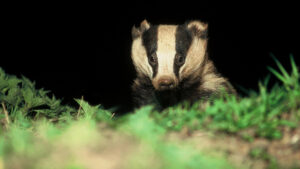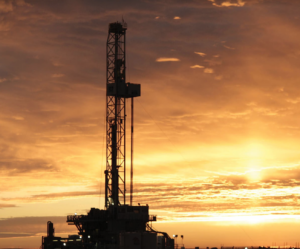 2013
Don't Frack our Future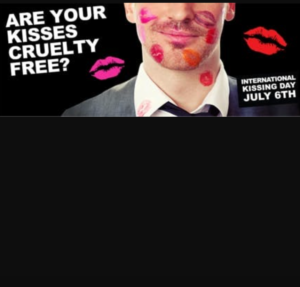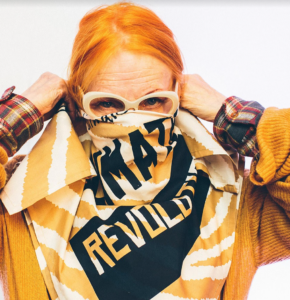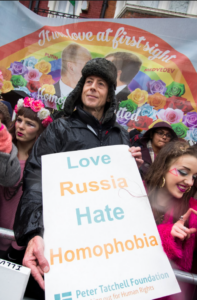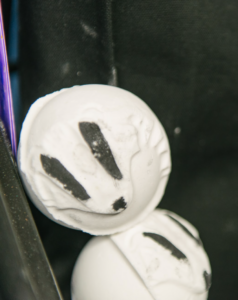 2014
Anti-badger cull projects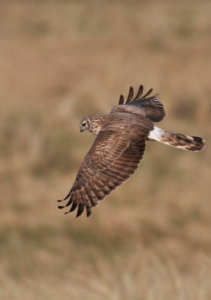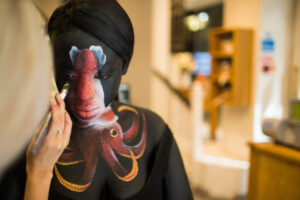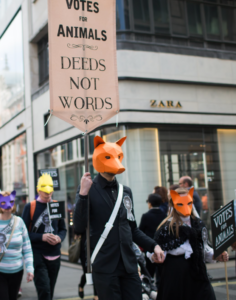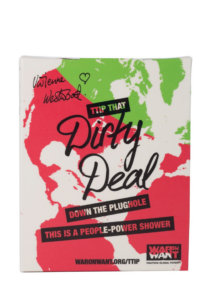 2015
TTIP with Vivienne Westwood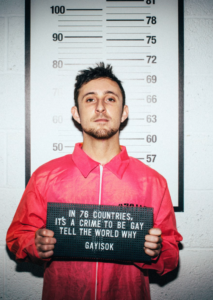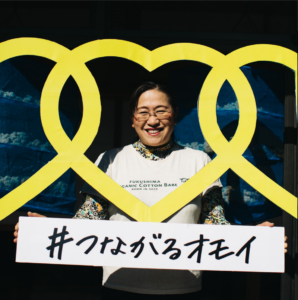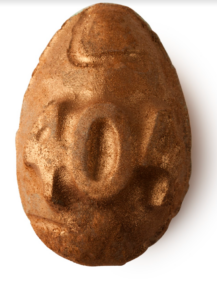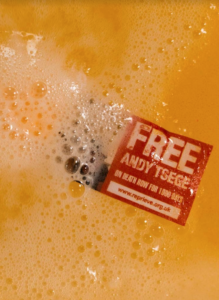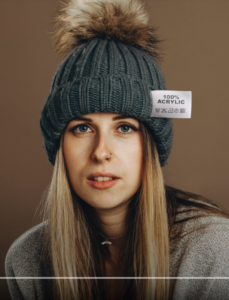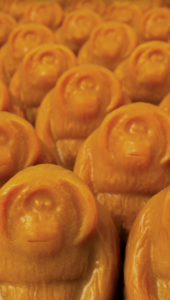 2017
SOS – Sumatran Orangutan Society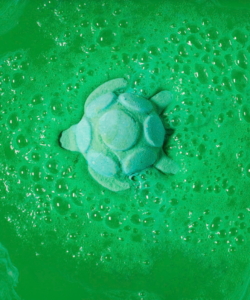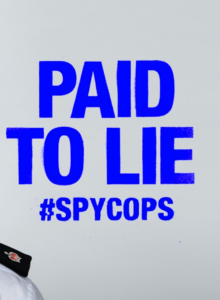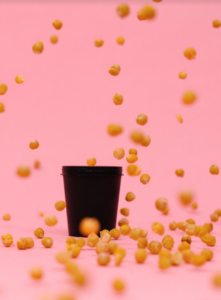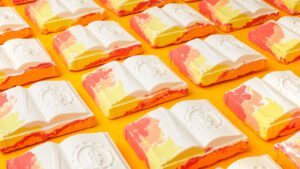 Fighting Animal Testing
We have been fighting against animal testing since before we opened our first shop, and the fight continues today. Animal testing is poor science and its results are irrelevant for humans.
100

%
Never tested on Animals, only humans
At Lush, we are firmly against animal testing and have one of the most meaningful and serious animal testing policies there is. This is something we have been campaigning on extensively for years, even before Lush was born.
More recently, our commitment to non-animal testing has extended to us setting up The Lush Prize to help move a whole field. We also give funding support for campaigners and lobbyists to help move legislation in the worst offending countries for animal testing. Furthermore, we put our money where our mouth is and have become one of the main customers for one of the few labs to do safety tests without animals or animal by-products. These values and actions are just as much a part of a Lush product as the ingredients are.
Regenerative supply chains
After more than a decade of leading our ethical buying at Lush, it became clear to Simon Constantine that sustainability alone is not enough and that we ought to be turning our attention to regenerative practices.
We have always been a leading voice in the conversation when it comes to regeneration and have always aimed to action positive change in a way that goes above and beyond.
To demonstrate this, we have not only developed a soap base without palm oil, but this soap base is available for any other manufacturer who would like to use it. Additionally, we have helped to set up a permaculture training centre to teach locals in Sumatra about alternatives to palm so they can have an alternative livelihood, as well as running several campaigns to raise awareness on the issue to help fund local regeneration of old palm plantations.
As part of the "Migratory Bird Project", the Lush Japan Buying team started using Ryukyu Awamori, (alcohol made from rice). The project helps to protect the Japanese hornbill, as part of the proceeds from the alcohol sales will go towards "Forestation of the Japanese hornbill" on Irabu Island.
Currently, we're in the early stages of developing a potentially ground-breaking project for supply chains in refugee camps, and we continue to set up investments in reforestation projects. Let's not forget that we also have the Lush Regeneration Fund (aka Re:Fund) and have set up the Lush Spring Prize; a biennial award promoting social and environmental regeneration.
Fresh and Self Preserving
What we do isn't rocket science; humans have been preening and grooming forever. But in recent years many formulae have become synthetic, complicated, over emulsified and most of all over preserved.
Since the very beginning, we've been working hard to remove preservatives from our products, without compromising on quality. We have discovered that using the whole fruit or vegetable is infinitely more beneficial than isolating a property and removing it from a fruit, vegetable or natural material and adding it to a cosmetic product to try to recreate its function and are heading towards a future where we hope that we don't need to preserve anything at all.
From 2015 to 2017, our purchase of parabens dropped from 11,700 kilos annually to 7735 kilos, even though our sales increased in the same time period!
We are passionate about educating our customers on what works best for them and why, as well providing full transparency on exactly what is inside of each product. To discover more about our Freshness Policy, click here.
65

%
Self-preserving products
Fair tax and Living Wage
Not only do we pay a fair price for the raw materials we buy, but we like to play fair and to distribute fair shares. We do not deal in any offshore tax fiddling, making our fair contribution to society. We were one of the first to join the London (then UK) Living Wage programme. We are also partly employee owned through our Employee Benefit Trust. In the UK, we recently moved to a different bank who have invited us to participate when they are making investment policy decisions.
Digital Ethics
Not only do we build our own website, apps and till software, but we build it on open source language, gift code back to the community and host it on servers using renewable energy tariffs. We then create an app that reduces the amount of plastic displays we see in the shop, reduces the amount of water and wastage for demos and creates better communication for the customers. Did you see the new super low energy signage in the Florence perfume library?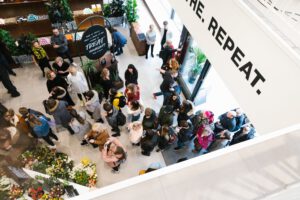 Our Missions
These policies are in place in Lush UK and are evolving continuously as we respond to world events, new legislation and our own aspirations to constantly improve. Where Lush has partners in other parts of the world, we encourage them to adopt similar policies.
Employee Benefit Trust
Lush has been 10% employee owned since 2017, giving our staff a voice and a say in our ethics and more. Meet the trustees and discover Lush's journey…

Gender Pay Gap reports
Lush should be a safe place and a level playing field for everyone, regardless of sex, gender, age, race, class, nationality, religion, disability, sexuality or any perceived difference. Our aim is always to celebrate diversity, to be gender neutral and for opportunity to be equally available to all.
ESC Big Tech
For millions of people around the world, near constant surveillance and rights abuses are a daily occurrence. But we're not talking about 'somewhere' or 'someone' else. We're talking about you; everyone using certain platforms and technologies, everyday.