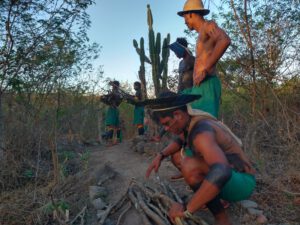 Our Giving
The Lush Regenerative Fund, or Re:Fund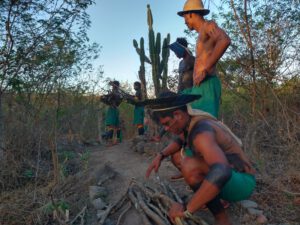 Since 2018
The Lush Regeneration Fund (or Re:Fund) aims to support ecological and social regeneration around the world. The Re:Fund does this by offering small grants in aid of the boundary-pushing work of organisations who are putting regenerative and nature-inspired principles into practice.
The Re:Fund supports projects working to meet a number of, or all, of these goals:
Protect habitats in partnership with land defenders.
Regenerate land through meaningful livelihoods.
Rewild ecosystems while strengthening community.
The Re:Fund raises money through the sale of carrier bags in Lush shops, in a number of Lush markets.
What do we mean by regeneration?
The Re:Fund supports groups who apply regenerative design paradigms, principles, and processes with their project. Regenerative design can be broadly defined as a holistic approach to supporting, creating or engaging with systems which innately restore the capacity to sustain life (including non-human life) and abundance. Regenerative practitioners see themselves as embedded in the systems that they are part of, rather than being 'outside agents'.
Two examples of prominent regenerative movements are Permaculture and Agroecology. Regenerative design paradigms, principles, and processes can be applied not just in land-based practices like farming, but across the board – for example with agriculture, housing, governance, and more.
Examples of projects
Green ReLeaf Using Permaculture and peacebuilding methods, Green ReLeaf works across the Philippines to support communities who were displaced by violence or environmental crises. Their two primary projects support internally displaced peoples (IDPs) who suffered from religious extremist attacks in Marawi, and IDPs who had their homes destroyed by Typhoons. Karambi Group of People with Disabilities Karambi Group of People with Disabilities (KaGPWD) works to empower persons with disabilities and promote regenerative solutions for food security in western Uganda. Their work includes the delivery of permaculture training in schools and with community groups, and more broadly promoting permaculture techniques for food security, environmental protection, fighting malnutrition and poverty in their region. Guyra Paraguay What little remains of the Atlantic forests (5%) are considered second only to the Amazon in biodiversity. Guyra Paraguay is trying to save the second largest fragment remaining in Paraguay, and the most threatened: the 73,000ha 'San Rafael National Park'. They do this by reforesting 15ha of degraded land, planting 12,000 native trees, supporting the land rights of the Mby´a Guarani peoples, and improving security in the forest.
Recent Changes
During 2018-2020, Re:Fund donations were categorised within three 'Circles', each supporting regeneration within different sectors. These were: Disaster & Displacement, Permaculture & Agroecology, and Rewilding & Biodiversity. While we still support groups working in those sectors, these categories were removed in 2021 so that Re:Fund donations could have a wider reach. In 2019, Lush referred to our bag charge scheme (collecting funds through the sale of carrier bags in stores) as a 'Bags to Branches' scheme. However, Lush does not use this term any more. The bag charge funds are collected and disseminated through the Re:Fund, to ecological and social regeneration.