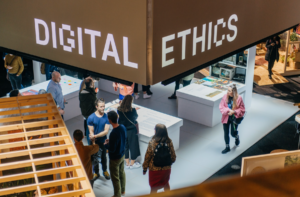 Digital Ethics
What Lush are doing to revolutionise the technology industry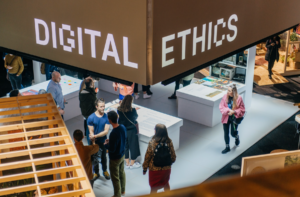 Lush Digital believes technology should give more than it takes from society and the environment. Tech doesn't have to be unethical; it can be built for the greater good and impact positive social change. We champion ethical hardware, ethical data, ethical design and open source technologies and we support and elevate communities who feel the same.
Just as Lush ethically sources ingredients, and treats employees right, Lush Digital believes in ethical tech that gives back to the community. Lush Digital aims to provide open source solutions where before only monopolies existed; it fights for supply chain transparency, digital innovation and telling the Tech For Good stories that are as yet untold.
Digital Ethics Policies
Lush's part in fighting against unethical digital practices is not an anomaly. The company is increasingly part of the tech community, in line with a company ethos that aims to give more than it takes, act transparently, push innovation and raise industry standards. To keep us accountable to the beliefs that we hold true as a technological business, Lush Digital formulated its own set of Digital Ethics Policies to consider every time we design, build or launch a digital product.
These Digital Ethics policies represent a platinum standard that we aim to move iteratively closer to in each decision that we make, they are guiding principles. We do not wish to be draconian in the way that we enforce them but they need to be a conscious consideration in everything that we build and design. In the same way as we know that we cannot immediately eradicate palm oil from all of our cosmetic products, despite acknowledging the necessity to move towards palm free alternatives, we determined these policies to act as a destination that we are continually driving towards.
These policies can be consolidated into three categories that are further detailed below.
3

%
of global power consumption goes to power the Cloud
Open source
Open source is a concept that we adopt throughout the company, but with alternate phrases to describe the process. For example, if we take our soap bases – we have researched and worked hard to produce a palm free soap base. This is an innovation that we hope and believe will positively impact the global environment and as such we do not wish to keep it just for ourselves. Instead, we have made the palm free soap base public so that other companies can adopt it within their own products. As Lush, we will then go on to add beautiful colours, scents and presentation to make the soap unique to us – we do not make this product recipe public, as this is where we put our own spin on the soap base. Open source, when spoken about within a technical capacity, is very similar to the example of the soap base. When we code or develop a digital product that we believe could be valuable to other members of the open source community, we will contribute the code for others to build upon. As with the soap, we may not choose to contribute every element of a build (the differentiating factors that make our product unique), but we will contribute enough to make it of value to other developers.
+ The open source policy is about embracing the use of open-source technologies in everything that we design, build and release throughout the Lush technology estate
+ We will only use technologies that are released on an OSI-approved license
+ Giving back – we will give back our research and code under an OSI-approved license to the open communities
Lush's new website
In collaboration with Saleor, utilising open source solutions, we have relaunched our website and app to welcome customers to shop with digital ethics at the core. Saleor depends on countless contributions by the world's open-source developers, from high-level libraries down to machine code.
Saleor are ushering in a new era of developer-first commerce, and their strong commitment to open-source is central to that. "We're moving to Saleor, as our global eCommerce platform of choice. Saleor fits with our ethical approach to open source software, and our move away from large scale enterprise solutions. We're enjoying the modularity, flexibility we can harness from Saleor to deliver on our promise of the best, freshest, handmade cosmetics." – Adam Goswell, Lush Tech R&D
Ethical Hardware
Electronic waste is one of the fastest growing streams in the world. Over 20 million tonnes of waste electronics are created every year, harming communities, severely damaging ecosystems and generating £45 billion in wasted revenue. Many of the components and minerals that are used to produce electronic devices and white goods are mined from the earth through a series of unsafe and harmful processes for both humans and the environment. In addition to this the majority (85 – 95%) of an electronic devices carbon footprint comes from its manufacturing – if we can reduce, reuse and recycle existing devices this will dramatically decrease our electronic carbon footprint as an organisation.
The ethical hardware policy has been established in consideration of the aforementioned issues. It focuses on utilising material free from commodity hardware wherever possible, that has high output but a low energy consumption, and powered by 100% renewable green energy across the globe.
+ We will only use hardware that is conflict material free where possible
+ We will only use commodity hardware that has high output and a low energy consumption
+ We will only host on 100% renewable energy
Ethical Data
To quote friend of Lush Digital, Boris Van Zanten (CEO @ TNW) "Saying you don't care about privacy because you have nothing to hide is as selfish as saying you don't care about people being hungry, because you're not". In light of cases such as that of Cambridge Analytica, now more than ever people are aware of how critically valuable their personal data is. In its lightest form it is the tweets you post, the photos you upload, the people you DM. In its darkest forms it is a tracker on your identity, an algorithm deciding whether you should be on a kill list. It is our belief that Data Privacy is a fundamental human right.
The ethical data policy is about ensuring that all of Lush's staff and customer data is secure and transparent. Our customers and staff have the right to know what we hold about them.
+ We will ensure all data that is stored on our products or systems is encrypted and secure
+ We will ensure your data can be accessed by you only and those you give permission to
+ We are transparent about how we use customer and staff data.
Digital Ethics Mission Statement
What's inside counts – whether that's an ingredient in a product, or the minerals in a smartphone.
If we're not happy with an ingredient supply chain, we work closely with relevant suppliers to get it right. Why wouldn't we do the same for our digital practices?
From the hardware we use, to data policies we adopt, it's time to move away from corporate practices and purchasing, and towards a world where we use tech for good. If that means building our own technology from scratch, that's what we'll do.
What happens in the digital world impacts our planet and its inhabitants. But that impact can be positive, if only technology can give more back to society and the environment than it takes away. Let's champion ethical hardware, ethical data, and open source technologies, whilst supporting and elevating global communities who feel the same.
We want a world where Fresh Handmade Tech is built for regeneration, and not destruction. We're ready to start a digital revolution.
Lush Digital Projects
Jack Constantine, son of Mark and Mo, grew up in the midst of a company that does things differently, aims to give more than it takes, acts transparently, pushes innovation and raises industry standards. This is, in part, what has inspired Jack's ever-evolving aim to challenge norms and drive best practice within digital ethics. As part of this passion to do things better, Jack established Lush Digital – a cloud based, mobile-first technology infrastructure that supports the global business.
Unable to sit and wait for someone else to create a solution, Jack created Lush Digital to find tech solutions for real-world problems; to investigate, research, plan and create tech that Lush could trust. It is essential that this is functional tech that is good for both users and creators; tech that can handle the requirements of an international business, but can also be adapted and shared by the wider community; tech that can help people to do their jobs, live their lives, and overcome barriers.
Lush Digital aims to provide open source solutions where before only monopolies existed; it fights for supply chain transparency and digital innovation.
Lush Labs App
LushLabs app intends to open up the new tech R&D process to our communities. Like our products, the features within the app are playful, fun and experimental. We are asking our audiences to play with the features on offer and give us live feedback in order to iterate and perfect the experiences that we are offering through the app.
The most successful feature to date is Lush Lens.
Lush Lens:
The app contains a Lens feature, driven by open-source Machine Learning technology and designed by Lush's very own tech R&D team: Tech Warriors, to help customers in shopping packaging-free with ease. Users can use the scan function by aiming at the product they're interested in to browse product information whilst in store, at home and even via the storefront window.
Using the Lens technology to demonstrate products and product information is a step towards minimising packaging and reducing water wastage by showcasing products in use through videos. Lush's entire naked range is detectable by the Lens feature. The revised version has increased the accuracy rate of detecting the right product to 98%.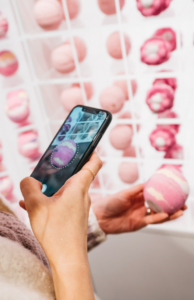 Personal Shopper
Personal Shopper:
Personal Shopper is a feature within the #LushLabs app that allows customers across the UK and Ireland to connect with shop teams within a couple of clicks; in order to seek tailored, bespoke advice and mirror the top notch shopping experience seen daily in stores nationwide.
The feature will allow for a more dedicated platform for the customer to speak to a shop member and receive tailored recommendations based on their wants and needs.
The feature was trialed at Lush Bournemouth, Lush Belfast and Lush Birmingham and was rolled out to all UK and Ireland shops on 9th September 2020.
Lush Moods:
Lush Moods, a feature on the #LushLabs app uses colour therapy and generative art inspired by bath art to create an interactive digital mood. Data from sensors on a depth camera map customer position and movement which are used to activate sounds, colours and movement from within. This innovative use of technology heightens the senses and plays with the mood.
Lush Pay:
Building our own POS system, utilising open source code
Moving away from proprietary software and building our own in house system, utilising open source, to support the business needs for a roaming till system.
By bringing tech in house we're able to ensure that what we build aligns with our Digital Ethics. For example:
– Lush Pay runs on google servers as they have a green energy promise.
– We limit our hardware debt through reuse and recycling, wherever possible.
– We contribute back to open source and make our own libraries available for others to use (for example, our SOA toolkit).
This opens up endless possibilities in the future as more developers in this space are wanting to embrace ethical tech.
Lush Fairer Tablet:
Now diving deeper into creating immersive and tech-powered experiences, Lush is getting into physical hardware with the development of a fairer tablet. With 951 shops worldwide, using a total of over 3800 tills, Lush discovered its traditional tills had a big footprint, were full of proprietary software and hard to keep up to date with the speed of Lush's product innovation.
"The Fairer Tablet is a clear demonstration that as a business, if you want to interrogate the products or the sectors that you're working with and champion positive change, you can."
Jack Constantine, Lush CDO
The Lush Bus:
From March 9th 2020 the Lush Bus has been running a circular route, replacing the need for taxi journeys in and around Poole for staff.
"The bus will save hundreds of car journeys each year and avoid 8 tonnes of CO2 from entering the atmosphere."
Suzy Hill, Zero Waste Engagement and Strategy
Staff are able to view a copy of the timetable, an area for feedback and a map which updates live with the bus' location via the Lush Bus app, available on iPhone and Android.
The Future of Retail:
Lush Harajuku: Lush Harajuku, in the heart of Shibuya, is renowned for it's buzzing, colourful street art and fashion culture; vintage stores, cosplay shops and now the latest experiment in the future of tech X retail collaboration. Harajuku is world famous for it's cutting edge exhibitions of culture, where better to open the first packaging-free, signage-free, sink-free bath bomb shop? The packaging-free store, will house a colossal collection of sensationally scented orbs, filling the shop as far as the eye can see and the nose can smell.
By shopping the whole store via app, Lush does away with any signage cluttering shelves and makes everything accessible for everyone. Jack Constantine, visionary behind the concept of Lush Lens-lead-shopping, is fully dedicated to wayfinding via app; putting the agency back in the customers hands and saving signage where possible. Lush has never created a store like this, but it has raised the bar in tech x retail experimental innovation whilst saving plastic, packaging, signage and sinks.
Lush Shinjuku: Lush Shinjuku has opened its doors, but what lies inside? If fresh product, dynamic design, and innovative tech is your jam, Lush Shinjuku has four floors of just that, each offering an interactive space for you to explore, create, and shop. Read on as we spill the green tea on the newest Lush to hit Japan!
Let's get digital!
How does a language-free store ensure that all that vital product know-how doesn't get lost in translation? With an app, of course. Developed in-house by the tech warriors, The Lush App uses an in-app artificial intelligence (AI) camera function to recognise products, so snap away during your visit to discover how to use the products, the ingredients they contain, and everything else you need to know about the packaging-free goodies in store.