Lush is offering transformative experiences, away from endless scrolling, with the launch of 6 bath bombs alongside curated visual and audio accompaniments. It's time to recharge your batteries and the only thing you'll want to pop a plug in is your tub.
For the first time, Lush has captured the mood and escapism that bath bombs provide. 
Since Lush Co-Founder, Mo Constantine invented the bath bomb over 30 years ago, Lush has always been about advocating wellbeing, "We believe in long candlelit baths, sharing showers, massage, and filling the world with perfume" is part of Lush's mission statement and at the core of Lush's very purpose as a business.
Get ready to be inspired and pick the bath bomb most suited to your need with product inspired Lush Bathrooms, bath bomb themed islands and Lush's curated playlists…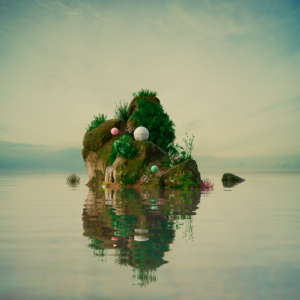 Bath Bomb – £5.50 each
Lakes
Prepare to float away and reconnect with nature in lush, floral landscapes. Bathe in nature with Lakes bath bomb and cleanse your mind with grounding aromas of herbaceous Siberian Pine and honeyed Osmanthus absolute. Inspired by the tranquility of the Lake District, for bath time that brings the outdoors in. (Vegan)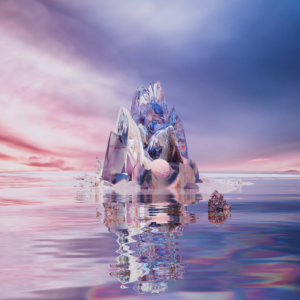 Bath Bomb – £8.50 each
Diamond Dust
Next, exude Main Character energy with Diamond Dust: the glittering epitome of 70's disco glamour with a fresh, futuristic vibe. For when you want to go all out when you're staying in, Diamond Dust is our most extravagant, fancy free creation yet. Think of this vibrant Neroli & Black Pepper fizzer as a disco ball for your bathtub, packed full of plastic free glitter. (Vegan)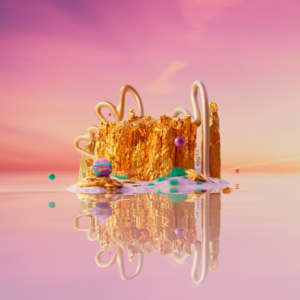 Bath Bomb – £7.00 each
Luxe
Melt into out-of-this-world indulgence with Luxe, the ultimate bougie bath time companion for levelled up luxury. Transport yourself with a decadent Jasmine, Vanilla & Sandalwood fragrance and a hydrating boost of vitamin A rich Bakuchi Oil for benefits that go way beyond bathing. (Vegan)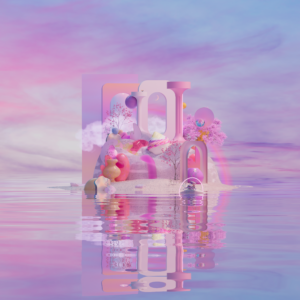 Bath Bomb – £6.00 each
Unicorn Poop
Bathing is believing, are you game? Stay in your magic and take flight to a land of pure adventure with Unicorn Poop. A playful perfume of Bergamot, Davana and Jasmine invigorates the imagination and helps you to remember not to take life too seriously, for the ultimate bathing experience. (Vegan)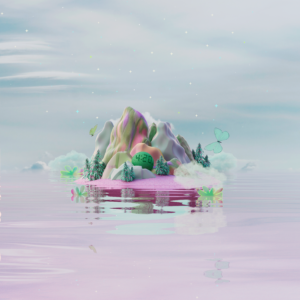 Bath Bomb – £6.95 each
4:20pm
Soak away the stress of the day with 4:20pm, our highly requested bath bomb created for a blissful bath time. Infused with 25mg CBD and a grounding Ginger and Patchouli fragrance, enjoy 4:20pm as part of a well deserved afternoon soak so you can really hit the reset button.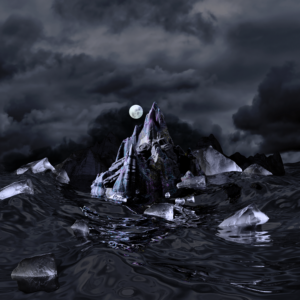 Bath Bomb – £6.00 each
Black Rose
Escape into the shadows of your own gothic love story with the recently revamped Black Rose bath bomb. Wash away woes with an intoxicating perfume of Geranium, Lemon and Rose and allow it to conjure our darkest bath art yet for enchanting, gothic vibes in the tub. Whether you're loving yourself or somebody else, lie back, cast your eye over the entwining black and violet hues and prepare to be spellbound.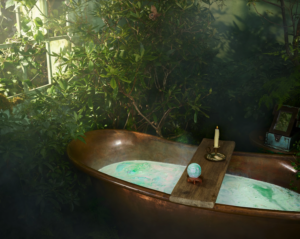 Wellbeing at Lush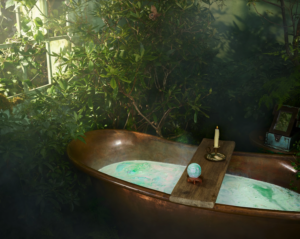 Lush has history in offering our customers wellbeing and mindful products. Always looking to create products for certain needs, an example of which was in 2006 when Mo Constantine OBE, co-founder and inventor of the bath bomb, created two bath bomb products for her husband, Mark Constantine OBE and fellow Lush co-founder: Tea and Sympathy and Ne Worries Pas when he was having a particularly troublesome time.
Mark enjoyed his baths with these bath bombs so much they were released into stores so the Lush community could also benefit from them. In 2019, Lush launched the #DigitalDetoxDay campaign in partnership with mental health charity I Am Whole and mental health ambassador and influencer Zoe Sugg. The proceeds of selling the accompanying 'IRL' bath bomb have been divided amongst several grass root mental health groups globally. 
Notes to Editors:
To enhance your bathing adventures, Lush has curated visual and audio accompaniments to utilise alongside… 
Lush Islands: 
Tom Griffiths, Lush's Creative Lead worked with Idea and Maker to produce 6 Lush islands based on the Adventures in Bathing collection. 
Lush Playlists: 
https://ffm.bio/lushfreshhandmadesound
Pop on the relevant playlist to your bath bomb and feel yourself melt into waters whilst the accompanying soundscapes takes you on your journey.
For further information and interview opportunities, please email [email protected]