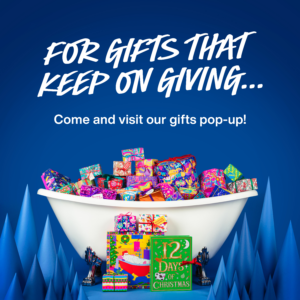 Lush announce destinations for Christmas Gifts pop-up tour
for Christmas Gifts pop-up tour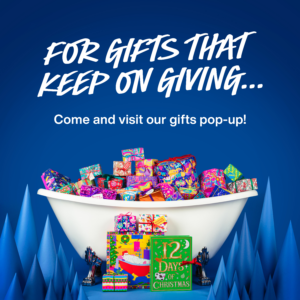 For gifts that keep on giving
Following the success of the Sleepy and the Snow Fairy pop-up tours this year, Lush have announced they will be bringing a Christmas Gifts pop-up to five shopping centres and London Bridge station.
The design of the pop-up is inspired by the world's largest Lush shop in Liverpool, bringing luxury gifting to various locations across the UK&I. There will be a gift concierge on-site to take the stress out of Christmas shopping and help you handpick the perfect ethical gift for every need.
Alongside traditional gifts, bespoke gifting and fragrance gifts, some of Lush's best selling products and vouchers for Lush Spa treatments will be available to purchase.
Lush Spa Treatments
Created to transform mind and body, Lush's luxuriously pampering spa treatments are the perfect way to rejuvenate and revive. With eight Lush Spas to choose from and with treatment vouchers available in Lush shops nationwide, you could say that the Lush Spa is Lush's best kept secret.
Lush Gifts
This year, the Lush Christmas Gifts range has been created with the idea of togetherness in mind after such long periods apart from loved ones, and designed with the intention of providing joy for all who receive them.
Ethical Gifting
When you buy a Lush gift, you're having a positive impact on the world – you're saying no to excess single-use plastic; you're supporting communities and artisans who've made the ribbons and natural papers; you're buying products with beautiful ingredients that regenerate social and eco-systems.
All Lush gifts are handmade in the Lush factories in Poole, Dorset UK:
The paper is made from 100% recycled paper, upcycled cotton t-shirt offcuts and lokta and banana fibre
All gift tags and inserts are 100% recycled and recyclable
Over 1,000,000 recycled bottles have been turned into Lush gift ribbons
Lush gifts are packed with biodegradable and compostable eco-pops, made from cornstarch
Lush Gifts Pop-up Tour Locations 2021:
13th – 14th November – St David's Cardiff
20th – 21st November – Bluewater, Dartford
26th – 28th November  – Highcross, Leicester
4th – 5th December – Eldon Square, Newcastle
7th – 15th December – London Bridge Station
17th – 24th December – Westquay Shopping Centre, Southampton
Keep an eye on your local Lush shop for updates on pop-up activities in your area throughout Christmas time. 
To keep up to date and be the first to know about further exciting Christmas product announcements, customers can subscribe to the Lush Newsletter. 
For further information on the Lush Christmas range, please email [email protected]
To view all Lush press releases, please click here.