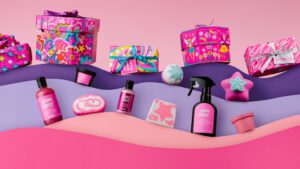 Lush announce destinations for the Snow Fairy pop-up 2021
Everyone can enjoy pink!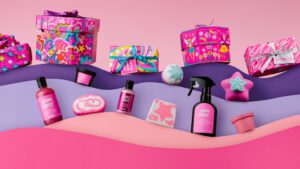 #SnowFairy
Christmas is coming, and it's pink! Each year, after a period of hibernation, Lush's most popular Snow Fairy Christmas range emerges. Following the success in 2020, Lush has announced they will be bringing back a sweet treat to local high streets and shopping centres as they reveal destinations for Lush's Snow Fairy pop-up!
Come and experience the magic of Snow Fairy and drop by at one of the below destinations for limited edition goodies, personalised presents and a whole lot more!
Snow Fairy External Trailer
External shoppable pop-up activation. The pop-up will have stairs and a ramp to access.
(Exclusive Trailer tour products include; 250g shower gel & 200ml body spray with custom greeting messages on the labels,)
16th – 17th October – Rushden Lakes, Northampton 
22nd – 24th October – Comic Con (ExCel London)  
26th – 31st October – Gunwharf Quays, Portsmouth
6th – 7th November – Union Square, The Lexicon, Reading
13th – 14th November – Fosse Park, Leicester
20th – 28th November  – Broughton, Chester
4th – 5th December – St James Square, Edinburgh
Further locations to be announced. 
Snow Fairy POD
Internal shoppable pop-up activation taking place in shopping centres.
(The Snow Fairy POD features all of the Trailer exclusive items as listed above,
plus a label machine allowing customers to customise their 250g shower gel bottles of Snow Fairy and 200g Snow Fairy body spray bottles, This service is free of charge.)
23rd – 24th October – Braehead, Glasgow
30th – 31st October – Meadowhall Shopping Centre, Sheffield
6th – 7th November – Churchill Square Shopping Centre, Brighton 
20th – 21st November – The Centre, Livingston 
26th – 28th November – Bullring, Birmingham 
3rd-5th December – Cribbs Causeway, Bristol
10th – 24th December – Glasgow Fort
Further locations to be announced.
Keep an eye on your local Lush shop on social media for updates on Snow Fairy inspired activities in your area throughout October and November!  To shop the Snow Fairy range online, please click here.
The Snow Fairy – An animation by Lush
This year, for the first time, The Snow Fairy debuts on screen. This short animation brings the magic to life in a celebration of kindness, courage and confidence.
Lush collaborated with FeralChild, the London based direction duo of Rogan van den Berg and Nella Addy, who lovingly crafted the animation with a team of talented artists to create the story of Aki and The Snow Fairy.
To keep up to date and be the first to know about further exciting Christmas product announcements, customers can subscribe to the Lush Newsletter. 
For further information on the Lush Christmas range, please email [email protected]
To view all Lush press releases, please click here.