The wait is over…
Christmas is coming and this year it's pink…
Santa, take a seat, the Lush Snow Fairy is back and the incandescent presence means one thing, 'tis officially the season!  
This year, for the first time, The Snow Fairy debuts on screen.  This short animation brings the magic to life in a celebration of kindness, courage and confidence.
The Snow Fairy | An animation by Lush
Lush collaborated with FeralChild, the London based direction duo of Rogan van den Berg and Nella Addy, who lovingly crafted the animation with a team of talented artists to create the story of Aki and The Snow Fairy. "Utilizing traditional cel animation techniques and beautifully lush environment paintings, we were able to achieve that really lovely handcrafted charm you only get from frame by frame animation."
Along with Snow Fairy, the rest of the Lush Christmas 2021 collection has launched online and in Lush shops. Look out for more Snow Fairy product drops, exclusives and experiences coming soon … download the Lush Labs app for more exclusive product drops. 
Lush is also touring the UK&I with Snow Fairy, popping up from October to colour highstreets across the UK&I that irrefutably renowned shade of pink!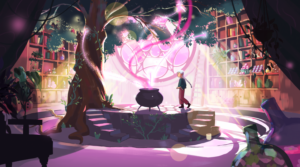 For Editors
About FeralChild
Feral Child is the wild and wonderful creative studio of London-based Animation Direction duo, Nella Addy and Rogan van den Berg. With experience in multidisciplinary character-lead animation, they consistently deliver passionately crafted work, while placing special emphasis on imaginative storytelling.
Specialising in 2D, 3D and cel animation, they have a varied selection of work and experience in directing and crafting world-class animated content, including digital campaigns, short form animation, music videos and title sequences.
Feral Child Website | Instagram
For further information or interview requests, please email [email protected]
To view Snow Fairy products, click here: https://www.lush.com/uk/en/c/snow-fairy