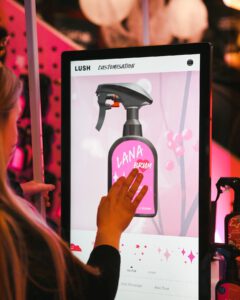 Snow Fairy gets personal
Customers can now personalise their Snow Fairy products in Lush Anchor Shops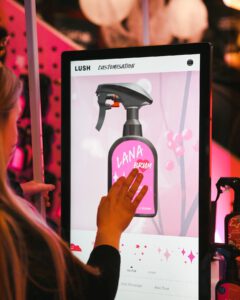 Turning Christmas pink! From Monday, 1st November 2021, an exclusive Personalisation Station for Lush's most popular Snow Fairy range will arrive in Lush shops in Birmingham, Liverpool and Oxford Street (London).
Visitors will be able to customise their purchased 250g shower gel bottles of Snow Fairy and 200g Snow Fairy body spray bottles with personal greetings, messages and names via a touch screen. This service is free of charge!
This service will also be available online at lush.com from December 2021 with more exclusive Lush Snow Fairy products and merchandise to follow. 
Snow Fairy on Tour in the UK&I
Following the success in 2020, Lush are bringing back a sweet treat to local high streets and shopping centres as they reveal destinations for Lush's Snow Fairy pop-up!
Come and experience the magic of Snow Fairy and drop by for limited edition goodies, personalised presents and a whole lot more! Read more about the Snow Fairy Tour here. 
To keep up to date and be the first to know about further exciting Christmas product announcements, customers can subscribe to the Lush Newsletter. 
For further information on the Lush Christmas range, please email [email protected]
To view all Lush press releases, please click here.