Lush Liverpool reveal 2021 Snow Fairy Christmas Floor
Everyone can enjoy pink!
On Friday 5th November at 12:00 pm, Lush Liverpool reopened their third floor retail space with the ultimate Christmas experience and the return of The Snow Fairy. The additional 392 sqm of Lush Liverpool's retail space has been transformed into a pink celebration of Lush's first-ever animation of The Snow Fairy: kindness, courage and confidence. 
Inspired by Snow Fairy, Lush's best selling, candy floss-scented product range, the third floor will feature pink decor, a pink rocking horse and a pink grotto, with a focus on Christmas gifts and  personalisation. There will be giant versions of Lush Snow Fairy products and a gift wrapping station. The floor will also offer space for community events during the festive time which will be announced soon.
Snow Fairy gets personal
Alongside the pink Christmas Floor, an exclusive Personalisation Station for Lush's most popular Snow Fairy range arrived on Lush Liverpool's first floor. 
Visitors will be able to customise their purchased 250g shower gel bottles of Snow Fairy and 200g Snow Fairy body spray bottles with personal greetings, messages and names via a touch screen. This service is completely free of charge!
This service currently is available in Lush anchor shops in Birmingham, Liverpool and Oxford Street and will also be available online at lush.com from December 2021 with more exclusive Lush Snow Fairy products and merchandise to follow.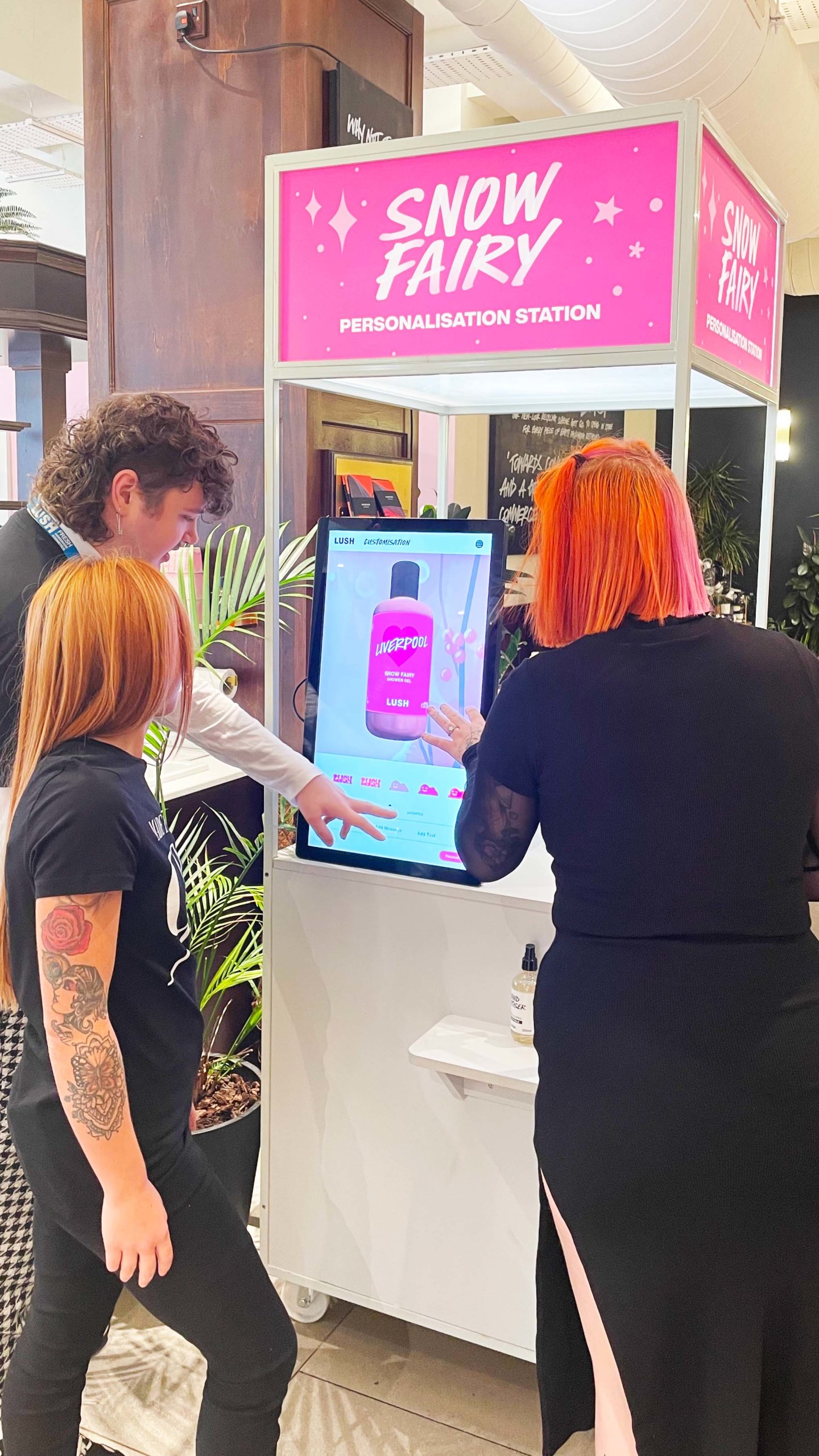 The Snow Fairy – An animation by Lush
This year, for the first time, The Snow Fairy debuts on screen. This short animation brings the magic to life in a celebration of kindness, courage and confidence.
Lush collaborated with FeralChild, the London based direction duo of Rogan van den Berg and Nella Addy, who lovingly crafted the animation with a team of talented artists to create the story of Aki and The Snow Fairy.
For more info about Lush Liverpool, please click here
To keep up to date and be the first to know about further exciting Lush announcements, subscribe to the Lush Newsletter. 
For further information or for interview opportunities with Lush Liverpool Manager Sandra Byrne, please email [email protected]
To view all Lush press releases, please click here.