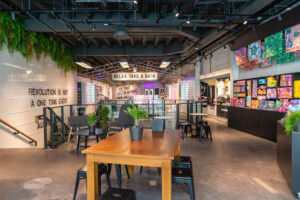 Hot New Opening!
Lush Oxford Street opens new vegan cafe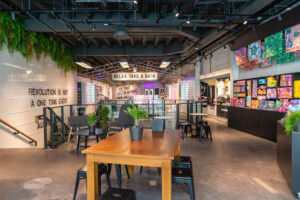 Nestled amongst the bath bombs, Lush reveals instagrammable cafe with direct views overlooking London's Oxford Street.
Alongside new product launches and creative experiences across three floors, Lush's number one shop and Spa in the world, Lush Oxford Street has reopened with their first ever in-store vegan coffee shop, Plant Works Cafe run by Send Coffee.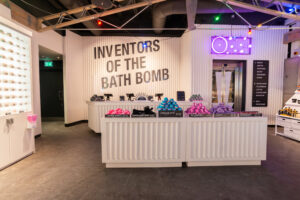 Prepare to get snap happy, this cafe is made for 'The Gram'…
Nestled amongst the mountains of Lush bath bombs on the first floor and with direct views overlooking London's Oxford Street, Plant Works Cafe is a hot new opening to have on your radar. Alongside a delicious range of hot drinks, Plant Works Cafe will also be serving a range of vegan pastries, cakes and snacks.
Plant Works Cafe coffee beans come from Send Coffee, who use the profits from the beans to help young people who have Special Needs & Disabilities, find work and equitable treatment. The coffee shop also offers rare and interesting coffees brewed in speciality filter style, each with an interesting and inspiring origin story, including farmers who have overcome huge challenges this year.
As covid-19 restrictions lift, Plant Works will be introducing edible take away cups, and charging slightly more for customers who don't bring their own reusable cup to make this sustainable. There are also plans to trial a cup swap scheme with Lush branded Circular & Co cups. 
In accordance with Government guidelines, Plant Works Cafe is currently offering a takeaway service only.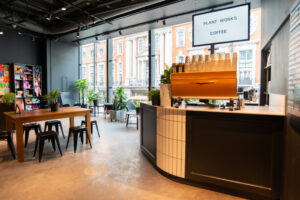 Notes to editors
About Send Coffee
Send Coffee hire and help people with special needs or disabilities into jobs in the coffee industry. As Coffee Roasters, they have access to a wide network of employers who are always looking for good staff. Providing 1:1 Mentoring over 36-48 weeks, they offer a barista course like no other. They believe that their learners can't just enter the job market at the bottom rung, but have to be equipped with skills to overcome the prejudice they'll experience.  
Lush Oxford Street
Lush Oxford Street reopened on Saturday 1st May after a transformation to bring together new experiences and activations previously seen in Lush concept shops around the world, creating Lush's ultimate shopping destination in London. 
Discover more about the reopening here. 
For full Lush information about the Coronavirus crisis and the in-shop safety measures please visit: https://weare.lush.com/lush-life/our-company/covid-19-lush-updates
About Lush
Since establishing over 25 years ago, Lush has been driven by innovation and its ethics. Creators of pioneering beauty products such as the fizzing bath bomb, shower jellies and solid shampoo bars, Lush places emphasis on fresh ingredients like organic fruits and vegetables. Lush fights tirelessly against animal testing and operates a thoroughly comprehensive Ethical Buying department, developing fair and direct trade initiatives.  Lush leads the cosmetics industry in combating over-packaging by running public awareness campaigns and developing products that can be sold 'naked' to the consumer without any packaging.
Today Lush operates in 48 countries with over 900 shops, 38 websites shipping worldwide and a global network of native apps, broadcasting channels and digital communities in over 30 languages. www.lush.com