Fighting Animal Testing
Fighting a life-long campaign against the use of animals in testing
Our Core Ethic
We have been fighting against animal testing since before we opened our first shop, and the fight continues today. Animal testing is poor science and its results are irrelevant for humans.
Instead, we test our products for safety and effectiveness on human volunteers – real people. We also use in vitro test methods, using human cell-cultures and microbiology.
Lush do not test on animals, do not use materials that contain animal derivatives that are unsuitable for vegetarians and only buy raw materials from companies that are not involved in the use of, or commission the use of, animals for testing and have no plans to do so in the future. We believe that animal testing is not acceptable. We recognise that customer safety is of importance but that this can be assured without the use of animals.
We will not knowingly purchase ingredients from suppliers that have conducted, commissioned or been party to animal testing after our fixed cut-off date 1st June 2007, unless the supplier commits to conducting no further animal tests in the future, and to using acceptable in-vitro alternatives. In-vitro refers to the technique of performing a given procedure in a controlled environment outside of a living organism.
Whilst we recognise the unavoidable exception of UK and EU REACH legislation (Registration, Evaluation, Authorisation & Restriction of Chemicals), Lush wishes to continue to encourage suppliers to test for safety using non-animal testing methods and to fund the development of non-animal test methods.
We have built Lush from day one using this policy – and we believe this shows that it is possible to invent, manufacture and bring to the market an entire range of products without any involvement in animal testing. Our founders launched this policy in June 1993, whilst still running their previous company, Cosmetics To Go. So when they started Lush in 1995, it began life using this policy and has stuck to it ever since.
Since Lush started in 1995 our animal testing policy has been that we will never conduct animal tests on our finished products and will only purchase ingredients from companies that do not test on animals. In 2013 we were delighted when the EU Cosmetics Directive came into full force, preventing the manufacture and marketing of animal tested cosmetics within Europe. As a company that operates in 40 countries, we would like to see such strong legislation in every region, not just the EU – and we promise to never stop campaigning until animal testing is a thing of the past, not just in some countries but worldwide.
100

%
of products tested on humans, not animals
Still Fighting Animal Testing
The strength of feeling against this unscientific and cruel practice has not diminished over the years, which means that it is safe to say that Fighting Animal Testing is not just a Lush position and policy, but is a lifetime goal and the core value of our company. Lush will continue to fight animal testing worldwide – to speak out against it, to join with animal campaign groups to publicise it, to lobby against it and to educate around the issues – until animal testing is a thing of the past.
Our Fighting Animal Testing commitment means that Lush has a variety of positions and policies that both govern our own actions, to ensure that our business practices are free of animal testing, and reach out to the wider world to help eliminate the use of animals in testing worldwide.
To see some of the other ways we work for animals, please follow the links below for more information.
Using funding from Lush, Ethical Consumer Organisation run an annual prize to reward scientists and educators worldwide who are helping to eliminate animals from toxicity testing
More information on Lush Prize
Human Biology Based Testing Methods
We campaign against animal testing, trial products on people and develop in vitro testing methods in line with cell culture testing company XCellR8.
Finally, we have reached a point where some human biology based tests are recognised by The Organisation for Economic Cooperation and Development (OECD). This will mean that all the historical data that is derived from animal testing, and still relied upon by cosmetic companies, can eventually be replaced by data that is relevant to humans. Investigation into the hard work being done to get non-animal testing methods validated and approved for regulatory use, shows that although there are those striving to achieve this, there are still not enough companies using these methods.
In 2013, XCellR8 won the Lush Prize for Training and began modifying and developing cell culture tests for both Lush products and raw materials. This will mean we can start to build that foundation of knowledge and experience in human biology based testing that needs to exist in order to get more companies and authorities to drop animal tests altogether.
Here at Lush, we use a range of relatively simple ingredients to make our products. We know our ingredients to be safe, however cell culture testing means that products and ingredients which are intended for humans, are actually tested on humans.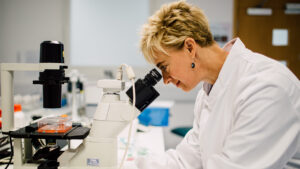 REACH
REACH is European chemical legislation that governs the import and manufacture of chemicals within Europe. REACH mandates animal testing in certain conditions, so is of concern to all animal campaign groups and also to companies which strive to adhere to an animal testing free policy.
The REACH legislation was the largest piece of legislation passed by the EU and so complicated that even after it was law it was not clear how it would be implemented. It is an evolving piece of legislation and an example of an external pressure on our non animal testing policy.