£80

m
and more donated through Lush Charitable Giving streams worldwide since 2007
+13

k
Grants given globally through the Charity Pot fund since 2007
In the 2020-2021 Financial Year:
donated through Charity Pot across the world
£3,400,000+
products donated, through UK Tailormade Giving alone
65,900
donated through the Lush Re:Fund
£173,002
awarded through the Lush Spring Prize
£220,000
awarded through the Lush Prize
£250,000
through campaign products
£500k +
In total, over £4,500,000 was donated through our Lush Giving streams around the world in the 2020-2021 Financial Year.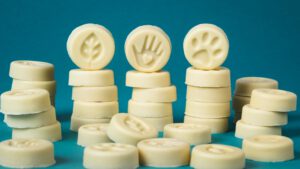 Spotlight on Charity Pot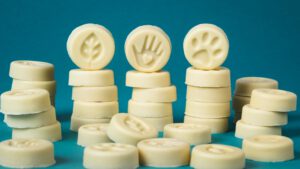 Over 800 Charity Pot grants were given in the 2020-2021 Financial Year.
Lush created Charity Pot hand and body lotion in 2007, to raise money for small, grassroots charities and campaigners working in the areas of animal protection, human rights and the environment. It is now sold in 35 countries. In 2020, Lush launched the packaging-free Charity Pot Coin and Grassroots fine fragrance.
100% of the proceeds of these three products (minus the VAT) is channelled into the Charity Pot fund, which offers grants from £100 – £10,000.
In the 2020-2021 Financial Year, Charity Pot donated funds in the following way:
23% donated in the animal protection sector;
54% donated in the human rights sectors;
23% donated in the environmental sector.
10% of all Charity Pot donations in the 2020-2021 Financial Year went to organisations working with Migrants, Refugees and Displaced Peoples, and toward organisations working against Trafficking and Slavery.
6% of all Charity Pot donations went toward Animal Sanctuaries and Animal Rehoming.
5% of all donations went toward the Climate Change sector.
5% of all donations went toward organisations working toward Anti-Racism.
4% of all donations went toward organisations supporting, and campaigning for the rights of, LGBTQIA+ peoples.
Other key sectors supported include organisations working for the rights of Indigenous peoples; organisations working to support Homeless peoples; Anti-war or Peacebuilding organisations, and organisations working toward better renewable energy policy or infrastructure.
Charitable Impact 2020-2021
Stories of resilience from around the world
Where the ancient green of the Amazon forest meets the foothills of the snowy Andes in Ecuador, two young, indigenous activists are bravely standing up to the destructive industries which threaten their ancestral lands.
"In the Amazon here, we have oil exploitation causing so much harm, deforesting big areas of land." María Anchundia matter-of-factly explains her community's experience to an attentive Zoom webinar audience. She and the other co-founder of Sacha Kuyrana Maltakuna, Jimmy Yumbo, are sitting with a backdrop of luscious food and fruit trees that they and their community planted. They're calling in to the Lush Spring Prize event, a week of online knowledge sharing in 2021. "My family members are joining forces to not allow oil companies to come in and deforest."
María and Jimmy's newly established organisation were recipients of two Lush Spring Prize awards in 2021. They, as well as Education for Climate Action for Peace in Malaysia, were the first ever organisation to receive two prizes in one year. Firstly, Sacha Kuyrana Maltakuna received an Intentional award, which celebrates newly formed groups or innovative new ideas. They then went on to be celebrated with a special award in a new Spring Prize category: the Youth In Permaculture Prize, funded by and run in collaboration with the Abundant Earth Foundation. Additionally to this special category, the Lush Spring Prize partnered with the Abundant Earth Foundation to run an Ancient and Indigenous Wisdom Award.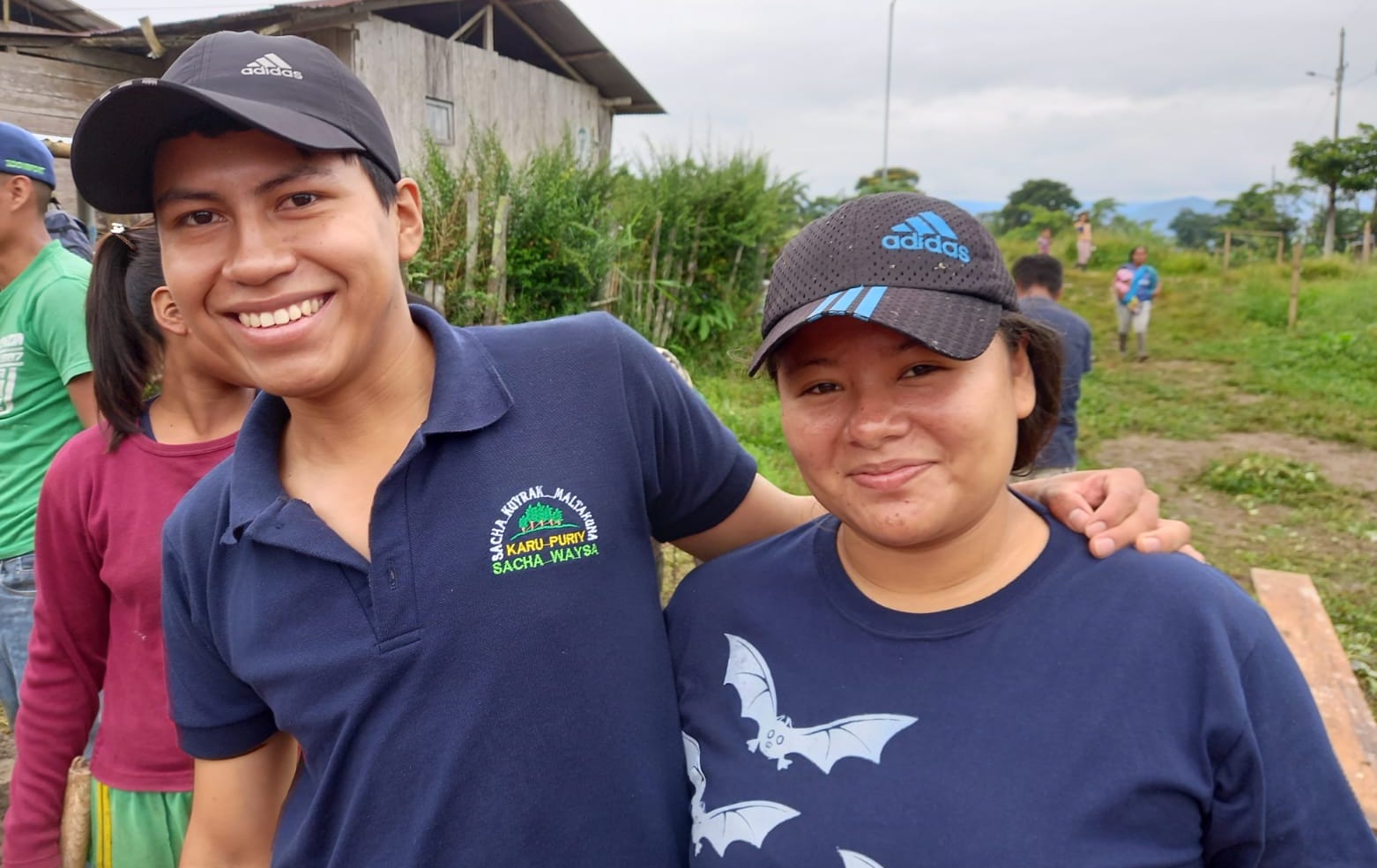 Not only do María and Jimmy help to protect and restore their local forests, they also uplift and celebrate their traditional culture. Jimmy explains this with great reverence.
"Youth should not have to feel shame about their origins. We want to create a space where people feel proud of their Kichwa culture. Without the wisdom and knowledge of our elders, we wouldn't be where we are now."
The powerful work of María and Jimmy is one of many inspiring stories from the diverse community of Lush Giving recipients. With grants from one of Lush's multiple philanthropic streams, the work of Lush Giving grantees spans the entire globe.
THE Environment
2021 saw one of the most damning official reports on climate catastrophe in history. The Intergovernmental Panel on Climate Change (IPCC) released part of their latest assessment report, highlighting science and data which unquestionably shows that, unless we act very fast, we are headed toward irreversible, catastrophic damage to our planet's life-support systems. Shortly after the report was released, Glasgow hosted COP26, an international conference bringing together world leaders and policymakers with an aim to agree on international policy around the climate. Lush even teamed up with campaigning organisation Zero Hour to call on British politicians to back the Climate and Ecological Emergency (CEE) Bill. Sadly, many people believe COP26 failed to scratch the surface of the deep changes needed to shift the world's dominant culture away from ecological destruction.
Against this dire backdrop, layered with a worldwide pandemic, the tireless work of environmental activists and campaigners are a beacon of hope. When we take to the streets to take a stand for climate justice, it's organisations like the Climate Defence Project who are there to make sure our rights are upheld. With a grant from Charity Pot USA in 2021, they supported the Fossil Free California campaign to encourage people to move their money away from banks and pension funds that are investing in fossil fuels.
In Australia, the Seed Indigenous Youth Climate Network received a Charity Pot grant, supporting them in sharing stories which highlight pathways toward climate justice, from the perspective of First Nations peoples.
Animal protection
Animal protection and animal liberation is another key area of focus for Lush Giving. Through the global Charity Pot fund in the 2020-2021 financial year, Lush donated over £921,500 to organisations working tirelessly to uplift and uphold the rights and wellbeing of non-human animals. One such organisation is Utah Animal Rights Coalition, USA, a grassroots animal liberation organisation dedicated to promoting veganism and ending cruelty to animals throughout Utah.
Human rights
Protecting, restoring and upholding the rights of humans is another key area of focus for Lush Giving. Through the global Charity Pot fund in the 2020-2021 financial year, Lush donated over £1,748,200 to grassroots human rights organisations. Demilitarise Education, UK, received a grant. They are a community for modern day peacemakers, driving to untangle, expose and end military partnerships within universities; ensuring unethical activities are redirected towards advancing peace.
Tailor Made Giving
It's not only financial grants that can have an impact. Lush also gives 'Tailor Made' donations, supporting organisations through non-financial means. One way we do this is through donating surplus products from our Manufacturing units.
Thames Reach is one such organisation that received donations of Lush products in 2021. Their work supports vulnerable people who are either homeless, or at risk of becoming homeless. Their strategy is split between 'response teams' providing immediate support to homeless individuals (through sheltered accommodation and meals), and 'prevention teams' providing services that can help stop people from becoming homeless. They also provide a 'recovery service', supporting individuals to get their lives back on track, and an 'employment academy' that helps people in the community find work and access training. Having access to toiletries, as well as food, means that their service users can spend more time focusing on meeting their key workers and resolving their support needs. With over 70,000 more individuals and families being forced into homelessness throughout the pandemic, the work of Thames Reach and other such organisations is invaluable.
Campaigns and Campaign products
Lush also uses its shops as a way to highlight important, and often underheard, messages. In-store campaigns sometimes come alongside special products which raise funds for specific organisations or causes. In November and December 2020, Lush Netherlands hosted a local campaign with the aim of normalising the Dutch Sinterklaas party without the racist imagery of Black Pete. With a local campaign product called Bonne Bonne, they raised funds for a campaigning group that is committed to a future without racism and exclusion.
In late 2020, Lush partnered with Digital Detox Day and Zoe Sugg to launch the Wholeness Fund. Through the sale of a special bath product, the Wholeness Fund raised over £353,890 for organisations working in the area of mental health and wellness.
With the worsening of climate catastrophe, and the detrimental effects of the pandemic, these times can feel shocking. But the actions of climate leaders, campaigners, and support workers like those mentioned here can set an example to us all.
Now is the time for bold action. As Jimmy Yumbo from Sacha Kuyrana Maltakuna says, "Everybody is saying, 'we'll do this, we'll do that'. We need not just words, but also actions."