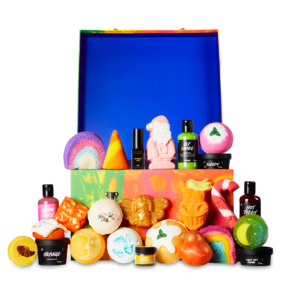 The Lush Advent Calendar 2022 is here!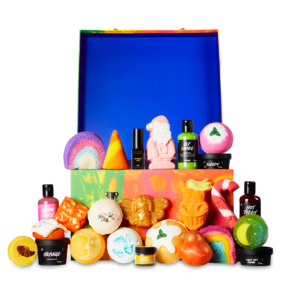 Available online from 25th August and in Lush shops from 21st September
Reusable and recyclable packaging
25 vegan products – featuring a combination of products from different ranges including best sellers, Christmas retro products and gift exclusive products
On Thursday 25th August Lush will launch the Lush Advent Calendar (£185/€235) for Christmas 2022 online and in Lush shops nationwide from 21st September. Featuring a carefully selected range of products to bring you joy in the lead up to the big day, this year's gift is packaged in a limited edition box designed by ARTHOUSE Unlimited and is ideal for storing Lush treats forever more!
Customers who subscribe to the Lush newsletter emails, will get the chance to purchase the Advent Calendar 24 hours ahead of launch.
Each Lush Advent Calendar contains 25 vegan products to discover and use every day including 2 retro products from Lush Christmas past and 2 products that are exclusively available in the Lush Advent Calendar. The reusable gift box is made from recycled paper board and the ribbon is made from recycled plastic bottles.
The Lush Advent Calendar's beautiful artwork design was created by ARTHOUSE Unlimited, a charity presenting artistic talents of adults living with complex neuro-diverse and physical support needs. This is Lush's seventh year working with ARTHOUSE Unlimited. This year they have six designs featured across the Lush Christmas and Halloween 2022 ranges.
Gift includes: Golden Pudding bath bomb, Turmeric Latte perfume – 15ml, Gingerbread House bubble bar (retro & exclusive), Hot Toddy shower gel – 115g, Christmas Party bath bomb (retro & exclusive), Ice Rainbow bubble bar (exclusive), Christmas Eve soap – 100g (exclusive), Golden Wonder soap, Elf Shake shower gel – 120g, Golden Angel bubble bar, Salted Caramel lip scrub, Moon Bath bath bomb, Magical Santa bath bomb, Party Popper bubble bar, Candy Cane reusable bubble bar, Gift Horse bath bomb, Sleepy body lotion – 50g, Sweet Wild Orange hand balm – 50g, Montalbano shampoo bar, Rainbow bubble bar, Orange shower scrub – 130g, Snow Fairy shower gel – 100g, Sweet Pudding bath bomb, Crystal Snow bath bomb, Golden Pear soap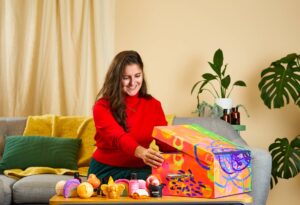 An alternative to the Lush Advent Calendar…
Those looking for an alternative to the Lush Advent Calendar can also shop the 12 Days of Christmas gift (£75 / €95) for a fun and festive Christmas countdown. This gift features 12 products in a bright and fun reusable gift box inspired by the song '12 Days of Christmas'. The 12 Days of Christmas gift will be available online and in Lush shops nationwide from 21st September.
To keep up to date and be the first to know about further exciting Christmas product announcements, customers can subscribe to the Lush Newsletter.
For further information on the Lush Advent Calendar, please email lushpr@lush.co.uk
About Lush Gifts
When you buy a Lush gift, you're having a positive impact on the world – you're saying no to excess single-use plastic; you're supporting communities and artisans who've made the Knot Wraps, ribbons, and natural papers; you're buying products with beautiful ingredients that regenerate social and eco-systems.
Large or small, each Lush gift is carefully thought out and crafted, from the handmade treats nestled inside, to the final tie of the ribbon. It's Lush's hope that by paying so much attention to every aspect from box to bath, the lucky recipient has extra incentive to keep the boxes, reuse the wrapping paper or upcycle the ribbons.