CUMBRIA MINE PUTS GOVE ON NAUGHTY LIST
SANTAS DELIVER SACKS OF 'COAL' TO GOVE AT HIS WHITEHALL OFFICE.

Photo: Hugh Warwick

CUMBRIA MINE PUTS GOVE ON NAUGHTY LIST: SANTAS DELIVER SACKS OF 'COAL' TO GOVE AT HIS WHITEHALL OFFICE.
Michael Gove is put on the naughty list for Cumbria Whitehaven mine; a gang of Santas delivers coal to Gove's Whitehall office on behalf of Coal Action Network and Lush Cosmetics in a festive protest.
Gove has been criticised by his own party, the Government's own Climate Change Committee, Industry Leaders, and Environmental groups.
On Wednesday (21/12/2022) a gang of Santas delivered sacks of 'naughty list coal' to Michael Gove at his Department of Levelling Up, Housing, and Communities office in Whitehall on behalf of Coal Action Network and Lush cosmetics. Holding signs reading "Christmas coal for climate criminal Gove ", and "No new coal", the festive action was in protest against the recent Whitehaven coal mine approval.
Since Gove announced his approval of the Whitehaven coal mine application on 7th December, he has been heavily criticised by members of his own party, the Government's own Climate Change Committee, industry leaders, and environmental groups. Over the original coal mine timeline, the coal operator would mine 64 million tonnes of coal, resulting in 200 million tonnes of CO2, and 340 thousand tonnes of potent climate change accelerant, methane.
Gove's 15-page letter outlining his reasons for approving the Whitehaven coal mine has already been left in tatters by steel industry leaders who have said British Steelworks can't rely on Whitehaven coal as it's too high in polluting sulphur. Gove's justification was dealt another blow when Owen Hewlett, the chief technical officer of Gold Standard offsetting, called the idea of making the coal mine carbon-neutral through Gold Standard offsetting "obviously nonsense, morally nonsense and technically insane".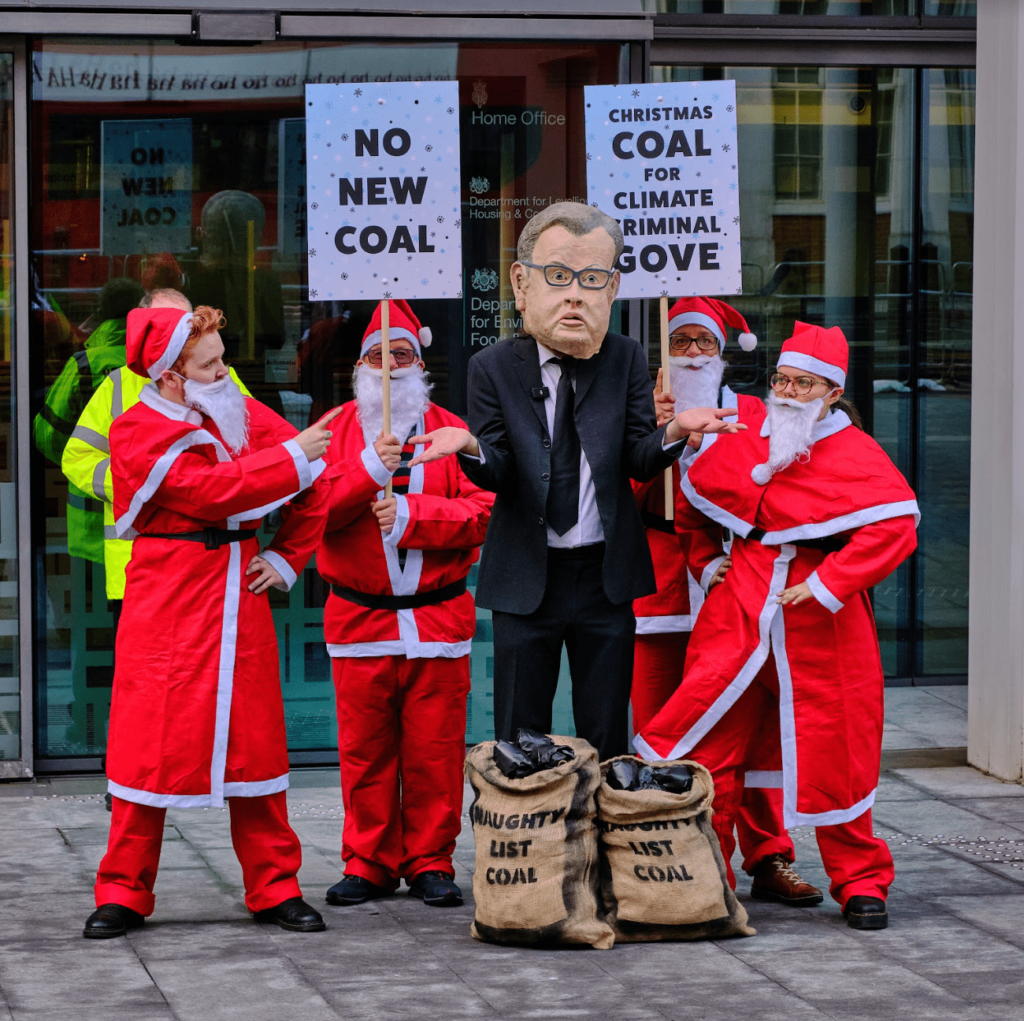 Maggie Mason, a key campaigner with local Cumbrian group SLACC, says: "I am appalled that Michael Gove has approved a new coal mine in Cumbria. The UK Government has failed to keep UK planning law and guidance on coal in line with UK Climate targets, or with the needs of UK industry."
Daniel Therkelsen, Campaigner with grassroots group Coal Action Network says "We're here because Santa knows who's been naughty and nice, and Gove's top of the naughty list for approving the Whitehaven coal mine. If more coal mines are really Gove's only levelling up offer, Santa's got a message for him this Christmas: climate change only levels down. It's a dead-end industry distracting from the levelling up potential of jobs with a future."
Lush campaigns manager Andrew Butler says, "Lush will be Santa for lots of people this Christmas and while we usually provide nice presents, Gove is firmly on our naughty list. But to say Gove has been naughty is a gross understatement. His reckless decision to approve a new coal mine in West Cumbria puts us all on the path to climate catastrophe and makes extreme weather like the floods that displaced tens of millions of people in Pakistan more likely. Gove is not just naughty, he is a climate criminal."
In a joint statement Coal Action Network and Lush Santas say, "We must remember that individuals are making these decisions that cost us billions, our quality of life, and our very future. Where is the individual accountability for that? Families are freezing in their homes this winter because someone in Government effectively stopped the home insulation programme around a decade ago. Instead of holding that person responsible and reversing that damage, Gove approves a coal mine for a steel industry that doesn't want it, derailing our climate promises. Santa is all about individual accountability and doesn't care if someone hides behind a Ministerial title—so these sacks of 'coal' are delivered to Michael Gove personally this Xmas."
Notes to the Editor:
Coal Action Network is a campaigning organisation which works against new coal mines; seeks a fair transition away from a reliance on coal for electricity and other industry and stands in solidarity with people globally fighting against coal extraction.
Lush invents, manufactures and retails fresh handmade cosmetics. A beauty company with a campaigning heart, Lush is passionate about direct action and uses its stores around the world as a platform to shed light on social and environmental issues, while raising funds and support for grassroots organisations like the Coal Action Network.
Footage and images of the protest can be found here. Photos credited to Hugh Warwick
For more information or interview requests please contact:
Lush: 01202 930051, [email protected]
Daniel Therkelsen, Coal Action Network: 07999809885, [email protected]