Lush's 2023 Dia De Los Muertos collection
Cempasúchil flowers, monarch butterflies and calavera skulls – Lush's 2023 Dia De Los Muertos collection
Fresh, handmade cosmetics company Lush has announced the launch of a brand new four-piece collection launching 28 September to celebrate Dia De Los Muertos this year.
The 2023 Dia De Los Muertos range is part of Lush's 'Co-Create' programme, a product creation internship for Lush employees which aims to promote diversity, inclusion, equity and belonging by lifting up authentic stories from respective communities.
Dia De Los Muertos is a holiday typically celebrated 1-2 November that reunites the living and dead. Unlike any other holiday, mourning is exchanged for celebration and it is often found to be a healing experience.
The new collection features key symbols of Mexican legend, including the Cempasúchil – a Mexican variety of marigold which is said to have been given to people by the Sun god Tonatiuh to honour the dead.
The new knot wrap also features monarch butterflies which, for some Dia De Los Muertos celebrators, represent the souls of the beloved, deceased family members who return home from the spiritual world in time to participate in the earthly celebration, as well as the iconic colourful calavera – 'skull' in Spanish.
"Co-Create is an incredible opportunity to showcase your talent and passion outside of the roles we already inhabit within Lush. I cannot believe that I got to showcase everything I love about my culture, and my favourite holiday, if you would've told this to a young Rodrigo, growing up in Mexico, they would've been beside themselves. It has taught me so much about collaboration, and the hard work that goes into turning an idea into a solid tangible product."
– Rodrigo De La Monja, Sales Assistant & Co-Create Inventor
The Lush 2023 Dia De Los Muertos collection will be available in stores and online from Thursday 28 September.
Cempasúchil is a Mexican variety of marigold. Legendarily, it was given to the people by the Sun god Tonatiuh, to honour the dead. These earthy, vibrant orange and yellow flowers are often put on ofrendas or strung into garlands, leading the dead back to the world of the living.
Fruity buchu, davana and bergamot oils add a lively, fresh essence to the tub. "Let the colour and fragrance act as the bridge between worlds!" – Rodrigo, co-creator of the Dia De Los Muertos 2023 range.
A marigold infusion adds earthy notes and soothing qualities to this gorgeous soap, to help calm skin. Featuring Mexican ingredients like agave syrup from Jalisco, Mexico. Agave syrup, like honey or glycerine, is a humectant, keeping moisture in the skin, making this perfect for both hand and body use where you need extra hydration.
This soap features the same fruity oils as its bath bomb counterpart; buchu, davana and bergamot.
Made from 100% organic cotton grown, spun and woven in India. The fabric is then screen printed by artisans at a traditional Sari printer where colours are matched by eye by an ink mixing master. Use as gift wrap and reuse time and time again for a 'lush' environment!
Luis Pinto, a Mexican graphic designer and illustrator, created the design for this celebratory knot wrap. Most of Luis' work is influenced by the legends, traditions and folk stories of ancient cultures from Mexico-Latin America, graphic novels, the surrealist movement and pop culture.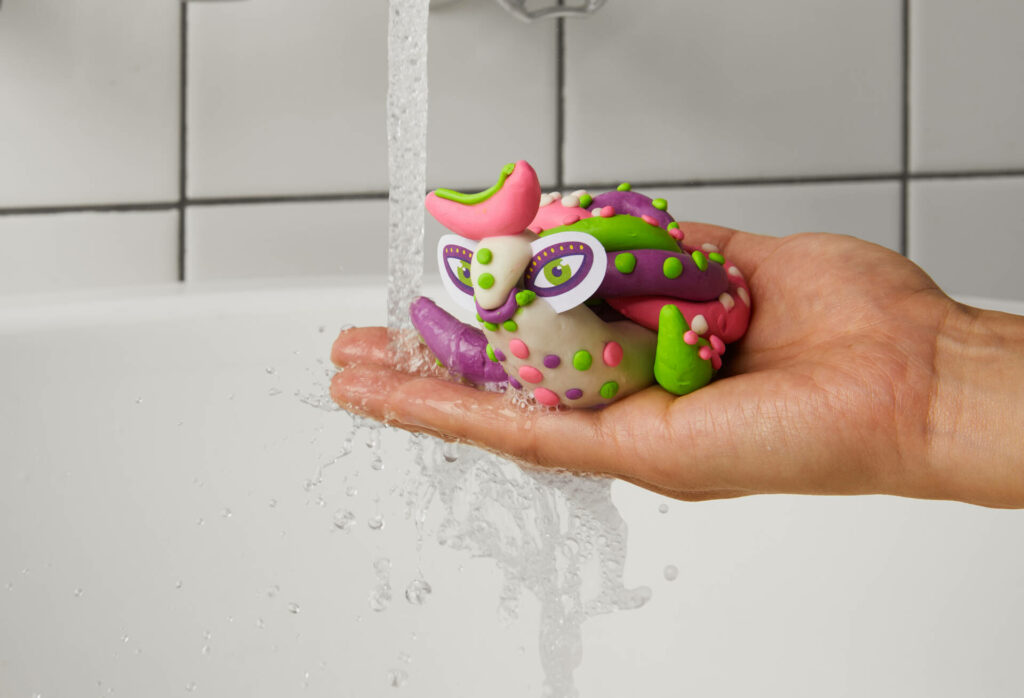 The vibrant, punchy scent of Ponche fills the Fun, while buchu, davana and petitgrain give the party vibes! Alebrijes are spirit guides in ancient Latin American cultures. They are thought to escort souls to and from the Mictlān (the afterlife).
The alebrijes that we are often familiar with are usually paper mache or wood, and were popularised in the 1930's by Pedro Linares who experienced these colourful creatures in a vision. His family still produces them today!
"Alebrijes come in all shapes and sizes, so you can truly let your imagination run wild with this Fun, and create your own personal spirit guide. The main message is sharing and honouring an important part of Mexican culture. I wanted a product that the whole family could have fun with and could also serve as a learning tool around an important cultural holiday, Dia de los Muertos."
– Angelica, co-creator of the Dia De Los Muertos 2023 range.
About Lush
Since establishing over 27 years ago, Lush has been driven by innovation and its ethics. Creators of pioneering beauty products, one of Lush's most well-known creations is the bath bomb. Invented in 1989 by Lush Co-Founder Mo Constantine in her garden shed, bath bombs have become a global sensation – all hand pressed in Lush's own manufacturing sites across the world, Lush sold over 40.5 million last year.
A beauty company with a campaigning heart, Lush is on a mission to create a product for every need and a cosmetic revolution to save the planet. The ultimate goal is to leave the world Lusher than we found it. Lush operates a strict policy against animal testing and leads the cosmetics industry in combating over-packaging by developing products that can be sold 'naked' to the consumer. Lush Digital champions ethical hardware, ethical data, ethical design and open-source technologies and we support and elevate communities who feel the same.
Today, Lush operates in 48 countries with over 886 shops, 38 websites shipping worldwide and a global network of native apps, broadcasting channels and digital communities in over 30 languages. www.lush.ie
For further information or imagery, please email [email protected]