Lush X Stranger Things
Lush launches limited edition Stranger Things bath bomb collaboration
Fresh, handmade cosmetics company Lush is releasing a limited edition bathing duo in celebration of Stranger Things Day. On 6th November 1983, Will Byers went missing in Hawkins, Indiana. Long after the town gave up the search, his friends kept looking… and discovered a mysterious girl known only by a number: Eleven. She was alone, hunted, and extremely powerful. Eleven would stop at nothing to help them find their friend. Today Stranger Things fans everywhere celebrate 6th November as 'Stranger Things Day,' a special day to share their love for the series.

Exclusively available on the UK and NA Lush websites, The Hellfire Club Bathing Duo, £15, will give fans the chance to get their hands on two limited edition handmade bath bombs based on some of the latest season's most popular motifs, as well as two collectible playing cards compatible with the Dungeons and Dragons game played in the show.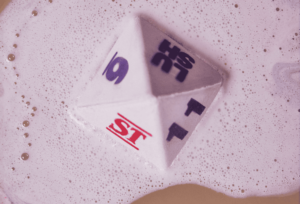 The 'D8' bath bomb is a 3D replica of the eight-sided dice used by the Hellfire Club to play Dungeons and Dragons, featuring numbers relating to the show and Lush, such as 11 (the name of the main character 'El' who has supernatural powers) and 29 (the address of the Lush's first ever shop in Poole, Dorset UK).
Roll the D8 into warm waters to unleash two colourful paths, as waves of peppermint unfurl to sharpen minds and strengthen characters. Scented with Lush fan favourite fragrance Intergalactic.
'The Rift' is a pitch black bath bomb, appearing to split on the surface to unveil a fury of red and orange fire bubbling beneath the surface. This one has a spicy scent and warming aromas and will crackle, swirl and pop in the waters around budding world-savers ahead of the final series, which will begin filming next year.
The bathing duo will also contain two limited edition, collectible playing cards, designed by Lush staff who play Dungeons and Dragons, which can be played in a real game.
The collaboration will officially launch at 11am on 6th November, however Lush App users will receive early access to purchase the gift box at 11am on 5th November.
Netflix's Stranger Things returned for its fourth season earlier this year and gripped fans worldwide, becoming Netflix's most popular English-language TV series ever.
Speaking about the collaboration, Melody Morton, Concepts Creative Director at Lush, said:
Exclusively available on the Lush website in the UK and US, The Hellfire Club Bathing Duo (£15) will hit the website at 11am on Sunday 6th November. If you can't wait that long and want to be one of the first to get your hands on the product, Lush will be dropping a limited number at 11am on Saturday 5th November via its app. Download or update the Lush Fresh Handmade Cosmetics app at 11am on Saturday for exclusive early access!
About Stranger Things
A love letter to the '80s classic genre films that captivated a generation, Stranger Things is a thrilling drama set in the seemingly normal Midwestern town of Hawkins, Indiana. After a boy vanishes into thin air, his close-knit group of friends and family search for answers and are pulled into a high-stakes and deadly series of events. Beneath the surface of their ordinary town lurks an extraordinary supernatural mystery, along with top-secret government experiments and a dangerous gateway that connects our world to a powerful yet sinister realm. Friendships will be tested and lives will be altered as what they discover will change Hawkins and possibly the world — forever.
Since its release in 2016, the global phenomenon Stranger Things has garnered over 65 award wins and 175 award nominations, including those from the Emmys, Golden Globes, Grammys, SAG, DGA, PGA, WGA, BAFTA, a Peabody Award, AFI Program of the Year, the People's Choice Awards, MTV Movie & TV Awards, Teen Choice Awards, and many others. The three-time Emmy Award Nominee for Best Drama is one of Netflix's most-watched titles, with Season 3 amassing 582 Million view hours ranking as the 2nd Most Popular English-language series in the Netflix Top 10.
Stranger Things was created by The Duffer Brothers and is produced by Monkey Massacre Productions & 21 Laps Entertainment. The Duffer Brothers serve as executive producers on the series, alongside Shawn Levy and Dan Cohen of 21 Laps Entertainment, Iain Paterson, and Curtis Gwinn.
About Lush
Since establishing over 27 years ago, Lush has been driven by innovation and its ethics. Creators of pioneering beauty products, one of Lush's most well known creations is the bath bomb. Invented in 1989 by Lush Co-Founder Mo Constantine in her garden shed, bath bombs have become a gloabl sensation – all hand pressed in Lush's own manufacturing sites across the world, Lush sold over 40.5 million last year.
A beauty company with a campaigning heart, Lush is on a mission to create a product for every need and a cosmetic revolution to save the planet. The ultimate goal is to leave the world Lusher than we found it. Lush operates a strict policy against animal testing and lead the cosmetics industry in combating over-packaging by developing products that can be sold 'naked' to the consumer. Today Lush operates in 49 countries with over 900 shops, 38 websites shipping worldwide and a global network of native apps, broadcasting channels and digital communities in over 30 languages. lush.com
Collaborations at Lush
"Collaborations aren't new to us at Lush. Lush has carefully selected collaborations with charities and people historically, from mental health charity I Am Whole in 2020 to create a digital detox movement away from socials; a 7 year partnership with ARTHOUSE Unlimited for seasonal gift design; with Vivienne Westwood's Climate Revolution in 2013 where 100% of profits went to supporting this issue; and in 2021 a B2B collaboration with ASOS.
As a global brand – that does it all in-house – sourcing the finest ethical ingredients, inventing, manufacturing and retailing, we can innovate unique products and experiences for every partnership. We continue to look forward to connecting with audiences around the world in new and unexpected ways." – Annabelle Baker, Lush Brand & Marketing Director.
For further information or interview requests please email [email protected] or call 0207 434 3948