LUSH X GLITTERBOX LAUNCH EXCLUSIVE RAVE & BATHE COLLECTION 


In a continuation of the collaborative partnership that kicked off at SXSW in March, Lush and the label and nightlife phenomenon introduce a range of products that celebrate the joys of going out.
Glitterbox ambassador and performer, the vivacious Tete Bang, stars as the face of the campaign.
The collaboration consisting of six products will be available to purchase online in the UK, Spain and Croatia and in Lush anchor shops in the UK from Thursday 27th July 2023
A celebration of nightlife's euphoric spirit, the range is centered around both brand's ethos of self-care and freedom of expression and features Glitterbox's iconic heart logo and graffiti-inspired visuals, brought to life by Glitterbox commissioned artist Ellise Lawrence, whose graphics have been seen making statements on dancefloors across the globe.
The range features six unique products, with three centered around the campaign's 'Rave' range – a nod to the magic of nightlife and self-identity, and three presented as the collection's 'Bathe' set – a celebration of self-care and recovery.
Wind down after a night of dancing the night away with a soak in masses of fruity bubbles. Cheerful Sicilian lemon oil and sweet orange oil merge to create an anxiety relieving and mood boosting effect.
Transport yourself to the glittering dancefloors of the 70s, with all its glamour and decadence. A disco ball for the bathtub, packed full of fresh and playful grapefruit oil, floral petitgrain, and a sprinkling of environmentally-friendly lustre to leave you dazzling and dance floor ready.
For skin that shines … Glow up with the return of Lush fan favourite shimmer bar, Shimmy Shimmy, in a new shape! The Fair Trade shea and cocoa butters will leave your skin soft and lovely too.
An apple orchard scented glitter filled soap of warming cinnamon leaf and earthy oak moss.
Bring a sparkle to your skin as you spritz this uplifting fragrance over the body and clothes (just avoid those sensitive spots). Shake, spritz and get ready to party! Full of fresh and playful grapefruit oil, floral petitgrain, and a sprinkling of environmentally-friendly lustre to help you refresh, revitalise, and keep on dancing day or night.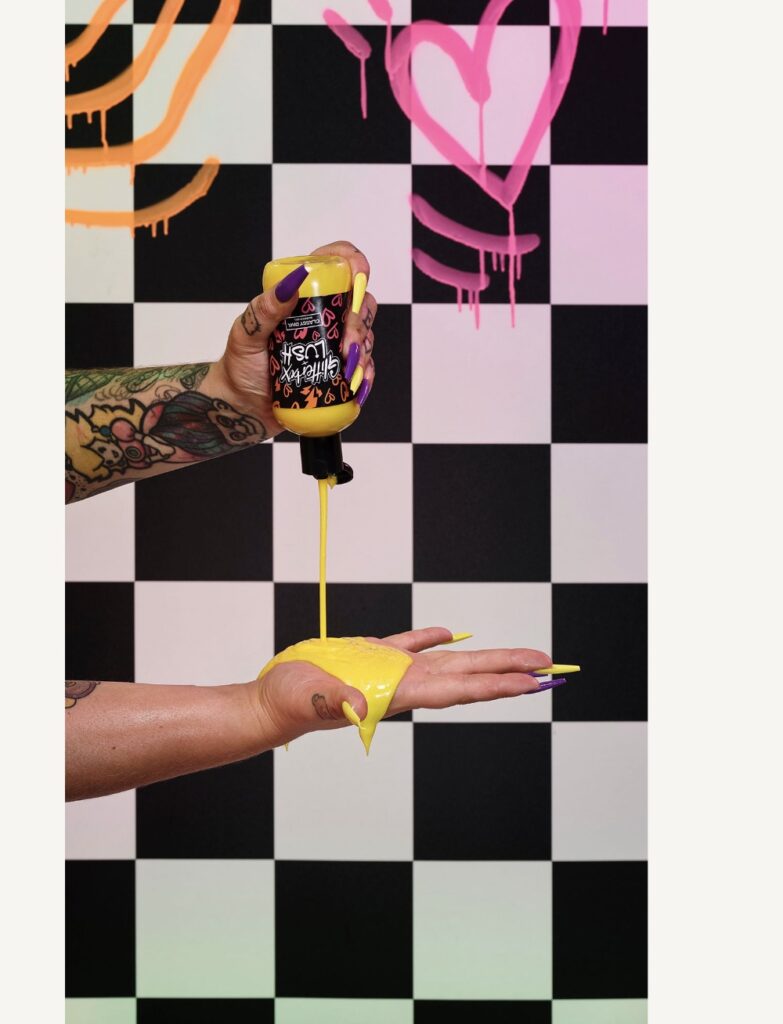 Whether you're preparing for a night out or washing away the sins of the dance floor, this playful concoction of grapefruit oil and floral petitgrain will do just the job. It's scented with Lush's classy Madame President fragrance, perfect for satisfying everyone's inner diva.
Available to purchase from Thursday 27th July online at Lush.com (in the UK, Spain and Croatia), and in flagship Lush stores across the UK and Croatia.
"It has been a dream to work alongside the Lush team and it feels incredible to finally be able to reveal our Rave and Bathe collaboration with them. We are proud to have created a product range that is fuelled by a synergy of self-love, music, freedom of expression and fun!"
– Amanda Hamilton, Creative Manager at Glitterbox.
Bringing the partnership to life in the ultimate club setting, the world's #1 voted club Hï Ibiza will host a number of Lush takeovers throughout Glitterbox's summer residency. Commencing Sunday 23rd July, Lush will take over the super club's The Wild Corner (WC) room with product and bold visuals from the Rave & Bathe campaign. Soundtracked by the label's world-class DJ roster, partygoers will be immersed in the collection's visual experience as well as have the opportunity to test the product while raving.
"We're so excited to be partnering up with Glitterbox to create a limited range of products inspired by party nights and upbeat music. Self-care can be dancing to music and getting ready to rave, and that's exactly what this collaboration is all about. With a range of glittery bath and body cosmetics that encompasses the spirit of dance culture and having fun, we can't wait for our customers to experience the magic of Lush x Glitterbox."
– Kalem Brinkworth, Collaborations and Concepts Senior Creative at Lush.
Glitterbox will take over Hï Ibiza on 23rd July, 20th August, 10th September and 1st October. The range will be available from Thursday 27th July at Lush.com.
notes to editors
About Lush
Since establishing in 1995, Lush has been driven by innovation and its ethics. Creators of pioneering beauty products, one of Lush's most well-known creations is the bath bomb.
A beauty company with a campaigning heart, Lush is on a mission to create a product for every need and a cosmetic revolution to save the planet. The ultimate goal is to leave the world Lusher than we found it. Lush operates a strict policy against animal testing and lead the cosmetics industry in combating over packaging by developing products that can be sold 'naked' to the consumer. Today Lush operates in 50 countries with over 900 shops, 38 websites shipping worldwide and a global network of native apps, broadcasting channels and digital communities in over 30 languages. Lush.com
About Glitterbox
Glitterbox is a nightlife phenomenon and record label conceptualised in 2014 by Simon Dunmore, founder of house music institution Defected Records. Since its inception, Glitterbox has generated an inclusive, uplifting party atmosphere designed to unite all ages, persuasions and walks of life on the dancefloor. Hosting events at world renowned venues, Glitterbox calls on the world's most respected DJs such as Louie Vega, Kenny Dope, Jayda G, Bob Sinclar, Dimitri From Paris, Honey Dijon, Purple Disco Machine, Moodymann, plus rising stars Kiddy Smile, Natasha Diggs, DJ Holographic, Dirty Channels and PAs from disco titans Kathy Sledge, Jocelyn Brown, Barbara Tucker and songstress Róisín Murphy. Moving mind, body and soul, the party's dancers, performers and world class production collide to create unforgettable moments across the globe. Powering dancefloors at venues such as Ibiza super club HÏ, London's Printworks, The Warehouse Project, Creamfields, IVY Sydney, Tomorrowland, Rex Club in Paris and New York's iconic Pride and House of Yes, the award-winning imprint continues to be an authoritative voice for 21st century disco and truly a force to be reckoned with in global nightlife culture.