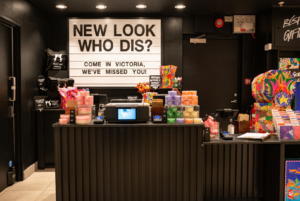 Lush Victoria Station opens with new look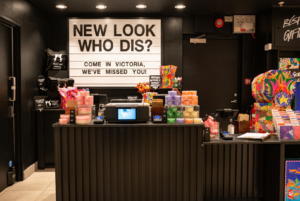 On Thursday 20th October 2022 at 10am, fresh handmade cosmetics brand Lush will reveal the new look of its Victoria Station shop. Originally opened in 2000, the shop celebrates 22 years within the station with a new shop design and dedicated consultation area to connect customers to the appropriate product for their needs.
To celebrate the opening day, Lush Victoria Station will be hosting in-store product making and will offer an extra treat to the first 50 customers.
"We are thrilled to be re-opening our doors to the wonderful commuters of London Victoria Station, and can't wait for our local community to experience all that our new space has to offer. For over 22 years we have been able to bring incredible handmade cosmetics to our historic station's visitors and have many incredible plans for our future that will cement us as one of the most innovative retail destinations in the local area.
This re- model comes at an incredibly exciting time of year for us as we will re-open with both our Halloween and Christmas ranges in full force, ready to make the end of this year one to remember. The teams involved in this project have worked tirelessly to bring our shop up to date with dynamic visual displays to showcase all the innovative cosmetics that we have to offer. We look forward to welcoming everyone back through our doors very soon." – Christopher Morris Mills, Lush Victoria Trainee Manager
Continuing to invest in retail
Lush is committed to continuing investment in the high streets and providing innovation to showcase the 5* customer service experience. In 2022 Lush will make a retail investment approximately £7.6m for new shops, relocations and refits across the UK&I and Europe.
The Victoria Station retail experience highlights categories of iconic Lush inventions from the 1980s including the shampoo bar and the bath bomb, as well as a section with an array of ethical gifts and Knot Wraps.
Reducing, Reusing, Recycling
As part of Lush's mission to 'Leave the world Lusher than we found it', the main focus of the design is repurposing furniture. Alongside some new furniture produced from ethically sourced and durable materials, existing furniture from the previous store will be repurposed and refinished to give the materials a new lease of life. This is reducing the environmental impact and any waste of the shop refit process.
When fitting their shops, Lush utilise the same values they do when sourcing ingredients for their products.
"With this store refit we celebrate over 22 years of stories and memories in Victoria station that have shaped us and our products. We wanted to create a place where customers could explore and indulge in these stories, as well as a place to create their own ones. With this new store refit, we celebrate the local customers, tourists and commuters who have been part of this adventure, as well as bringing people together through a flexible and inviting space and meeting our fantastic in-store team" – Rosie Cooke, Lush Lead Designer
Bring it Back
Lush Victoria Station is not only looking forward to welcoming their customers back, but also welcoming their plastic packaging back! As part of Lush's mission to 'Leave the world Lusher than we found it', Lush shops are inviting customers to bring back any full-sized Lush plastic packaging to their local Lush shop to be recycled as part of their fresh new packaging returns scheme, Bring It Back.
For each plastic Lush item returned, customers will receive a 50p deposit to spend on their Lush basket that day.
NOTES TO EDITORS
About Lush
Since establishing over 27 years ago, Lush has been driven by innovation and its ethics. Creators of pioneering beauty products such as the fizzing bath bomb, shower jellies and solid shampoo bars, Lush places emphasis on fresh ingredients like organic fruits and vegetables. Lush fights tirelessly against animal testing and operates a thoroughly comprehensive Ethical Buying department, developing fair and direct trade initiatives. Lush leads the cosmetics industry in combating over-packaging by running public awareness campaigns and developing products that can be sold 'naked' to the consumer without any packaging.
Today Lush operates in 48 countries with over 900 shops, 38 websites shipping worldwide and a global network of native apps, broadcasting channels and digital communities in over 30 languages. www.lush.com
Lush Victoria Station
Unit 42b Buckingham Palace Rd, London SW1W 9SJ
Opening Hours:
Monday – Friday: 8.30am to 8pm
Saturday – Sunday: 9am to 8pm
For any press enquiries or interview requests with Christopher Morris Mills, Lush Victoria Trainee Manager, please contact [email protected]