#LushSpringprize
LUSH Spring Prize 2023 opens for applications
above iMAGE: Food Farming & Climate Justice march 2019. Organised by the Landworkers' Alliance.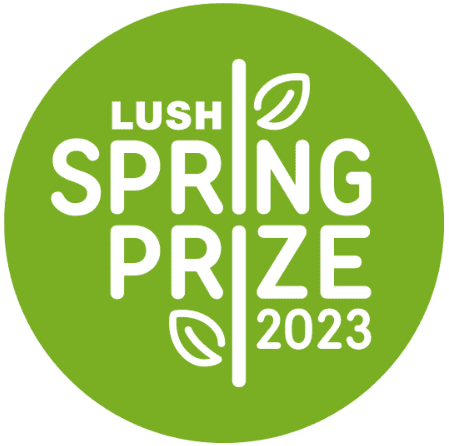 From 1st August 2022 – 19th September 2022, regenerative organisations, community groups, businesses and other projects from around the world can apply to the LUSH Spring Prize 2023.
Application forms are available to download from the Lush Spring Prize website (www.springprize.org) and entries close at 10:00 GMT 19th September 2022.
The Prize awards and celebrates those repairing the earth's damaged systems, helping to leave the world Lusher than they found it. It seeks to increase the capacity of communities and societies to thrive in harmony with nature and each other, building healthy and resilient ecosystems and livelihoods.
The work and stories of shortlisted projects will be published on the Spring Prize website and prize recipients will be invited to a celebratory co-learning event taking place in May 2023.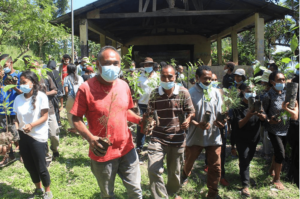 What is the Lush Spring Prize?

Launched in 2017, the Lush Spring Prize is now in its fifth year of celebrating and awarding prizes to groups working toward eco-social regeneration. It is a joint venture between Lush Cosmetics and Ethical Consumer, and has distributed more than £820,000 to date.
It was set up to support 'regenerative' projects – those that go beyond sustainability by taking holistic approaches to building the health of ecology, economy and social systems.
By supporting regenerative projects, the Spring Prize hopes to raise the profile of the movement as a whole to inspire more individuals, groups, communities, funders and businesses to start engaging with regenerative processes.
People all over the world are developing ways to live in harmony with nature and each other. They are generating renewable resources, restoring ecosystems, and nurturing solidarity. They are bringing life back to damaged land and oceans, and building health, wholeness and resilience.
The Lush Spring Prize is here to support these regeneration movements through:
A biennial £200,000+ prize fund. This is open to communities, organisations and businesses from the Intentional stage, through to Young and Established organisations, and Influencers.
Events that bring people together to share their skills and experience.
Publicity to raise awareness of regeneration and its potential to heal damaged systems.
Prize Categories
The 2023 Lush Spring Prize will award at least 11 prizes across 4 different Spring Prize categories: from the Intentional stage, through to Young and Established organisations, and for Influence. Applicants can also be considered for two collaborative prizes: the Ancient and Indigenous Wisdom Award, and the Permaculture Magazine Award.
Intentional Award: 4 prizes
For great new ideas and projects up to 1 year old, to help build knowledge and a solid foundation from which to grow.
Young Award: 3 prizes
For projects or organisations that are 1-5 years old, to help develop their environmental and social regeneration work.
Established Award: 2 prizes
For organisations that have worked towards regeneration for 5+ years, to help share knowledge and inspire more people and ideas.
Influence Award: 2 prizes
For local, national or international organisations and networks that have a core focus on campaigning or lobbying to influence policy, regulation or public opinion in support of regeneration.
Ancient and Indigenous Wisdom Award: for indigenous and traditional knowledge-led projects and organisations. Prize recipients share an amount of £10,000, provided by Be The Earth.
Permaculture Magazine Award: for individuals, communities, businesses, groups and organisations that can demonstrate inspirational permaculture work over three years or more. Prize recipients share a prize fund of £15,000, provided by Permaculture Magazine.
Collaborative prizes
Be The Earth Foundation and the Permaculture Magazine have partnered with the 2023 Lush Spring Prize to add two collaborative prizes: the Ancient and Indigenous Wisdom Award and the Permaculture Magazine Award.
To be considered for these collaborative prizes, apply to one of the Spring Prize categories (Intentional Award, Young Award, Established Award, Influence Award) and complete the question on "Would you like your application to also be considered for one of the following 2023 collaborative prizes.." No additional application is required.
The Ancient and Indigenous Wisdom Award and the Permaculture Magazine Award are separately funded and have their own judging panel. For each award, prize recipients share a prize fund of at least £10,000.
For inspiration, prize recipients and shortlisted projects from previous years can be viewed on the Spring Prize website. Videos of prize recipients are also available at vimeo.com/lushspringprize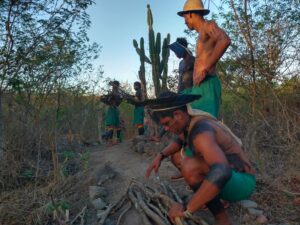 Nominations
The Lush Spring Prize will also be running a nomination system whereby anyone can nominate a project, organisation or individual that they feel is doing amazing regenerative work. The Spring Prize team will contact all nominated projects and invite them to apply.
The deadline for nominations is 2nd September 2022 10:00 GMT.
Searching for a Lush Customer and staff judge
Each prize year, the Spring Prize team welcomes one Lush customer and one Lush staff member onto the Spring Prize judging panel. These people will work with the other Spring Prize judges (who collectively represent different regenerative movements) to choose prize recipients from a shortlist of around 50 Spring Prize applications. Customers and staff can apply to join the judging panel using this form, between the 1st and 22nd of August. https://bit.ly/springprizejudge23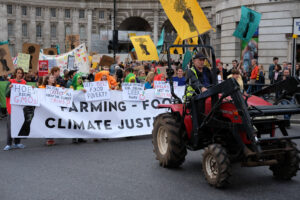 Notes to the editors:

Website: www.springprize.org (Contains descriptions of and links to all previous prize recipients and shortlisted projects)
Lush Cosmetics (www.lush.com)
The Prize is funded by Lush, a campaigning company with over 900 shops spanning 48 countries. Lush has provided funding for regenerative projects through grant programmes like the Re:Fund (Regeneration Fund) since 2010.
Ethical Consumer (www.ethicalconsumer.org)
The Prize is coordinated by Ethical Consumer, a non-profit multi-stakeholder co-operative based in the UK. Ethical Consumer's research and publishing supports consumer power to generate positive impacts for the environment, people, animals and society.
Contact details:
Contact the Spring Prize Team (Anna Clayton, Francesca de la Torre at Ethical Consumer and James Atherton at Lush) by email or phone:
Telephone: 0161 226 2929
Anna Clayton: [email protected]
Francesca de la Torre: [email protected]
James Atherton: [email protected]