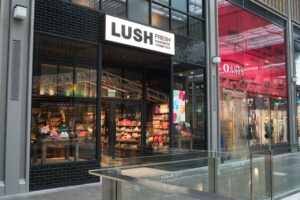 Lush Oxford shop applaud Oxford Council's decision…
to serve only plant-based food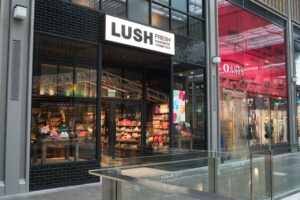 The Lush Oxford shop, located in Oxford's Westgate Shopping Centre, has applauded Oxford Council's decision to serve only plant-based food at official events.
Fresh handmade cosmetics brand Lush switched to serving only delicious vegan food at their internal and external events some years ago – which, despite initial worries, has always proved to be well received by the hundreds of global guests in attendance. 
It's a fantastic opportunity to show how easy and delicious a switch to vegan eating can be!
"The key for us is ensuring that the food we serve is so enjoyable that no one cares that no meat or dairy went into it.  We have used a variety of different catering companies, as well as in-house catering at our events venues, with many reporting afterwards that what at first seemed like a nightmare request turned out to be an opportunity to turn their chefing expertise to something completely new. 
We have seen a huge shift in the ability of caterers to create amazing plant based menus – with everything from informal buffets through to our international Awards formal dinner nights. We believe that guests of Oxford Council will enjoy their expertly cooked vegan feasts – with the added benefit of knowing that they are helping the planet one meal at a time. We would happily chat with Oxford Council to share our experience of providing vegan meals at large events." – Hilary Jones, Lush Ethics Director
"The Oxford City and Oxfordshire County Councils have made some fantastic and progressive moves over the past few decades; from electing Caroline Lucas as the UK's second Green council seat in 1993, to giving human rights campaigner and co-founder of the Free West Papua Movement Benny Wenda 'Freedom of the City' in 2019.
With the recent IPCC report confirming yet again that the meat industry is one of the world's leading contributors to the climate crisis, this symbolic gesture of the Oxfordshire County Council to make six of their annual meals Vegan, is an important small step. I hope that it guides the way for bigger, bolder changes, and for more councils and government bodies to encourage their teams and constituents to eat more local, plant-based meals. We need symbolic gestures like this, but more importantly we need bigger, faster change away from cruel, environmentally damaging food systems, toward food systems that bring health and wellness to people, planet and animals." –  James Atherton, Lush Re:Fund Coordination
From vegan food served at their events to vegan cosmetics, Lush was founded on the vision that cosmetic products didn't need to use animal fats or their by-products to be effective, and that animal testing was entirely unnecessary as well as unethical. Currently, around 95% of Lush's all year round product range is vegan. Discover Lush's complete range of vegan products here.
Further information…
From taking a firm stand against the practice of animal testing itself, to supporting the development and implementation of human-specific testing methods through The Lush Prize, fighting animal testing has been a core principle of Lush's and those who founded it for over 40+ years.   A large and continual part of Lush's ethos is to ensure that the ingredients they buy are sourced responsibly, sustainably and free of any nasties such as genetically modified organisms (GMO) and, where possible, pesticides.
For further information or interview opportunities, please email [email protected]