Lush launches two reusable Advent Calendars for 2023: A party in a box and a doll's house!

Available via the Lush app from 23rd August, online from 24th August and in Lush shops from 21st September
Offering two advent calendars for the first time including a brand new bathing advent calendar
Interactive reusable and recyclable packaging: can be reused as a doll's house or to store treasures
25 vegan products each – featuring a combination of products from different ranges including best sellers, Christmas retro products and gift exclusive products
For the first time Lush will launch two reusable advent calendars on Thursday 24th August: The Lush Advent Calendar and Christmas Buds Advent Calendar online and in Lush shops nationwide from 21st September.
Customers who download the Lush app, will get the chance to purchase the Advent Calendar 24 hours ahead of launch, on August 23rd.
Both reusable gift boxes are made from recycled board and the ribbons are made from recycled plastic bottles.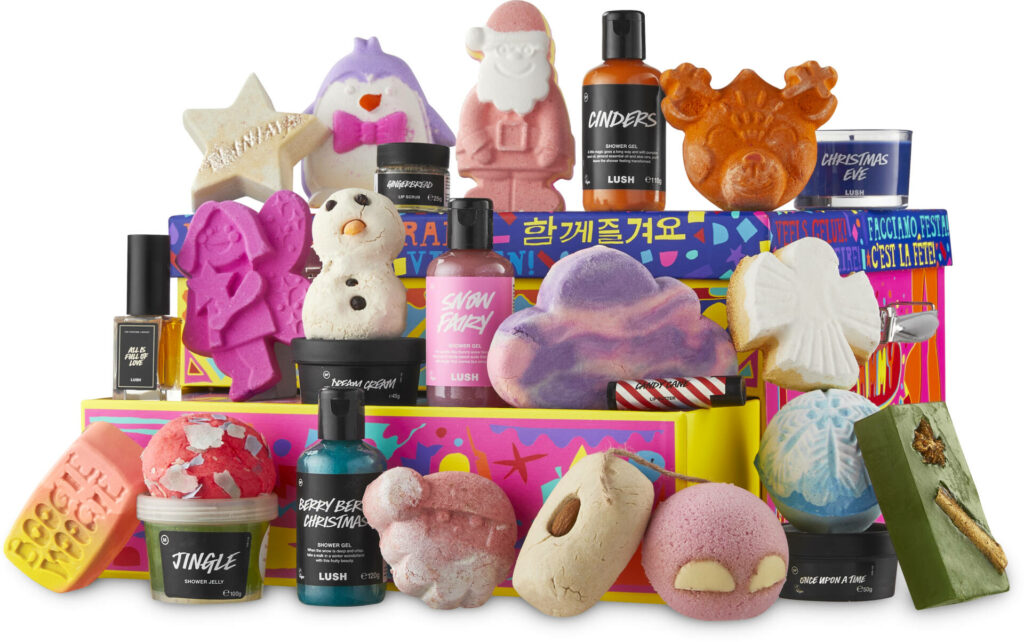 Featuring a carefully selected range of 25 vegan products to bring joy in the lead up to the big day, this year's Lush Advent Calendar is packaged in a limited edition box and features more retro and exclusive products than ever before and not available to purchase anywhere else.
The box has been designed by Andre Williams from Intoart, a London based studio for people with learning disabilities. Andre's Advent Calendar design also features the word 'Celebrate' in 23 different languages including English.
"This box is a big party. It's dancing feet, a shimmy shake, a boogie woogie and a celebration. It's the good time for everyone"
– Andre Williams, Intoart
Gift includes:  All Is Full Of Love fragrance (Advent Calendar Exclusive), Penguin Bath bomb, Cinders Shower gel (Retro), Boogie Woogie soap (Advent Calendar Exclusive) , Groovy Fairy bath bomb, Snowman Bubbleroon (Retro), Dream Cream (SP), Magical Santa bath bomb, Gingerbread Lip Scrub, Marzibain bubble bar (Retro), Snow Fairy Shower Gel, Candy Cane Lip Butter, Strawberry Santa Shower Foam, Jingle Shower Jelly (Retro), Once Upon A Time Body lotion, Twinkle Bath bomb (Retro), Bob Soap (Retro), Sleepy Bubble bar, Snow Drift Bath bomb, Fairy Tail Sugar Scrub (Retro), Berry Berry Christmas Shower gel, Reindeer Bubble Bar, Snow Angel Bath Melt (Retro), Christmas Eve Candle (Advent Calendar Exclusive), Christmas Morning bubble bar (Retro)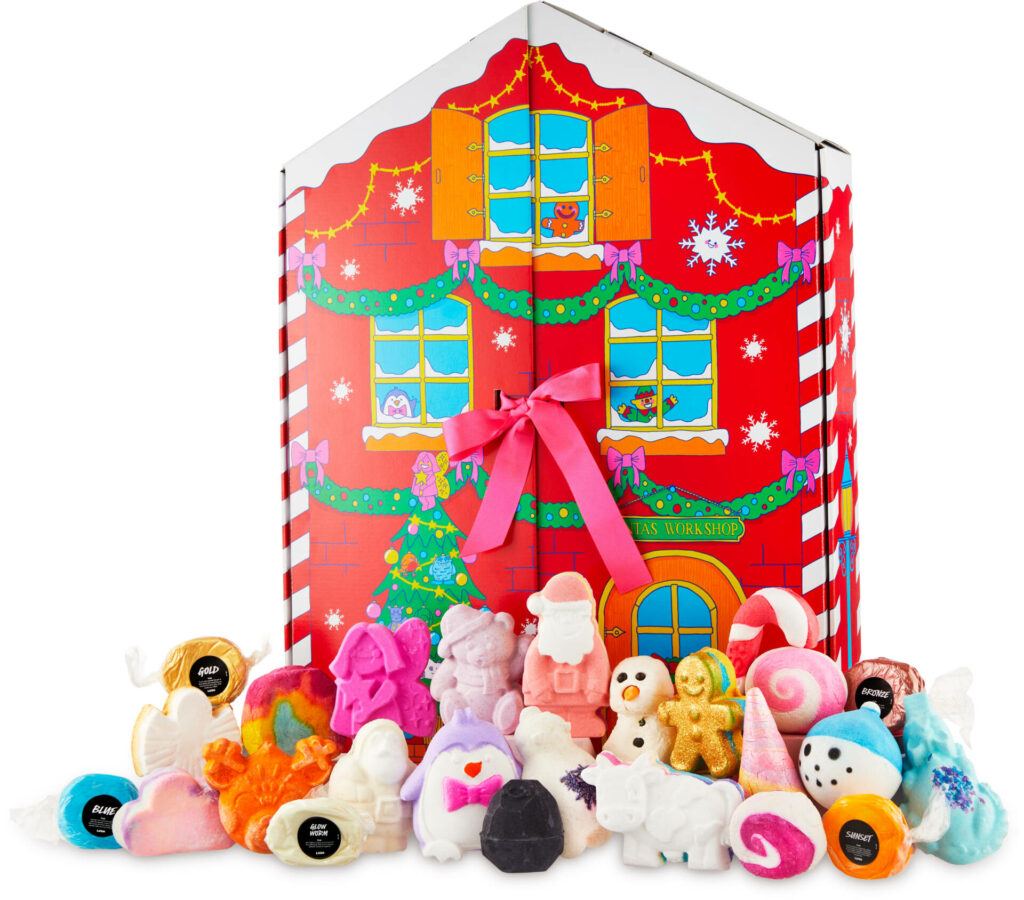 This interactive Advent Calendar contains twenty five carefully curated bathing treats that will leave the entire family feeling festive! Featuring Lush classics, as well as festive exclusives and returning retro favourites such as Chocolate Santa Bath Bomb, Snow Angel Bath Melt and Snowman Bubbleroon.
"Inspired by memories of playing with doll's house's and my imagination of what Santa's workshop would look like. I would love for someone to keep the box and use it as a doll's house or playhouse for many Christmas' to come, encouraging imagination in all generations.
The design is in my buds style which keen eyes will recognise from previous gifts and Knot Wraps. I've added a few new characters into the design that have also become products inside your gift, look out for Lump of Coal, Groovy Fairy, and Penguin."
– Rachel Norden, Lush Senior Gifts Designer
Gift includes: Lump of Coal bath bomb, Groovy Fairy bath bomb, Candy Cane Reusable bubble bar, Penguin Bath bomb, Gold Fun, The Comforter mini bubble bar, Toby's Magic Cow bath bomb, Snowman Bubbleroon (Retro), Snow Fairy Roll mini bubble bar, Catch me if you can bath bomb, Blue Fun, Rainbow bubble bar, Snowy bath bomb, Neon Sunset fun, Chocolate Santa bath bomb (Retro), Sleepy mini bubble bar, Bronze Fun, Butterbear bath bomb, Snow Dragon bath bomb, Glow Worm Fun, Snow Angel bath melt (Retro), Unicorn Horn bubble bar, Sleepy Bear bath bomb, Reindeer bubble bar, Magical Santa bath bomb
For further information on the Lush Advent Calendar, please email [email protected]
about lush gifts
When you buy a Lush gift, you're having a positive impact on the world – you're saying no to excess single-use plastic; you're supporting communities and artisans who've made the Knot Wraps, ribbons, and natural papers; you're buying products with beautiful ingredients that regenerate social and eco-systems.
Large or small, each Lush gift is carefully thought out and crafted, from the handmade treats nestled inside, to the final tie of the ribbon. It's Lush's hope that by paying so much attention to every aspect from box to bath, the lucky recipient has extra incentive to keep the boxes, reuse the wrapping paper or upcycle the ribbons.
Above all, Lush are passionate about art and design, this includes the people who create it. We understand how important it is to have a breadth of design from a variety of voices and from as many backgrounds as possible.
About Intoart and Trifle Studio
Andre Williams is one of the founding members of Trifle Studio. His work focuses on striking typography alongside carefully rendered illustrations that are sure to bring a smile to your face.
Trifle Studio is a multidisciplinary design studio based in Peckham, South London whose work is created by designers with learning disabilities. Trifle Studio was established by Intoart, a pioneering visual arts organisation championing its founding vision for people with learning disabilities to be visible, equal & established artists and designers.
Find all media assets here.