Lush Launch Three New Perfume Gifts
and Reveal New Additions to Perfume Range
#LushPerfume
On Wednesday 8th September, Lush will be launching three of their global best selling unisex perfumes (Dirty, Pansy and Karma) pre-wrapped in a collectable and reusable Knot Wrap made out of recycled plastic bottles. 
Just in time for Christmas, each Knot Wrap has been designed in collaboration with Rocket Artists, an inclusive group of visual and performance artists who challenge barriers around art, diversity, learning and communication. Each gift also features a collectable perfume bottle featuring Artist Edition designs, available exclusively to these gifts. 
In addition to the Artist Edition Knot Wrap Perfume Gifts, Lush will also be launching Salty body Spray and Shade perfume. Shade is their first woody fragrance and new edition to Lush's perfume range. Warm and woody with sophisticated sandalwood, this unisex fragrance not only smells incredible, but has a conscience too with each essential oil having it's own regenerative story to tell.
INTRODUCING ARTIST EDITION KNOT WRAP PERFUME GIFTS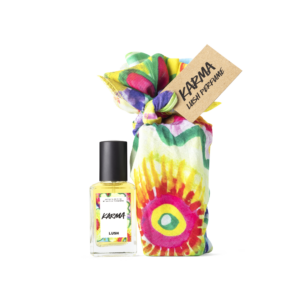 Karma Artist Edition Knot Wrap Perfume Gift (£35 for 30ml)
Unwrap, spritz and take a trip through 1960s London as clouds of intoxicating patchouli mingle with uplifting sweet orange. 
The design for the Karma Knot wrap that wraps the perfume is by Sofia Tuominen, a member of the Rocket Artist's supported Studios in Brighton, UK. She describes her current work as 'colourful nightmares' as they are thematically holistic – exploring relationships between colour and emotions.
Available in Lush shops nationwide and online.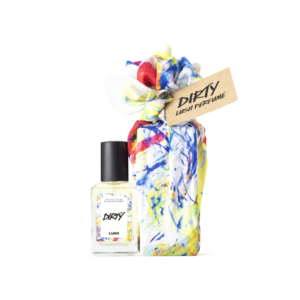 Dirty Artist Edition Knot Wrap Perfume Gift (£25 for 30ml)
Dirty is one of Lush's global best selling perfumes, scenting the skin with invigorating spearmint, peppery tarragon and breezy sandalwood.
This Knot Wrap has been designed by Rocket Artists member, William Thomas. His practice currently explores expanded mark-making, painting, drawing and print-making through adapting tools and experimentation with materials. 
Available in Lush shops globally and online.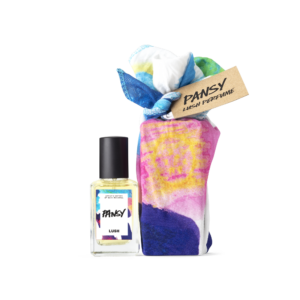 Pansy Artist Edition Knot Wrap Perfume Gift (£25 for 30ml) 
Spritz on the skin to reveal a fresh green floral delight. Be the flower of the flock with Pansy's perfectly balanced bouquet. 
The design for the Pansy Knot wrap that wraps the perfume is by Rocket Artist member, Beth Mackrill. Her practice currently involves texture, relief and pattern which she often applies to textile designs including clothes and soft furnishings. 
Available in Lush shops globally and online.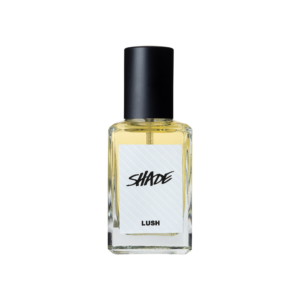 INTRODUCING SHADE PERFUME (£25 for 30ml)
A new addition to the Lush range of perfumes, spritz Shade on the skin for a burst of warm and comforting sandalwood. 
Showcasing a wonderful example of the presence of women in perfumery, Shade was Invented by Lush Perfumer, Emma Dick and the two key essential oils, Sandalwood and Olibanum were sourced by Agnes and Gabbi from Lush's buying team. 
A perfume with a conscience, each essential oil has its own story to tell including Sandalwood from West Timor which is extracted from protected and sustainable trees. Lush is working with local villages on this project to build more trees which will soon become the mother trees, meaning they will never be cut down and instead will be used for extracting seedlings only. 
This fragrance is also made using a new source of Olibanum oil from the Dayaxa region in Somaliland. The oil has full traceability down to harvester level and from this harvest, every step of the process is being mapped on blockchain.  The resin is sustainably harvested and the harvesters are paid a fair price.   We (Lush) are working with our supplier to kickstart a project to train women in the local community on small-scale olibanum oil distillation, a first in the community.  
Discover Lush's interactive buying map here.
Watch below as Lush perfumer Emma Dick talks through Shade perfume alongside perfume critic Sam Wonder and Agnes Gendry and Gabbi Loedolff from the Lush buying team.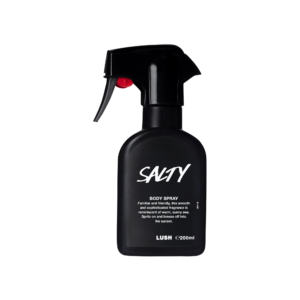 INTRODUCING SALTY BODY SPRAY (£30.00 for 100ml)
Salty body spray is a reworked format of Lush's heritage fine fragrance, Salarium. Reminiscent of days spent by the sea, Salty is perfect for those looking to be instantly transported to the coast for a burst of fresh ocean breeze. 
With oudh oil from Thailand, floral rose oil and regenerative neroli from Lebanon, Salty has a long lasting effect on skin and clothes making it ideal for long summer days. All Lush fragrances are made in-house using the finest essential oils. 
Not just for Christmas, Shade perfume, Artist Edition Knot Wrap Perfume Gifts and Salty body Spray will be available as part of Lush's all year round gifting. 
To keep up to date and be the first to know about further exciting Lush announcements, customers can subscribe to the Lush Newsletter. 
For interview opportunities with a  Lush Perfumer, please email [email protected]
About Lush Perfume
Discovery Lush's perfume timeline here
Perfumery for Lush has always been a medium of expression in an artistic and unadulterated manner. Inspired by art, poetry and culture, fine fragrances are blended using the world's best essential oils and absolute. Each fragrance acts as a hallmark in Lush's perfume history and showcases the love of fine fragrance by Lush's perfumers.  
The Lush Perfume Library 
A centre of excellence for perfumery and fine fragrance, Lush Perfume Libraries house a collection of fine fragrances from the Lush archives, new fragrances and books on perfumery. There are currently nine Lush Perfume Libraries globally (including Birmingham, Liverpool and London's Oxford Street).  Customers can also discover more about Lush perfume at their dedicated online Perfume Library.