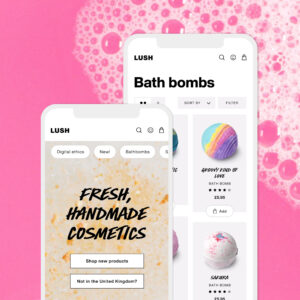 Lush has launched a fresh new digital look…
Welcoming customers to shop online with ease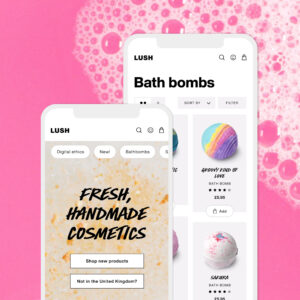 Following a year of online shopping and rising e-commerce, Lush has relaunched their website and app to welcome customers to shop with ease.
With digital ethics at the core of the relaunch, customers will now be able to browse product ranges with improved search optimisation, a new checkout process and new ways to pay.
In collaboration with Saleor, utilising open source solutions and in line with Lush's Digital Ethics Mission Statement, the new Lush digital commerce now includes a 24 hour live chat function, improved search optimisation and exclusive information on new products.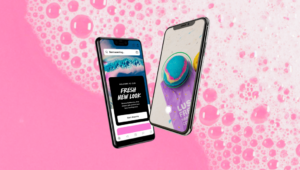 Lush Lens: Reducing the need for packaging waste
The Lush App has had a makeover and is now available in the UK on iOS and Android. For the first time the Lush app will contain the most successful #LushLabs feature to date, Lush Lens, designed by Lush's in-house tech R&D team to offer customers a packaging-free and contact-free shopping experience.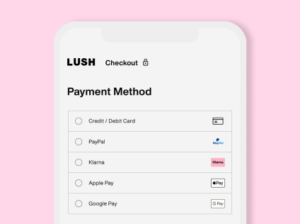 Customers can now quickly browse, explore and buy fresh handmade cosmetics by accessing the unique Lush Lens feature and discovering Lush's packaging free products easily.
Customers can keep track of favourites and be notified about new and exclusive products.
Lush Lens had 2.6 million scans since its launch on iOS in November 2018, and by replacing physical product demonstrations using water, the use of Lush Lens in the Lush Harajuku shop, means that their water consumption halved.
What Lush are doing to revolutionise the technology industry
Lush Digital believes technology should give more than it takes from society and the environment. Tech doesn't have to be unethical; it can be built for the greater good and impact positive social change. Lush champions ethical hardware, ethical data, ethical design and open source technologies and we support and elevate communities who feel the same.
Just as Lush ethically sourced ingredients and treats employees right, Lush Digital believes in ethical tech that gives back to the community. Lush Digital aims to provide open source solutions where before only monopolies existed; it fights for supply chain transparency, digital innovation and telling the Tech For Good stories that are as yet untold.
Read more here.
For editors
To keep up to date and be the first to know about further exciting Lush announcements, customers can subscribe to the Lush Newsletter.
For further information or for interview opportunities, please email [email protected]