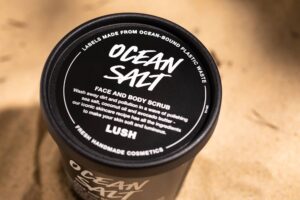 Lush cleans up with…
UK's first ocean-bound plastic label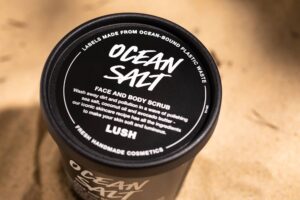 Lush's cult face scrub, Ocean Salt, has a new label made from ocean-bound plastic. The first of its kind in the UK
The new label is created using plastic waste salvaged from Malaysian shores.
The new labels can be recycled alongside Lush's iconic black pots in their in-house recycling system.
Ocean Salt face scrub cleans up ecosystems as well as complexions! The sea salt inside is responsibly sourced from Portuguese and Bulgarian salt pans that provide essential shelter for migrating birds and promote biodiversity. We are also gradually introducing labels composed of ocean-bound plastic salvaged from Malaysian shores – an innovation that's helping to clear waste before it reaches the ocean.
When waste is abandoned and not collected correctly it reaches our oceans by rain, wind, tides, rivers, or floods. The vast majority of plastics contaminating oceans originate from land and that's why we need to focus there, and especially on ocean-bound plastic waste to stop the leakage in the first place.
Bring it back
Not only do these labels capture plastic that was heading for the ocean to become a hazard to marine life, but they can be broken down along with our black pots in our Bring It Back closed-loop recycling system, to carry on being a black pot forever.
As part of Lush's mission to 'Leave the world Lusher than we found it', on Monday 1st February Lush UK and Ireland launched Bring It Back – a fresh new packaging returns scheme enabling customers to bring back any full-sized Lush plastic packaging to their local Lush shop to be recycled.
The returned packaging will then be sent to the Greenhub, Lush's UK recycling hub, where packaging is processed and sent to our UK partners to be remoulded into new black Lush pots or used as industry feedstock material.
Worth its Ocean Salt
Lush's iconic self-preserving Ocean Salt face and body scrub is a best-seller; for the 12 months from May 2021 to April 2022 Lush customers bought over 510,000 pots! The top ingredient in this product? Fine sea salt. By responsibly sourcing this ingredient and harnessing its self-preserving properties, Lush's cult face and body scrub benefit the environment and consumers.
Cleansing the skin with fine sea salt is an excellent way to benefit from its exfoliant, antimicrobial and astringent properties without stripping away too much natural oil. Sea salt is also used in hair care products to increase volume and shine.
As well as its properties for humans, when sourced responsibly, using sea salt can have a positive impact on the environment, supporting biodiversity and helping protect salt marshes and salt pans which play an important role in Earth's ecosystems, and providing a natural alternative to synthetic preservatives; which can damage aquatic ecosystems.
Natural products benefit the natural world
Salt is a natural preservative that can help to keep products clean and free from micro-organisms when used in appropriate quantities. A large number of synthetic preservatives used to give cosmetics a long shelf life are not believed to break down in our water systems, meaning they bioaccumulate and can damage aquatic life forms. Lush uses minimal preservatives in their products when they have to and have been working hard to remove preservatives from products wherever they can over the decades. These versions are just as effective with all the goodness and no preservative content.
About Lush
Lush invents, manufactures and retails fresh handmade cosmetics. A beauty company with a campaigning heart, Lush is passionate about direct action and uses its stores around the world as a platform to shed light on little known social and environmental issues.
Lush Press Office contact details: [email protected] / 020 7434 3948