Introducing Lush's first vitamin C product
That foams and changes colour and new scrubs for top-to-toe exfoliation
Glow getters rejoice! Three new scrubs to refresh your skin and body care routines this spring.
Cosmetic revolution incoming! A brand new hybrid concept body scrub with multiple benefits and Lush's first ever vitamin C facial scrub!
Happy Skin enzymic facial exfoliator and Co-Mingle body scrub feature ground tagua nut – a unique exfoliant that grows wild, provides income to local communities and preserves the rainforest!
Sweep Winter away and freshen up your complexion with three new scrubs invented by Lush Co-founder, Rowena Bird and Product Inventor, Gary Shears. In line with Lush's commitment to making a product for every need, each scrub has unique properties to add to Lush's fresh handmade skincare offering. Did you know Lush invents, formulates and manufactures their products in-house?
Up the ante with Lush's first ever Vitamin C product. This dual-use foaming scrub has Vitamin C benefits for skin; it is both antioxidant and anti-inflammatory.
This exfoliating face scrub has a 10% Vitamin C formula, which may tingle during use as it exfoliates dead skin cells.
For maximum effect, use as a mask and apply to a clean, dry face, leaving for 1-2 minutes. Rinse off with water and pat dry. For a more gentle experience, use as a foaming face wash by scooping out a small amount and adding a little water. Apply to the face in gentle, circular motions before rinsing away.
As it foams when washing off you'll also notice it changes colour from deep purple to light pink –  leaving you looking radiant!
Vitamin rich and full of ground tagua nut and bamboo combo, this exfoliator will help gently clear and cleanse your skin. Fresh bromelain rich enzymic pineapple and vitamin B & C packed jackfruit give the WOW factor. 
Dampen skin and scoop out a fingerful of this vitamin-packed face exfoliator. Massage gently over your face and neck, allowing the bromelain rich, enzymic pineapple to break down dead skin cells, before ground tagua nut and bamboo exfoliate your skin. Rinse off, leaving you with a gently sweet, nutty scented glow.
What's the best body scrub? One that also washes and moisturises of course! This body exfoliator is super light, with a mousse-like texture, with our ground tagua nut and bamboo combo for scrubbiness. Use on wet skin, massaging over legs, arms and body to exfoliate, cleanse and moisturise. As the organic lavender aroma surrounds you, rinse off and step out feeling supremely soft and ready to mingle (with time to spare!).
More about ground tagua nut…
In the tropical rainforest of Ecuador, a native wild palm tree produces a magic seed called Tagua. Due to its consistency, appearance and cream white shade, the stone nut is also known as vegetable ivory. 
Once milled to a fine and smooth powder it provides a naturally gentle exfoliation. For decades, Tagua has been replacing plastic in the luxury garment industry by exchanging plastic buttons with the Tagua Nut. YuraQ (the branded name for the tagua nut that means "white" in the Ecuadorian indigenous language) helps endangered rainforest land and supports the local economy by providing jobs to dozens of communities. The local communities collect the nuts obtaining an income from the forest without interfering with the ecosystem.
The nut is actually a seed, which makes it from the allergenic point of view even more interesting. The formation of the seed is similar to coconut; the male flower pollen is transported by thousands of insects to the female´s where the Tagua Nut is born. In its tender state, the nut is liquid and can be drunk by humans, then, when it matures, becomes as hard as a rock and that is when it falls naturally to the ground to be collected by thousands of community members in the forest as a livelihood.
In a time when depletion of the rain forests makes headlines, YuraQ helps to conserve them and supports the indigenous population."By using YuraQ in cosmetics, Lush is directly contributing to protecting the forests where this biodiversity resource grows wild and improving the quality of life of thousands of community members who collect the seed, becoming the best guardians of the forest. Do good – do YuraQ" –  Hans Wollmann, YuraQ General Manager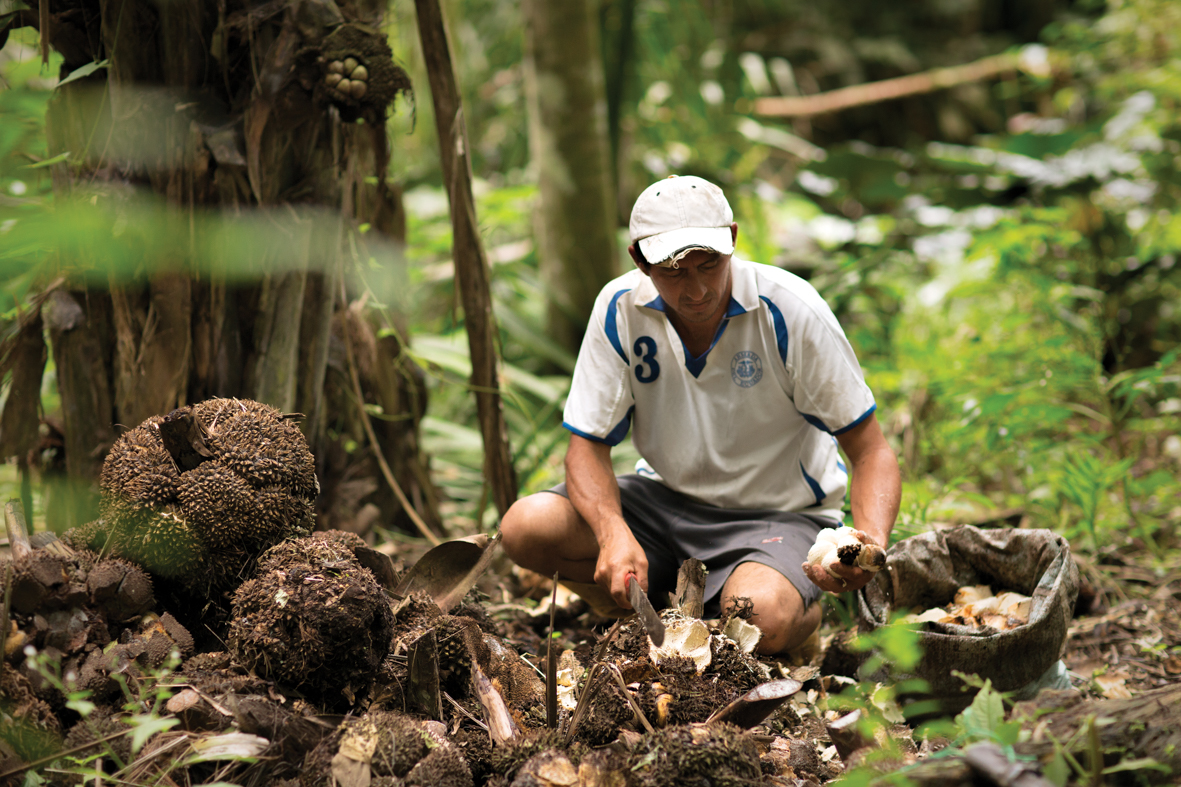 For further information please email [email protected]