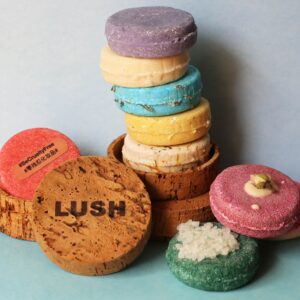 #CostofLiving #SolidBeauty
Going Naked: A Money and Planet Saving Solution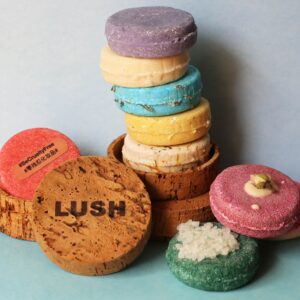 Switching to a Naked or solid shampoo saves the customer purchasing three 200ml liquid bottles of shampoo – saving on average between £3 – £6 each time
Lush's Naked shampoo bars have saved the use of 170 million plastic bottles and over 4000 tonnes of plastic avoided
Bar soap on average lasts up to 3 months longer than liquid hand wash and a consumer study found people consume 6 times more when using liquid versus solid
Since 2005, Lush Shampoo Bars have saved the use of nearly 170 million plastic bottles from landfill, which is estimated to be over 4000 tonnes of plastic avoided.

However, the benefits of stripping off the pot in the current economy go beyond benefits just for the planet.
With UK consumer spending decreasing by over 50% in recent weeks and most customers looking to save money, solid beauty could prove to be an economic solution and with Lush this goes even further as to ensuring the workers manufacturing and producing the products are paid a real living wage.
When using one £9 Lush Shampoo Bar, customers would save on the use of three 200ml bottles of liquid shampoo – meaning when a customer is spending more than £3 on a bottle of shampoo, a solid alternative would save a substantial amount over the course of a year.
Co-Founder and Managing Director, Mark Constantine recognises the benefits of removing packaging costs where possible operationally for both the business and consumer:
Let's Raise the Bar
"Soap doesn't come in a bottle" – Lush Co-Founder Mark Constantine
A consumer study found that people use 6 times more liquid hand wash than bar soap when washing their hands, estimated to last up to three months longer.
Demonstrating product, plastic consumption and money could be reduced by making the switch from liquid to solid.
During the pandemic, a lot of research was carried out on the effectiveness of bar vs liquid on our hands. It appears, there's no scientific evidence to suggest that antibacterial hand wash removes germs any more efficiently than a good scrub with soap and warm water.
In fact, according to a study on the effectiveness of soap and water vs alcohol-based hand sanitisers, people who lathered up with soap and water had fewer bacteria on their mits than those who used hand sanitiser.
Mark Constantine explains why he doesn't believe soap in a bottle is soap at all:
"We don't make liquid soap because it's not a soap but a liquid detergent so it is not alkaline, it also has to be preserved or it grows bugs.
Soap doesn't because of the alkalinity (however the dirty water around the bar will if it isn't properly drained).
Liquid soap comes in a plastic bottle and its cap can't be recycled.
We don't make wipes either, not environmentally sound, less effective than soap and water, while looking like a more effective alternative."
Lush's Best Selling Naked Collection

Wake up your scalp with Lush's best selling cinnamon spice, stimulating shampoo!
"Bought this to give my thin hair a boost, it's awesome, my hair feels thicker and it's lovely and shiny, would definitely recommend" – Customer Testimonial
Invented by Lush Product Inventor Jack Constantine, this bestseller is part of a generation of lively, kaleidoscopic bath bombs. Not only delivering epic Bath Art but in this case adding an extra crackle and pop of excitement to bath time.
This caramel-esque soap makes bathtime a sweeter experience for the whole family. Plus it's packed with the hidden goodness of honey.
This solid, vegan hand and body lotion is full of skin softening cocoa and shea butters plus soothing fresh aloe. 100% of the sales value (minus VAT) of all sizes of Charity Pot support small grassroots charities, campaigns and community groups.
This exfoliating and hydrating honey buffer can be used in the bath or shower, with ground coconut shell and almonds to scrub, plus cocoa butter, shea butter and coconut oil to nourish and moisturise. Simply glide over damp skin and rinse off, the hydrating butters and oils make it a perfect exfoliator for dry skin.
For beautifully buoyant hair, get swept up in a blend of volumising fine sea salt and softening nori seaweed.
"My hair is now much thicker, bouncy and does not get greasy. I really did not expect such drastic results. I now only have to wash my hair 1-2 times a week and I don't have to use a conditioner." – Customer Testimonial
Notes to Editors:
Solid shampoo bars were invented by Mo Constantine (Lush Co-founder) and Stan Krysztal (cosmetic chemist) in 1987, for Cosmetics to Go, the former mail order company owned by the founders of Lush.
For further information or interview requests, please email [email protected] / [email protected]