Dreidel, Dreidel, Dreidel!
Lush launches 2023 Hanukkah products
A co-created range for the Festival of Lights:
7th-15th December 2023
From Thursday, 2nd November 2023, Lush will launch their 2023 Hanukkah range on lush.com and in shops globally. The collection is inspired by the celebration of oil, light and warmth using some of the symbols found during this occasion such as dreidels, menorahs, and ​sufganiyot.
The 2023 Lush Hanukkah range is part of Lush's 'Co-Create' programme, a product creation internship for Lush employees which aims to promote diversity, inclusion, equity and belonging by lifting up authentic stories from respective communities.
Natalie Blackman from the Lush Brent Cross store co-created the Gelt Melt Lush melt. She says:
"Creating Lush's first Hanukkah product, The Gelt Melt, was incredibly special for me – a chance to showcase my culture and heritage in a way that's both fun and accessible. I hope everyone loves it as much as I do."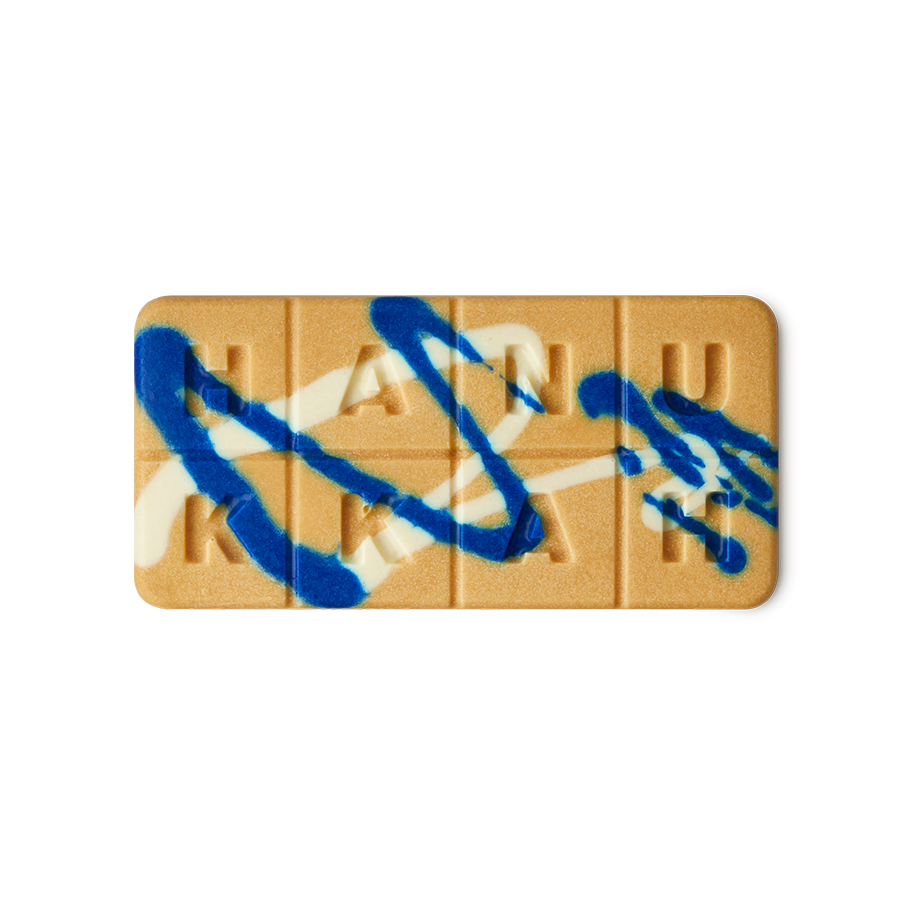 Don't lose this one in a game of dreidel! Treat yourself to eight nights of bathing and home fragrance with this rich chocolate-scented melt.
I made you for my bath! Spin this sparkly dreidel into a warm bath for a purple, cinnamon-scented soak. Happy Hanukkah!
GIFTS
This years' gift and Knot Wrap are designed by Jewish artist Daniel Sulzberg. Based in Santa Barbara, California, Daniel Sulzberg's work is infused with the diverse melting pot of laid back culture and creativity that his home state is famous for. It's colourful, fun, positive, whimsical, detailed, and sometimes a bit zany. The characters effortlessly jump to life in his world he calls Danvillage.
Happy Hanukkah gift set (£15 )
Contains: Dreidel, Dreidel, Dreidel bath bomb and Honey I Washed The Kids shower gel (100g)
Happy Hanukkah! Light up your bath and shower routine with this duo of sweet and citrusy treats.
Happy Hanukkah Knot Wrap (£7)
"The inspiration behind this idea came from my 6 year old son Leo who said that one day he would celebrate Hanukkah in outer space so I wanted to create that vision for him to see. I wouldn't be surprised if one day it does indeed come true!" – Daniel Sulzberg, Designer
This Knot Wrap is made from 100% recycled plastic bottles.
Notes to editors
Lush's Secret Master Plan – A product for every need…
At Lush, it is part of our secret master plan to make products for every need. As a diverse global business, we recognise that it's important to ensure that customers and staff across our worldwide community are able to find products for every occasion including celebrations that involve gift-giving. Working with staff across cultures globally, we aim to make everyone in the Lush community feel included and welcome, as always.
About Lush
Since establishing over 27 years ago, Lush has been driven by innovation and its ethics. Creators of pioneering beauty products, one of Lush's most well-known creations is the bath bomb. Invented in 1989 by Lush Co-Founder Mo Constantine in her garden shed, bath bombs have become a global sensation – all hand pressed in Lush's own manufacturing sites across the world, Lush sold over 40.5 million last year.
A beauty company with a campaigning heart, Lush is on a mission to create a product for every need and a cosmetic revolution to save the planet. The ultimate goal is to leave the world Lusher than we found it. Lush operates a strict policy against animal testing and leads the cosmetics industry in combating over-packaging by developing products that can be sold 'naked' to the consumer. Lush Digital champions ethical hardware, ethical data, ethical design and open-source technologies and we support and elevate communities who feel the same.
Today, Lush operates in 48 countries with over 886 shops, 38 websites shipping worldwide and a global network of native apps, broadcasting channels and digital communities in over 30 languages. Lush.com