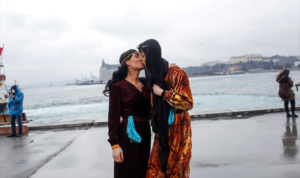 All Out International LGBT+ Photo Exhibition
Comes to Lush Liverpool Spa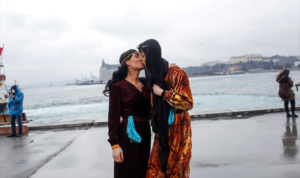 Above Image Credit: Winner Cansu Yıldıran, Turkey, Title: Kurdish trans women
Based in the heart of the city on Church Street, Lush Liverpool Spa is excited to welcome visitors to explore a takeover of its third floor by All Out, a non-profit organisation and global movement for love and equality.
An Exhibition featuring the winners of the All Out LGBT+ Photo Award 2021
From Thursday 16th September until 30th September 2021, All Out is taking over Lush Liverpool Spa's third floor, previously known as the Christmas Floor and for hosting installations of the 11th Biennial edition, 'The Stomach and the Port'.
The floor will host all pieces of the global award winners of the All Out Photo Award 2021 and runner-up photography works. 
The Photo Award was launched on 17th May 2021, the International Day Against Homophobia, Biphobia, Intersexism and Transphobia (IDAHOBIT). Inspired by the theme of this year's IDAHOBIT, "Together: Resisting, Supporting, Healing!", the competition called on photographers to share unique photos that capture how LGBT+ people and their communities and allies around the world resist attacks and discrimination, support each other in these difficult times, and heal together.
An international jury of renowned photographers viewed over 1,800 photos by more than 380 photographers from over 60 countries. They were impressed by the diversity of photos submitted: photos from around the world that capture both the beauty, resilience and vibrancy, but also the pain, resistance and isolation of so many different LGBT+ communities.
The winning photos were displayed on the ViacomCBS screens in Times Square, New York City during Pride celebrations. They were also featured at World Pride Copenhagen and at exhibition spaces across the world.
In many countries around the world, LGBT+ people continue to face a disproportionate impact from COVID-19. Dependence on the informal economy and pre-existing health vulnerabilities, particularly HIV, are all combining to leave queer communities horribly exposed. All this comes on top of existing challenges of marginalization, discrimination and violence that queer communities were already facing. The competition documented these struggles, as well as the precious moments of global solidarity that have provided support and the healing since the global health crisis began.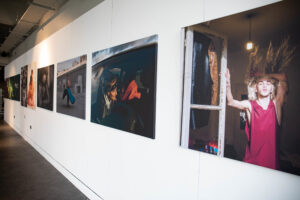 Alongside the All Out exhibition, some  of the space will be taken over by Homotopia with a selection of local photographers displaying their work as part of the ongoing Visible and Safe campaign for LGBTQIA people living in Liverpool.  
Following a recent spate of violent homophobic hate crimes in central Liverpool, the city council approached Homotopia and LCR Pride Foundation and asked them to put together a creative, community-led response. 
In collaboration with the local LGBTQIA community, a two-year proposal was designed that combines visible queer art with a programme of community building and training for venues and transport providers. Liverpool City Council has agreed to fund this project. The project is ongoing and input is still very much welcomed 
Exhibited photographs include work by here and queer collective, a street-art project focusing on claiming public spaces where hate crimes have occurred with Felix Mufti, Luke Bryant, Kolade T Ladipo, Franklin Dawson and Iesha Palmer, also exhibited is photographer Michael Parry, and model Frank Mason.
All Out LGBT+ Photo exhibition at Lush Liverpool Spa
Monday to Saturday, 10:00 am – 5:00 pm
Sunday: 11:00 am – 5:00 pm
Booking and admission: No bookings required, free entry
Local Community Evening, Thursday 23rd September
Between 5:00 pm – 7:00 pm on Thursday 23rd September, Lush Liverpool Spa will host a Community Evening on the third floor. Alongside local LGBTQ+ activists and grassroots groups, All Out Executive Director, Matt Beard will be there to give more insights into what they're doing as a global movement for love and equality. There will also be music performances from Nature Boy.  
For those, who won't be able to attend the event in person, Lush Liverpool Spa will be sharing content on their social media channels throughout the evening. 
Hosted by Lush Liverpool Spa and some of the guests are:
Matt Beard, Executive Director, All Out
Char Binns, Homotopia Festival Director 
Andi Herring, Chief Executive LCR Pride
Felix Mufti, here n queer Liverpool based community activist collective
Lush Charity Pot 
During the time of the exhibition, all proceeds (- VAT) from Lush Liverpool Spa's Charity Pot will go to Homotopia and GYRO to run photography mentoring sessions for local LGBTQIA people. 
Notes to Editors
About Lush & All Out 
Lush and All Out partnered for the first time in February 2014, for a campaign following the anti-gay legislation that was introduced before the Olympics took place in Sochi, Russia. The legislation prohibits "propaganda of nontraditional sexual relations around minors", which caused a significant rise in violence and aggression toward the LGBTQ+ community.
For the duration of the campaign, Lush store windows featured the Sign of Love message (#signoflove) and asked customers to share their own support for LGBTQ+ rights by drawing a pink triangle on their bodies and sharing it with #signoflove to show love and support for all citizens.
Telling the world that #GayIsOK
In 2015, All Out teamed up with Lush to launch a global campaign to raise awareness around the world about the horrible laws that still exist towards LGBTQ+ communities. For the campaign, Lush created a special product called "Love Soap" – a golden bar of soap emblazoned with the hashtag #GayIsOK – and sold it in more than 800 Lush shops globally.
Thousands joined the campaign by purchasing the Love Soap. The campaign raised 25,000 for the  "Love Fund" to support organisations fighting for love and equality around the world.
In 2016, the campaign won a Shorty Award, which honors the best of social media, in the Hashtag category, and was a finalist in the Social Good Campaign category. The campaign also won a Bronze Winner of the 5th Annual Lovie Awards, which honors online excellence in the European Internet community.
About All Out
All Out is a global movement for love and equality that is focused on political advocacy for the human rights of lesbian, gay, bisexual, transgender/-sexual, queer/questioning, intersex, asexual/aromantic and all others in LGBTQIA+ communities. The organisation works towards a world in which nobody has to sacrifice their family, freedom, safety or dignity because of who they are or who they love.For more information visit: https://allout.org/en
About Lush Liverpool Spa
Lush Liverpool Spa is the world's largest Lush shop with a total retail space of 1814 sqm.
Showcasing an array of exciting projects such as an in-store Hair Lab, a florist and a
Perfume Library, Lush Liverpool is home to ideas that have been within the company for
years. The third floor retail space of 392 sqm retail space previously hosted four installations of the 11th Biennial edition, 'The Stomach and the Port' and was also transformed to a Christmas Floor. Fore more information visit: https://www.instagram.com/lushliverpoolspa/?hl=en
About Homotopia and About LCR Pride
Homotopia are the longest running LGBTQIA arts organisation in the UK. 
LCR Pride are an LGBTQIA Charity working to make Liverpool City Region the most LGBT+ friendly region in the U.K. 
PR slots for the exhibition and interviews with Matt Beard from All Out can be booked with: