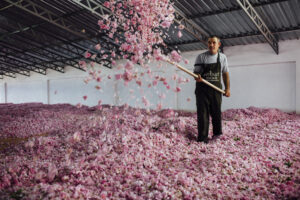 Ethical Buying
From source to skin and beyond: Our stance on ethical buying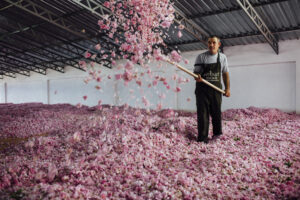 At Lush we pride ourselves on our creativity, and this doesn't stop with our products. Since the beginning our aim has been to use the best, safest and most beautiful ingredients.
We have discovered that if you want the best ingredients, you have to go out and find them yourself in the wider world. Our dedicated Buying team works tirelessly to ensure that's what we get. Often this involves a great deal of creative thinking and finding solutions to problems, such as sourcing the finest essential oils and absolutes, the best natural raw materials, safe synthetics, 100% recycled packaging or removing Palm oil from our products. Lush has a very strong commitment to the communities and areas from which we buy our ingredients.
We feel that our ingredients should be bought in a respectful way safeguarding the environment and the social impact. Lush supports Fair Trade and Community Trade initiatives. We find out what impact our buying has on the people and environment and make responsible decisions regarding from where, from whom and how we purchase ingredients and packaging for Lush.
Ethical Considerations when buying
Workers rights – unions, collective bargaining, health and safety, freedom to leave, fair pay, working hours, discrimination, no child labour.
Environment – organic, sustainability, endangered species, production emissions onto land and water, use of resources to process ingredients, no Genetic Modification…
Animal protection – No animal testing of ingredients. Vegetarian ingredients only.
Transport – The distance ingredients travel, minimum air freight, packaging materials used.
400

women
Our fair trade Ghanian shea butter supports
Suppliers we support
For many years we have had a policy of aiming to purchase our materials direct from producers: the farmers, growers and processors, wherever possible, in order to learn the true story of each ingredient. This means that our buying team travel the world visiting suppliers, to meet the people involved. We see first hand how the ingredient is grown, harvested, mined, processed, etc. This allows us to get a better understanding of the raw materials, where they come from, how they are produced, what potential labour or environmental issues might arise and what might impact the cost of the materials (seasonality, crops, climate, etc).
Purchasing our materials in this way, with face-to-face communication also helps us foster good, honest, long-term productive relationships with the producers/suppliers and guarantees uninterrupted supply of good quality materials to make our products. We are able to ensure our suppliers understand the needs of our business and we also understand the constraints of their operations.
Through buying direct from producers we are also able to support and help finance some really worthwhile and forward-thinking projects worldwide that make us proud.
When the Buying Team are not travelling the world and working out in the field, they provide regular updates, reports and presentations of information on:
The sources of raw materials that we buy to make our products
Fair Trade and community trade projects
Suppliers lists
The status of ingredients
Sharing their experiences on buying trips (often very challenging!)
This is constantly evolving as the Lush business grows and we nurture more relationships with suppliers all over the world.
Child Labour
Our stance on child labour is aligned with the ILO standards. We believe the minimum working age should not be lower than the age for completing compulsory education locally. We insist that our suppliers do not engage in any employment of child labour. Should suppliers become aware of any child labour taking place, we would expect them to engage in supporting a training and transition programme to support the child back into education.