Vegan food brand, THIS treats employees
with Lush Corporate Gifting service.
(THIS team at Lush Oxford Street – Photography: Skye Newnham)
Vegan food brand, THIS are the creators of plant-based meat alternative products. To celebrate Lush's corporate gifting options, THIS visited the fresh handmade cosmetics company at their Lush Oxford Street shop to treat employees to a little self care this Christmas.
THIS People Executive, Dot Fagbenro worked alongside Lush's dedicated corporate gifting concierge to create a bespoke workshop tailored to their needs. Most of THIS' team work flexibly, balancing working from home with three days in their London office. With this in mind, Dot saw this as a unique opportunity to bring colleagues together for some much needed pampering in Lush's Oxford Street shop.
The Experience
Short on time, THIS needed something that would either fit into a lunch break or directly after office hours but still enabled employees to come together to enjoy the Lush experience.
The solution was a one hour gifting workshop to design customised gifts using Knot Wraps, Lush's reusable gift wrap. Each employee worked with Lush's concierge team to pick the products most suited to their needs to take home and enjoy. The team then took part in a Knot Wrapping workshop to learn how to creatively wrap gifts using various knot wrapping techniques.
THIS employees also created their own personalised bottle of Lush's best selling Snow Fairy using Lush Oxford Street's Personalisation Station.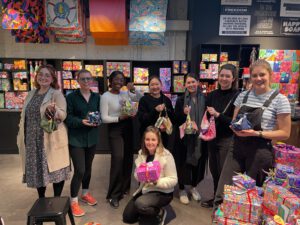 Lush Corporate Gifting to meet your businesses needs
There's flexibility to work across a wide range of budgets, from small gestures to impressive and spectacular gifts, Lush offers a dedicated customer experience for you and your business with their Lush gift concierge.
What can Lush offer:
An abundance of pre-wrapped gifts using reusable, recyclable materials
Personalised gifts – create your own tailor-made Lush box bespoke to the lucky recipient.
Pick your products and make your own gift using a Knot Wrap, Lush's reusable fabric gift wrap.
The ultimate gift of relaxation – did you know Lush has 8 Spas across the UK? Lush Spa gift vouchers deliver the ultimate wow feeling to the lucky recipient
Gifting with a conscience:
When you buy a Lush gift, you're having a positive impact on the world – you're saying no to excess single-use plastic; you're supporting communities and artisans who've made the Knot Wraps, ribbons, and natural papers; you're buying products with beautiful ingredients that regenerate social and eco-systems.
All Lush gifts and products are handmade in the Lush factories in Poole, Dorset UK.
Photo credits: Skye Newnham
To start your Lush corporate gifting journey, simply email [email protected] or get in touch with your local Lush shop to speak to their dedicated corporate gifting concierge.