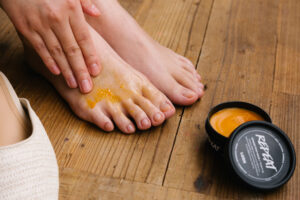 Product launch: Repeat foot balm
Good For Your Sole: Lush Introduce Repeat Orange Foot Balm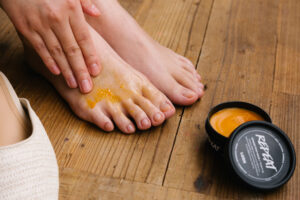 On Friday 18th June, Lush will launch Repeat Orange Foot Balm (£9.00 for 50g), a new innovation to Lush's foot care range with a plant-based formula containing orange peel wax, a byproduct of the juicing industry and a vegan alternative to lanolin.  An intensive treatment inspired by traditional cold creams, Repeat is so effective you'll want to apply it over and over again…
100% natural formula with only 9 ingredients
Vegan and self-preserving 
Intensive treatment for toenails, cracked heels, and dry areas
Orange peel wax protects and shields the skin
Deeply moisturising with jojoba and castor oil
Long lasting hydration and antifungal protection
The formula is inspired by traditional cold creams
Soon to be featured in the Lush Spa's Spell treatment
Repeat was created by Lush Product Inventor, Alessandro Commisso who leaked the product on instagram. Lush Kitchen subscribers were the first to get their hands on Repeat.
Orange oil is good for the sole….
Orange Peel Wax – A byproduct of the juicing industry, contributing towards a more circular economy. After squeezing the juice, the peels produce orange essential oil and botanical lipids, which we call orange peel wax. In the same way, orange peels protect the fruits in nature, the peel wax protects and shields the skin.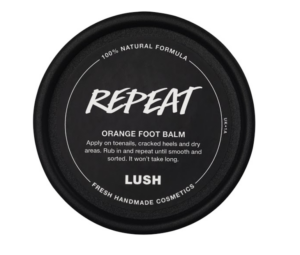 Why it's effective 
Deeply moisturising – Jojoba oil, similar to skin's natural sebum and Castor oil the most emollient of all vegetable oils.
Long lasting hydration – Glycerine penetrates the skin barriers and stays there, providing deep hydration.
Plant-based protection – featuring a blend of candelilla and sunflower, the magic ingredient that makes this cream so effective is the orange peel wax.
Antifungal – Tagetes essential oil (also called marigold), is a powerful natural antimicrobial and beneficial for skin infections, wounds, and cuts. It is often used in foot treatments for fungal infections, corns, and calluses and against Athlete's foot.
Scent with benefits – Infused with two essential oils to give it its natural scent – tagetes, and organic blood orange essential oil. Orange oil is antimicrobial, refreshing, and toning.
Treat your feet with Repeat…
How To Use: Apply on toenails, cracked heels and dry areas. Then apply again until they're sorted. It won't take long! With castor oil to lubricate skin and cuticles, glycerine to lock in moisture and emollient orange peel wax for its special protection powers you are sure to have the softest feet in no time.
About Lush
Since establishing over 25 years ago, Lush has been driven by innovation and its ethics. Creators of pioneering beauty products such as the fizzing bath bomb, shower jellies and solid shampoo bars, Lush places emphasis on fresh ingredients like organic fruits and vegetables. Lush fights tirelessly against animal testing and operates a thoroughly comprehensive Ethical Buying department, developing fair and direct trade initiatives.  Lush leads the cosmetics industry in combating over-packaging by running public awareness campaigns and developing products that can be sold 'naked' to the consumer without any packaging.
Today Lush operates in 48 countries with over 900 shops, 38 websites shipping worldwide and a global network of native apps, broadcasting channels and digital communities in over 30 languages. www.lush.com
For ideas on how to build your own foot care routine using Repeat, please click here
For further information or imagery, please email [email protected]