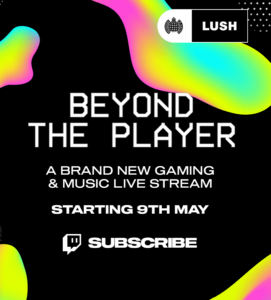 Featuring Some of the most Exciting Names in Gaming & Music
Ministry of Sound and LUSH Collaborate to Bring New Gaming Livestream "Beyond The Player"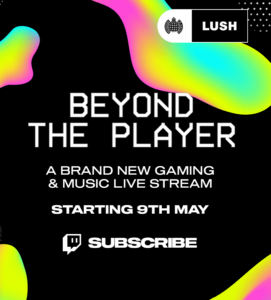 Hosted By CEO & Founder of Award-Winning Gaming Organisation NNESAGA, Stephanie Nneoma
Ministry of Sound and LUSH have announced an exciting entrance to the world of gaming with a new livestream "Beyond The Player", featuring a range of musicians and gamers. The show, which will run every Tuesday for 8 weeks from 9th May, will be hosted by Stephanie Nneoma, CEO & Founder of award-winning gaming organisation NNESAGA, and will feature appearances from the likes of Talia Mar, sim0ne, sunpi, ebonix, VENBEE, Bklava, king jae, wAFF, Jordan Adetunji and more.
On hosting the show, Stephanie Nneoma said:"Being a multi-faceted woman who's interests and passions have always been in gaming, music and well-being, I am honoured to be able to host the 'Beyond The Player' show. This offers a unique, unapologetic and special space to recognise and celebrate an inclusive space for us."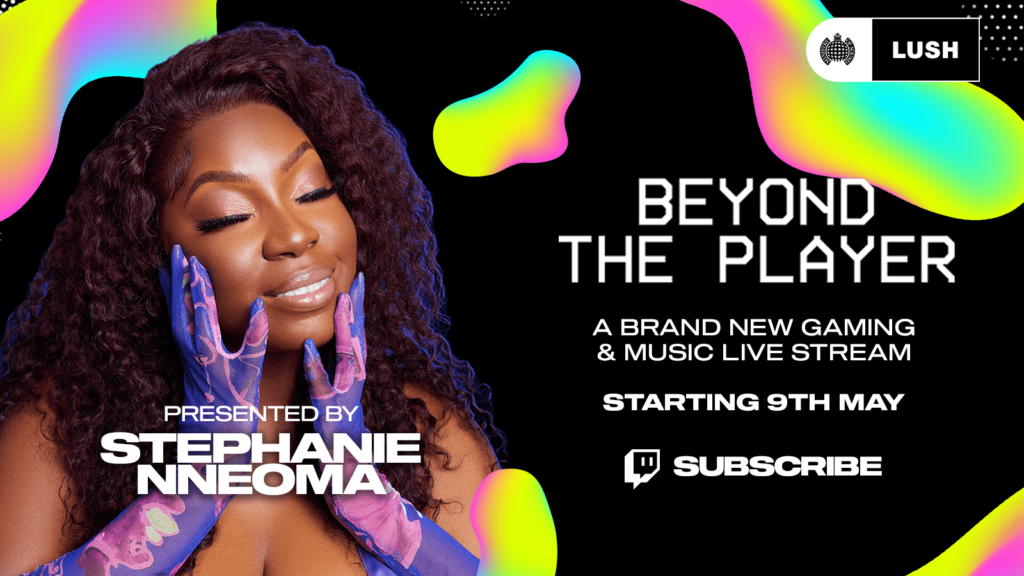 The Ministry of Sound x LUSH livestream will showcase a selection of new games including The Legend of Zelda: Tears of The Kingdom, Redfall, Star Wars Jedi Survivor, Final Fantasy XVI, Mario Kart, Street Fighter 6 and Diablo 4.
Hosted on Ministry of Sound's Twitch channel, the stream will feature a range of exciting segments, including in-depth interviews with some of the industry's most prominent figures, gaming challenges and giveaways. 
Ethical and inclusive cosmetics brand LUSH commented: "We're really excited to be collaborating with Ministry on this series, we've always been an ethical cosmetic led well-being brand but we've become increasingly aware that well-being is more than just bathing and yoga! Gaming offers community and escapism. It's a cultural movement that grows year on year and we're passionate about collaborating and exploring new worlds. Ministry is the perfect partner for LUSH, a brand who believes that all are welcome and advocates for inclusivity, equity and freedom of movement!"
Sony Music record label and iconic cultural brand Ministry of Sound added on the collaboration: "We're excited to collaborate with LUSH on our new Twitch series, 'Beyond The Player'. Music, gaming and wellbeing are a shared interest and passion for so many people and that's why we wanted to connect with our mutual audiences in a meaningful way. Gaming and music go hand in hand and we're so happy to be engaging with creators and artists in this space."
To launch the series, Ministry of Sound and LUSH will be teaming up on an exciting VIP event of drinks, music and products with some very special guests, taking place at LUSH's Oxford Street store on Thursday, 4th May ahead of the first episode streaming on 9th May.
For press enquiries, please contact:
Notes to editors:
Since establishing over 27 years ago, Lush has been driven by innovation and its ethics. Creators of pioneering beauty products, one of Lush's most well known creations is the bath bomb. Invented in 1989 by Lush Co-Founder Mo Constantine in her garden shed, bath bombs have become a global sensation – all hand pressed in Lush's own manufacturing sites across the world, Lush sold over 40.5 million last year.
A beauty company with a campaigning heart, Lush is on a mission to create a product for every need and a cosmetic revolution to save the planet. The ultimate goal is to leave the world Lusher than we found it. Lush operates a strict policy against animal testing and leads the cosmetics industry in combating over-packaging by developing products that can be sold 'naked' to the consumer. Lush Digital champions ethical hardware, ethical data, ethical design and open source technologies and we support and elevate communities who feel the same.
Today, Lush operates in 49 countries with over 900 shops, 38 websites shipping worldwide and a global network of native apps, broadcasting channels and digital communities in over 30 languages.
For further information or interview requests please email [email protected] or call 0207 434 3948