LUSH CEO stands firmly by Employee Ownership as "one of the best things" it's ever done.
#EMPLOYEEOWNERSHIPDAY #EODAY #GROWEO
In 2017, Lush became partly employee when 10% of the company shares were put into an Employee Benefit Trust (lovingly referred to as the "Lush EBT"). Employee Ownership is something Lush had been exploring for over 15 years – "It just made sense as we already fostered so many of the typical values and behaviours you see in employee owned businesses" – Karl Bygrave
Across all 27 countries which make up the Lush Group, the Lush EBT is supported by a board of 5 Trustees and over 800 staff-elected representatives, who exist in every Lush shop, manufacturing room and office across these markets.
With many changes to the global economy generating turbulence within the business landscape throughout the last few years, Lush's CEO and Co-Founder Mark Constantine reminds us this Employee Ownership (EO) Day of his personal gratitude of the Trust:
"I think having an element of employee ownership is one of the best things we've ever done…

We are so fortunate to have a group of Founders who are genuinely compassionate and thoughtful and are not looking to maximise every single pound out of their shares.
They're willing, at a set rate (not what you could get on the open market maybe), to sell their shares to the EBT and to let that benefit go to their airs.
How lovely is that?"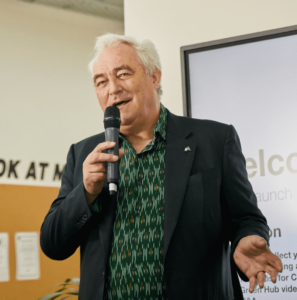 Mark Constantine
2 mins 30 |
Full audio clipping from Mark on the Lush EBT.
For Lush to be the company it is and behave in the way it does, it must remain independent and enshrine its ethics for the future. Many come to work for Lush because they believe in what the company stands for and there is no one Lush trusts more with the future of its business, than its global colleagues who have helped make Lush what it is today.
Amid challenging market conditions and changes in the retail industry, Lush Director and EBT Trustee Karl Bygrave reiterated his thoughts on how the design of Lush's Employee Ownership model – to protect the independent ownership of the business and Lush's industry leading ethics is key to a healthy and sustainable future.

"We see employee ownership as part of the solution and not the problem – but you still have to have the right plan and run the business to make a profit.
The competing values of investors v's employee ownership can create an unhealthy situation.
Last year, following the North American business joining the Lush Group, Lush completed the implementation of the EBT across North America. All employees joined their global colleagues as beneficiaries, experiencing the same benefits of the employee ownership model.
As beneficiaries of the Lush EBT, Lush Colleagues own 10% of the business and will always:

Have a vote on any external sale of a controlling share of the business.
Have access to a bonus scheme, so when the company is doing well, reward is shared and everyone benefits.
Be consulted on any changes to the core principles of the Lush Ethical Charter and have a responsibility to speak up if ever you feel the company is in breach of the Lush Ethical Charter.
Have access to company updates and channels to share ideas and ask questions to make meaningful contributions towards the continued prosperity of the Lush business.
Brandi Halls, Chief Ethics Officer for Lush North America shares…
"Since launching the EBT in North America we have been able to reconnect our staff to our ethics through the ethical charter and raise their voices as part of a global brand. Through our network of beneficiaries and EBT Reps, our Canadian and US staff are now helping to shape the future of the company with their voice touching everything from product invention to the employee experience globally."
What Employee Ownership means at Lush:
Protecting the business for the future: Who we are, our unique way of doing business, and our founding values – The We Believe.
Staying true to our values: Through the Lush Ethical Charter, we all play a role in ensuring our ethics are upheld and never diluted.
Ensuring the business remains independent and giving our colleagues a say in any external sale of a controlling share of the company.
Putting more information into everyone's hands and having a channel where we can all contribute our ideas and suggestions.
Promoting a culture where everyone is driven to ensure Lush thrives, because when the business is thriving we all benefit and share in the company's success.
10

%
Employee Owned for 6 Years
NOTES TO EDITORS:
In 2020, the Lush EBT Trustees announced that Helen Moreton would join the Lush EBT Trustee team as our Independent Trustee. Along with her 18 years of experience in retail employee ownership via the John Lewis Partnership, a company also recognised for its Employee ownership scheme.