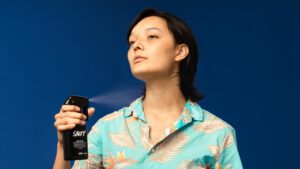 Holidays are just a spritz away
with Salty body spray!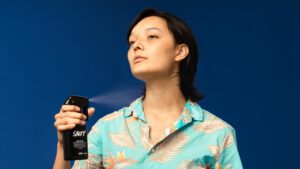 A reworked version of a heritage fine fragrance now in a body spray format
With a salt accord – an increasingly sought after note in the world of fragrance. 
A burst of fresh sea breeze with rose, neroli and oudh
Launching on Friday 20th August, Salty body spray (£30.00 for 100ml) is a reworked format of Lush's heritage fine fragrance, Salarium. Reminiscent of days spent by the sea, Salty is perfect for those looking to be instantly transported to the coast for a burst of fresh ocean breeze. 
With oudh oil from Thailand, floral rose oil and regenerative neroli from Lebanon, Salty has a long lasting effect on skin and clothes making it ideal for long summer days. All Lush fragrances are made in-house using the finest essential oils.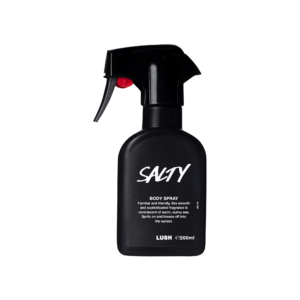 Layer it up…
For a top to toe fragrance layering experience why not try Lush's newly released Wig hair trainer and Shaved Ice shaving cream which share the same Salty scent.
A reworked version of a heritage fine fragrance…
For those who remember Salarium perfume from Cosmetics to Go, or have experienced it in one of Lush's nine Perfume Libraries across the globe, this unisex body spray shares the familiar dry core. However, the reimagined Salty Body Spray is slightly more floral and can be described as having a lighter, fresher feel but still has a long lasting effect on your skin and clothes.
To keep up to date and be the first to know about further exciting product announcements, customers can subscribe to the Lush Newsletter. 
For further information on Salty body spray, please email [email protected]
To view the full range of Lush fragrance, please click here.