Our impact report on waste, raw materials, packaging and operations
Go circular
As more human-made non-biodegradable materials came into circulation, as the industrial revolution powered on and as chemical based agriculture was introduced, we have created an economy whose outputs could no longer be part of the cyclic way healthy natural systems work. We disrupted the carbon cycle, the nitrogen and phosphorous cycle and also the material or soil cycles. To leave the world Lusher than we found it, it is imperative that we begin to weave our economies back into these natural cycles, that we reduce the amount of stuff – materials, wastes, pollution – we are putting out through our activities, help improve nature's capacity for processing all that stuff and that we mimic similar cycles for technical (non-biodegradable) materials – "keeping products, components and material at their highest utility and value at all times". This section deals with the materials cycle. As Lush, over the last two decades and a half, we have been pioneering materials recovery, using recycled and recyclable packaging and the best of all, avoiding it altogether. Our long term commitment is to become a fully circular business, producing nothing that cannot be circled back through biological or available (not imaginary) technical cycles. That means instilling a zero waste and circular way of thinking throughout the business that informs our actions. As part of our budding zero waste culture, beside going naked, avoiding single-use, using regenerative materials when new materials are needed, buying quality materials that last, avoiding landfill, incineration and recycling exports, and recovering legacy materials from the environment are all things that we have begun to practice but would like take these ideas to their full potential. Collaboration is key for a circular economy, and we also aim to expand our ecosystem of partners.
How the Lush Lab and invention impacts zero waste
When we talk about impact, it is good to have an overview of our whole value chain.
That is from the moment we start designing products in the Lab all the way to when the customer uses the product at home and discards the packaging, if any.
We call this journey "From the Lab to the #LushCommunity" and we hope this report can tell the story of materials as they move on this journey towards zero waste.
Let's get NAKED! Our approach to packaging at Lush
From solid shampoo bars to bath bombs and soaps, naked products are not new to Lush. But in a time when plastic pollution is a growing concern and in our ambition to eliminate waste, we are continually innovating so we are able to present customers with a naked product for every need.
16,108,320 items of naked product were sold in our financial year 2019, which accounts for 62% of sales
0

%
Of regular range is naked
A focus on shampoo bars
We invented the Shampoo Bar, and alongside Soaps, bubble bars and hundreds of other naked products, these help reduce our and our customers impact from unnecessary packaging.
NAked shops
In January 2019 we launched our first Lush Naked Shop in the UK – joining the three other locations across the world in Berlin, Milan & Hong Kong. Situated in Manchester, the Lush Naked shop is a retail space stocked with entirely plastic-free products.
The Naked range includes
Face – Facial oils, toner & steamer tabs & cleansing balms, facial soaps, plus a cold cream cleanser & a cleansing wipe.
Hair – Shampoo bars, pressed conditioners, hair honey, solid shampoo plus a co-wash.
Body – Massage bars, body butters, solid deodorants, body tints, shimmer bars, soap, body lotions plus a foot soap & foot soak.
Shower – Shower gels, shower oils, shower bombs, body conditioners, soaps, washcards & body scrubs.
Bath – Bath bomb, jelly bombs, bubble bars, bubbleroons & bath oils.
Makeup – Refillable lipsticks, concealer sticks, solid highlighters & solid foundations.
Buying: Circular Raw Materials and Packaging Impact
One part of the circular economy and a zero waste approach is to begin by designing out the need for materials, then to make sure we unleash the full potential of each material we use to create value in our economy. This happens by choosing the right materials that perhaps can create regenerative value in their supply chain, by processing in a way that creates no waste making full use of all its parts and by-products, by keeping materials in circulation for as long as possible and finally by ensuring we can still recover some value at the end of its life. At Lush we experiment with all of those strategies through how we specify, develop and purchase our products.
What materials do we use and how do we use it?
First, we try and design out consumer packaging material in our naked ranges. Next we make our product packaging as simple and lightweight as possible. We want our customers to take beautiful products home, not rubbish! 
But preserving, transporting and using products still require some packaging. We minimise the impact of that by prioritising recycled, organic grown or upcycled materials and as much as possible, making sure we can reuse, recycle, compost or  recapture our packaging at the end of its life. We are not completely there yet, but our teams have always work hard towards this ultimate aim. 
Product packaging accounts for 37% of our current packaging use, followed by 34% for logistics and distribution. Where we do choose to package the finished product, you will mainly find this in the form of our distinct black packaging, crystal clear bottles and wrapped gifts.
 15% of our in-store packaging is entirely optional, so you are more than welcome to bring your own shopping bag or try your hand at creative gift-wrapping with one of our re-usable knot-wraps.
What our packaging comes from paper
Why do we use it?
A deeper look into why we use recycled, organically grown or upcycled materials for our packaging.
Organic Cotton
The most widespread non-food crop on Earth
Cotton makes up 24% of the fibre market of which just under 0.7% is Organic Cotton
Conventional cotton is a crop that uses high quantities of pesticides
It is just 2.4% of the world's cultivated land and uses 6% world's pesticides and 16% of insecticides. The producers of the organic cotton we buy use chilli and neem to deter pests, and natural fertilisers. It is also a very thirsty crop, by using organic cotton we use 91% less blue water in the production of our knotwraps, swag and tote bags. For our organic cotton knot-wraps, we have full seed to shop traceability.
Recycled Plastic
Of the 8.3 billion tonnes of plastic that has been produced since the 1950s, only 9% has been recycled.
Currently around 40% of global plastic production is used as product packaging.
This is why since 2008, we have only used 100% post consumer plastic in all of our black packaging and clear bottles.
Recycled Paper & Cardboard
The world is losing more than one football pitch of forest every second.
35% of global industrial logging goes for pulp and paper. Just 2% of the world's tropical forests are FSC certified.
With the recent drive to boycott plastics, pulp production is expected to sore from 2.3 billion trees to 3.5 billion trees by 2030.
This is why recycled pulp is used for Lush cardboard boxes, trays, gift wrap, inserts and tags. Covering 86% of all paper used at Lush.
100% Post Consumer Coffee Cup Paper
The UK throws away 2.5 billion coffee cups each year amounting to over 25,000 tonnes of waste. We've tapped into that resource to create a paper tray that holds our atmospheres and bath melts, made entirely from used coffee cups. The box for our naked make-up range is also made from this material
MAXIMISING VALUE BY USING EXCITING BY-PRODUCTS
Part of a circular economy is finding value in what would normally be considered waste, embodying true principles of zero waste. How can we maximise the use of precious resources by finding creative ways to use all parts of a product or all by-products of their processes?
Find below a sample of ingredients and raw materials we use in our products that had a previous incarnation, are the by-products of other processes or in the case of banana skin tincture in Banana Skin, we make it ourselves from the banana skins from fresh bananas we use in products like Sympathy for the Skin. Speaking of bananas, we also mix recycled paper with banana fibre, an agricultural by-product, to make paper for some of our gifts, like Juicy
Manufacturing and Office, The Greenhub and moving towards zero waste
When it comes to waste generated in both our manufacturing & head office sites down in Poole, Dorset, we send the vast majority of it to our very own Poole based recycling centre known as the Lush Greenhub.
First opening its doors in 2015, the Hub allows us to sort and reduce our waste, taking full control over what happens to it at its end-of-life.
0

tonnes
product handmade in UK
Generating 1,343 tonnes of solid waste, 188kg for every tonne of product we make. 75% is recycled either through a closed or open loop. The remaining 47kg of residual waste is largely disposed of via waste to energy, 1.3% of total waste makes its way to landfill.
None of our UK manufacturing waste is exported outside of the UK, our recycling rate reflects true recycling, we ensure materials do not end up in an illegal dump on the other side of the world.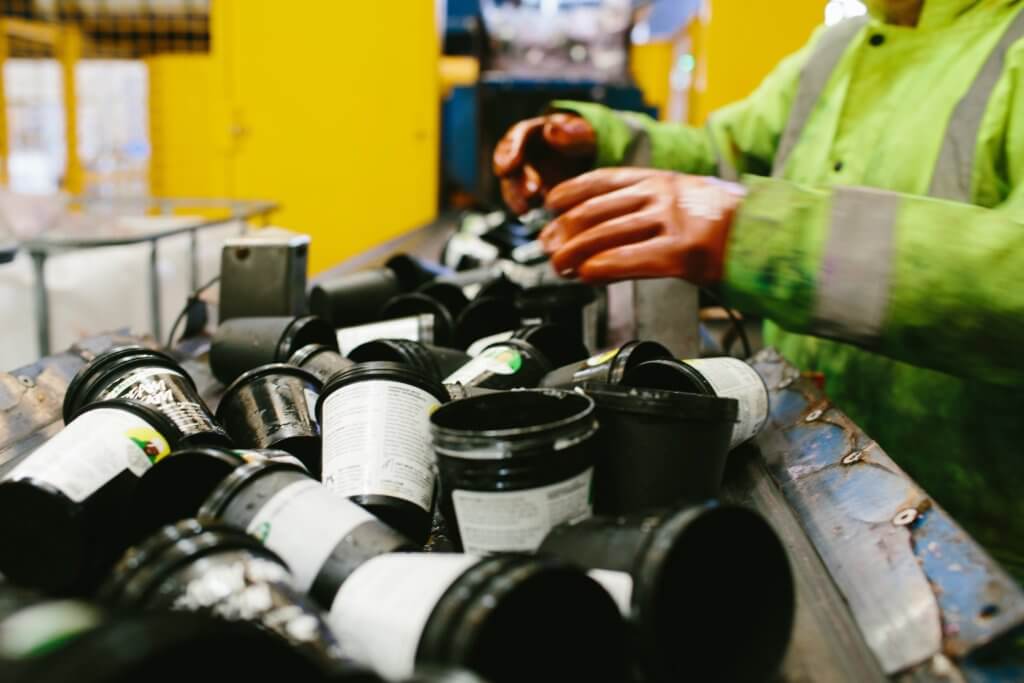 0

%
Greenhub recycling rate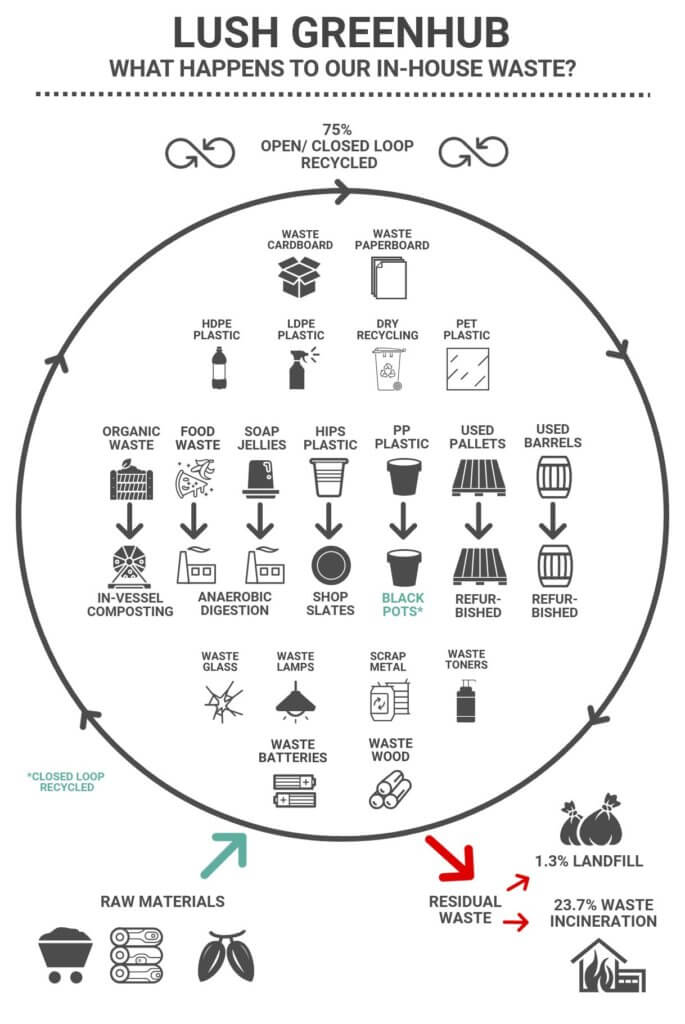 Case study: INITIATIVES FROM THE GREENHUB
There are many initiatives to help move us towards this path of zero waste. Below are a few examples of some of the initiatives put in place whether it be to reduce or close the loop on waste from our office or manufacturing spaces.
Slates and combs
Slates for the hair lab and skincare demonstrations as well as combs used in the hair labs have been developed in house using our HIPS material from used soap moulds. This has been a fantastic way of us closing the loop on our own waste and giving it a new life within our shops. These 100% from recycled slates replace the previous slates that we bought coming from the slate mining industry.
Spa towel waste
To help reduce our reliance on single use paper towels in both our manufacturing units and offices, plus reduce waste from towels that are no longer fit for purpose for use in our spa, we started introducing upcycled reusable cloths made from our own ex spa towels in a number of our office rooms and manufacturing units.
Steel and glass containers 
In another one of our manufacturing units we swapped out the use of plastic containers which in practice didn't always have the best re-usability rates (leading to unnecessary waste if the containers became too contaminated and no longer fit for purpose) for a mixture of both stainless steel and glass containers which are much easier to clean and can be reused indefinitely.
In retail: Property, store design and everyday steps to zero waste
Zero waste from a retail perspective is two fold: one, what are we doing from a retail property development & store design perspective to help minimise the amount of waste created (which we will be taking a look at first), and; two, what are we doing in the day-to-day running of our shops to try and reduce our waste footprint and move towards zero waste.
In the spotlight: Liverpool shop fit and spa**
56% Items recyclable at end of life – 1/3 of which from 100% reclaimed/ recycled sources
72% Items reusable at end of life – With 23% of suppliers offering a take back scheme
94% Items from recycled sources – With the remaining 6% as items that are able to be recycled
5% or less of waste sent to landfill, certified
**from a sample size the 55 items of which data was available for
STORE DESIGN SOLUTIONS TO LESS WASTE
Given that the construction industry is one of the biggest polluters here in the UK, with lots of store refits, relocations and even new store openings (especially given that our UK team help with a lot of our international projects too) emphasis is put on fitting stores with materials that can either be reused or have good schemes come end-of-life to keep waste to a minimum.
Acrylic sundries and shelves 
Amari plastics create a 100% recycled content acrylic called Greencast acrylic. There is no waste from production as all waste is reintroduced to the process. he factory recovers heat from their production processes which has allowed them to reduce their gas consumption by 80%. Amari also offer a closed loop scheme to take back any excess or scrap which they put back into production.
Engineered oak spa flooring
Kahrs were the first company to use a glue free locking technique meaning the floors can be reused again and again, plus are carbon positive with 5 trees planted for every 1 tree harvested. The waste wood is used to power their factories, whilst providing energy to over 6,000 homes. The residual ash is returned to the forest as a natural fertiliser. Kahrs also work on a local biodiversity project, reintroducing the threatened stag beetle back to the Danish forests.
Forbo Marmoleum flooring
 Forbo use 97% natural raw materials of which 72% are rapidly renewable and 43% come from recycled content in manufacture of their marmoleum floors. Forbo collect waste offcuts stemming from installation and recycle them back into the production process. The Marmoleum flooring is also certified CO2 neutral and has a low volatile organic compound content.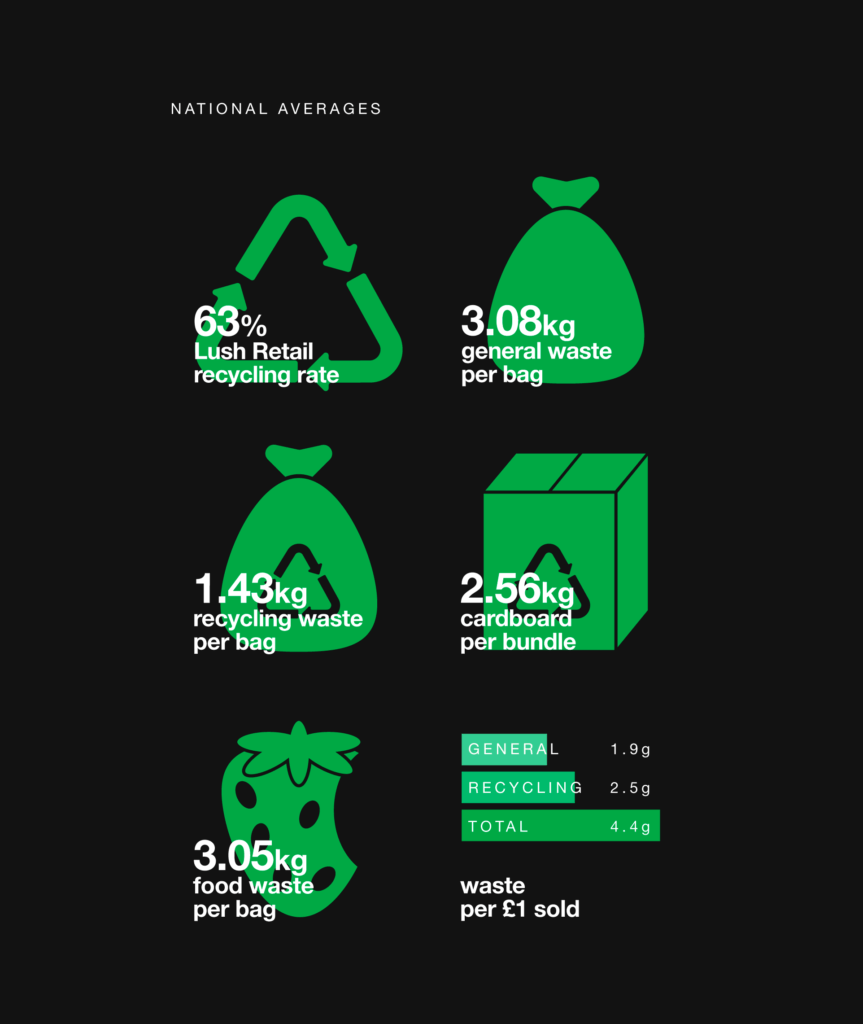 REDUCING EVERYDAY SHOP WASTE
During the summer we asked each UK & Ireland shop to weigh their waste as part of our 'Weigh the Waste Week' initiative'. In total we asked shops to do this for a period of 7 days (of which 92% took part) as a first step in gathering some form of meaningful data around the issue of waste disposal, and in turn allow us to assess our biggest areas of waste and strategise ways we can improve. See the stats above.
Over the course of the year many of our shops were involved in various initiatives to raise awareness about the problems associated with waste pollution aside from what is already done by encouraging packaging returns, promoting our naked ranges and preventing wasted stock with charitable donations. Read below for one of our most inspiring stories of the year.
Brighton Pride clean up collaboration
Collaborating with other green groups and businesses in Brighton such as Brighton Pride, Pier2Pier, Surfers Against Sewage, Brighton Watersports and Bird and Blend Tea Lush helped to organise the largest beach clean Brighton has ever seen!
A drop in the ocean
Lush Brighton also collaborated with A Drop In The Ocean run by Irene, a local artist, who uses beach trash to make works of art! Through the collection of bottle tops from the local community, Irene created rainbow strings to hang in Lush Brighton's window in support of the Brighton Pride celebrations but also to raise awareness around excess waste and unnecessary packaging. The strings themselves were created in the store, where customers were invited to get involved and have also recently been used to make a chandelier in Lush Brighton's local library which has continued to promote the stores involvement around the conversation of waste within their local community.
Lush Digital : Tech innovations to reduce waste
HOW LUSH LENS HELPS TO REDUCE WASTE
With a focus on in-house created technological innovations, our Tech Warriors digital team here at Lush created Lush Lens: a feature on our Lush Labs App (which can be downloaded on iPhone or Android) giving customers the power to scan naked products on their phones in order to reveal information about that product that you would typically find on physical packaging (like usage, ingredients, etc.).
Water and paper towels
For products like bath bombs which we frequently demo in our retail spaces uses sinks & big bowls filled with water, Lush Lens can take place showcasing pre recorded videos and images of what the product looks like in use. This in turn also creates less tissue waste with customers longer needing to dry their hands after a product demo.
Signage and packaging
Lush Lens also does away with the need for signage detailing the price of a product along with, as mentioned above, the need for physical packaging detailing information about a product as all this can be found out by simply scanning the product in question using the Lush Lens feature on the digitally downloadable Lush Labs mobile application.
Our approach is to develop electronic hardware purchasing materials that closely match our view on ethical buying, or use suppliers with similar values. We also value tech and hardware that is both long lasting and tech that can be easily repaired in-house – in turn reducing the amount of e-waste created in the long run.
In house till system 
After early initials trials in 2018, we rolled out a brand new till system to all our UK & I stores. A till system that no only allows for digital receipts (which our previous systems did not allow for – saving unnecessary waste for customers who would prefer having their receipts sent to their email) but also a system which is powered by 100% renewable energy saving on the more hidden forms of waste that stem from using fossil fuel based energy.
Ethical phones
As mentioned above, where we don't make our own hardware, like phones for example, we try to use suppliers that are working towards or align with our ethics. One such phone company which goes above and beyond in aligning with our ethics is Fairphone: a social enterprise company which aims to develop smartphones that are designed and produced with minimal environmental impact and with the people making the conditions kept in mind too.
Digital signage and e-ink 
With the opening of Lush Shinjuku , the first shop to use the previously mentioned Lush Lens feature on our Lush Labs app, R&D from our Tech Warriors team also led to our typical signage being replaced with video screen based signage prototyping the use of e-ink for a lower powered and less wasteful screen for the future.
Campaigns : For less plastic and more action
ROWENA'S #PLASTICGRAB
Across the year we launched a number of initiatives both internally and externally directly addressing the concept of zero waste the most notable of which being the ongoing 'Rowena's #PlasticGrab' which started during FY18/19 and something set to finish in FY19/20. Sparked by an initial personal goal of Rowena Bird, Co-Founder of Lush, of wanting to pick up 1 tonne of plastic by her 60th birthday, we decided to set a group goal of picking up 60 tonnes and launched the aforementioned internal campaign: Rowena's #PlasticGrab.
With over 275 entries and close to 30 tonnes of legacy waste removed from public spaces to date, there have been lots of inspiring stories coming out of the Rowena's #PlasticGrab campaign. From collaborations with other charities to Lush staff organised cleans with NGO's, despite the idea starting in the UK, this campaign has had great engagement from staff members all over the world.
Phillippines beach clean 
In November Rowena visited the Phillippines to support them in their plight to clean up the Las Pinas-Paranaque Critical Habitat & EcoTourism Area, in association with local NGO The Haribon Foundation. Local media and influencers were invited to join the beach clean, along with staff, in an attempt to raise awareness of the fact that the Philippines are the 3rd largest contributor to the Great Pacific Garbage Patch, and it was one of the initial clean ups that led to the idea of Rowena's #Plastic Grab litter pick campaign.
Island Mljet beach clean 
Organised by our manufacturing team in Lush Crotia, the Island Mljet beach clean is our biggest #PlasticGrab clean to date. 1218 kg of garbage, including 114 kg worth of plastics, was picked up along with 12 tonnes worth of car wreckage and 800kg of dumped heavy metal waste with the help of the NGO Zelene Stope
2 minute foundation
To give our #PlasticGrab internal campaign more of a public front, we launched a collaboration with 2 Minute Foundation purchasing 6 of their #2MinuteStreetCleanBoards and putting them all over the UK from Scotland to Wales and even down to Brighton, England. We also have some extra boards which we use to organise litter picks at big events.
Lush Giving : Donations as a way to reduce waste
Due to the nature of our freshness policy it sometimes leaves us with products that cannot be sold. However, to respect the time and energy gone into these products – which are still perfectly usable – we ensure that they are donated to great causes knowing that they will be given directly to people that deserve an act of kindness. This is also the same process for any packaging and tech that may no longer be of use as a way of, again, respecting the time & energy gone into creating these items but also in order to help minimise our footprint when it comes to waste.
NoPlasticApp
Hosted by World Peace Now, we helped to fund the creation of an open source, free smartphone app to enable consumers to campaign against over packaging while they shop, by scanning barcodes and emailing companies directly. The email is a template and may contain a message like "I wanted to buy your product today, but I didn't because it has plastic packaging. Please change your packaging". NoPlasticApp also shares other plastic campaigns, news, solutions and plastic-free alternatives.
Plogolution
Plogolution is a 'plogging' (litter picking whilst jogging/walking) group which arranges regular public 'plogs' across London, plus run 'plogging' clubs in schools also in London but wish to take both of these initiatives nationwide. Their school initiative includes an educational aspect in the form of an assembly to spread the word on the environment and ways to live more sustainably before introducing them to the 'plogging' clubs and getting them involved physically.
OxUnboxed
OxUnboxed is a packaging-free refill shop with pop-ups all over Oxford, selling bulk foods and house-hold goods as well as other zero-waste items while hosting collection boxes for items that are hard to recycle. As well as the above, OxUnboxed also do a lot campaigning and educational outreach around plastic in their local community which is what we helped to fund.
Lush Community: How our customers can help
Given the problems that surround general household waste disposal in kerbside recycling programs across the UK – especially when it comes to that of black plastic – we have a few initiatives here at Lush set up to help empower customers to increase the likelihood of their waste being dealt with in the best way possible.
As long as we are using black PP packaging, we are recycling your returns, so please save them up and head to your nearest Lush shop when they're empty. And despite the black & clear pots being the only packaging we sell that can go back into our very own closed-loop recycling system, here is a handy little guide on what can be done with all your packaging.
0

k
Black pots returned - thank you!
GOALS FOR THE FUTURE
As a business we are continually striving to improve our impact and moving towards zero waste is a key focus within that process. For FY19/20 we want to really push for zero waste to be a core principle in every aspect of our value chain: all the way from from the Lab to the #LushCommunity as documented throughout the entirety of this report. Furthermore, though we know it's unlikely we'll get to a point where we produce no waste whatsoever, by trying to embed the principles of zero waste in our everyday operations we hope it will allow us to continually reduce our waste footprint and ensure we are not creating waste needlessly.
FOR US, ZERO WASTE IS PUSHING FOR SOLUTIONS THAT GENERATE NO WASTE TO LANDFILL OR WASTE TO ENERGY WITH REUSABLE ITEMS BEING PRIORITISED FIRST, AND RECYCLING REGARDED AS A LAST RESORT.
FY 2019/2020 VISION
Making zero waste happen is going to be about achieving this as a community with each and every staff member, and even customers (as talked about in our #LushCommunity section of this report), playing a part in helping us improve. We all have to be on board.
Further reading
 →
Hold Water Sacred