How we work
We want Lush to be a great place to work for everyone
Our structure
At Lush, we believe in providing local jobs (at a fair wage) to buying goods and services (at a fair price), paying our taxes, buying direct from smaller suppliers, giving to charities and speaking out for change on issues we care about in the world.
Joining Lush is a bit like joining an ecosystem of diverse ideas and people. We're not structured in a traditional way, a lot of people don't have an official job title and take on lots of roles, and that's how we flourish. People progress via the connections they make. The more people you work with, collaborate with, support and are supported by, the more integral you become.
A few years ago we began to talk about mycelium as a way to describe how we are organised. Mycelium, for those who don't know, is an underground network of fungi. Recently it has been discovered that they actually act as a 'wood wide web' for the forest – nature's internet. A connected network of cooperation.
And it's this pattern that we all recognised as being similar to how we work. In that way Lush is a family and it is a family who care for each other. We want each of us to succeed and to be able to enjoy the same benefits. Benefits such as a Living Wage, freedom of movement and a share in the business we all work so hard for. Really it has become the fungus among us…
our staff
Diversify our future We are building a brand that represents the people of the world. It's what you do that counts, and we are always looking to expand perspectives and voices to shape our future. We see you, we celebrate you, we want you!
Who we are You might know us as the inventors of the bath bomb, but there's more to this great-smelling, privately-owned and family-run company than pioneering cosmetics. We believe our business should put more back into the world than it takes and demonstrate that capitalism can be a force for good. We fight cruel practices like animal testing, promote regeneration, and show that what's inside counts – whether that's an ingredient in a product, or the minerals in a smartphone.
What's it like working for Lush People are at the heart of our business. We want you to enjoy and challenge yourself, build a career, and teach us what we don't know, so we've created a culture where your job description is a starting point, not an end goal. Our working style is flexible, fluid, supportive, and authentic – if you've got the drive to push yourself and try different things, you will have our support.
There are lots of different functions and types of work at Lush – from handmade manufacturing to retail roles, and every support job imaginable. Here's a few of the benefits you can expect from working at Lush…
We pay all of our permanent employees the real Living Wage irrespective of age. This is an independently calculated rate of pay based upon a basket of items that measures what people need to earn as opposed to the government's minimum rate of pay for over 25 year olds (currently £8.21ph). The Living Wage Foundations' statement that 'a hard day's work deserves a fair day's pay' is one that we are proud to commit to, recognising everyone's hard work and sharing the success of the business. The Living Wage is announced each November and implemented into the business by the following April.
You can read more about the Living Wage here.
Everyone is on a bonus scheme The eligibility to earn a bonus is a cornerstone of Lush, ensuring that everyone who works with us has the opportunity to go above and beyond and be recognised for their contribution.
Bonus Structure
Retail Bonus in our retail stores are focused on increasing sales vs last year. Bonus is awarded for achieving targets up to a maximum payout of 50% of pay.
Manufacturing Linked to production KPIs and paid as a team or based on individual output dependant on the manufacturing department.
Digital and Central Support Teams An annual bonus scheme that pays out when the company achieves forecasted profit.
Ad hoc bonuses are also awarded spontaneously throughout the year linked to our 'We Believe' statement or 'Secret Cosmetic Masterplan'. In addition, there is a Christmas bonus paid in December.
Enhanced Holiday 25 days as standard (+ bank holidays) in our support teams. 
Increasing holiday from 20 to 25 (plus bank holidays) depending on length of service and position in retail and manufacturing.
Holiday Purchase The option to purchase an extra weeks holiday if you work in our central support teams.
Cycle to Work Scheme Purchase a bike and spread the cost over a year; you'll also save around 25% (depending on your tax bracket).
Cycle to Work Accessories Buy a bike through the cycle to work scheme and we'll give you free accessories up to 10% of the value of the bike.
Employee Assistance Programme Provided through Health Assured including 6 counselling sessions.
Company Sick Pay Enhanced sick pay dependent on your role.
Eye Test Vouchers Free eye test vouchers where your role requires.
We pay full Parental pay up to 26 weeks for the primary carer, and offer £6,182 annual allowance to help with childcare fees when returning to work full time.
Here's a few of the other benefits our staff can receive:
50% staff discount
Birthday off
Cycle to work scheme
4% contribution to an ethical pension scheme
And much more
10% Employee owned since 2017
Lush are also proud to be part Employee Owned through our EBT scheme.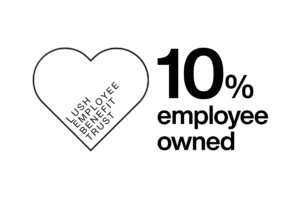 Employee benefit trust
Our employees have the power to influence the future of the business, find out more about the Employee Benefit Trust
9500
Lush employed staff globally