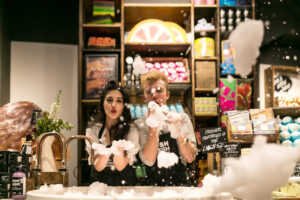 vacancy
Seasonal Supervisor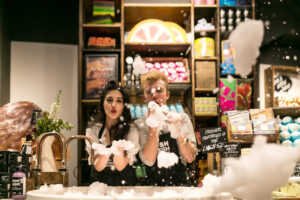 Location: Prague
Salary: Competitive
Benefits: 50% staff discount
Duration: 4 months
Diversify our future 
We are building a brand that represents the people of the world. It's what you do that counts, and we are always looking to expand perspectives and voices to shape our future.
We see you, we celebrate you, we want you!
Who we are
You might know us as the inventors of the bath bomb, but there's more to this great-smelling, partly employee owned, family-run company than pioneering cosmetics. We believe our business should put more back into the world than it takes and demonstrate that capitalism can be a force for good. We put our people first and fight cruel practices like animal testing, promote regeneration, and show that it is what's inside that counts – whether that's an ingredient in a product, or the minerals in a smartphone.
Are you?
Flexible with time, available to work any day of the week including Saturday or Sunday*.
Able to work as late as 10pm on occasion when needed for training, merchandising or stocktake. Or start as early as 8.15am when opening the store.
Someone who enjoys spending your day helping elevate others.
Excited about retail and customer service.
Interested in our ethics as well as our products.
Can you?
Confidently support team members with honest conversations to help their performance and development.
Communicate effectively, remembering important details and sharing with the right people at the right times.
Be professional and maintain a healthy work life balance.
Be creative and confident in achieving targets or planning projects.
Encourage our stores desired culture of constant learning, making sure all team members are equally invested in.
Be confident and use the resources you are given.
Use a growth mindset and positivity to focus on achieving our goals.
Consistently maintain your focus to help us achieve high productivity across all areas of our business.
You would:
Become an expert in our products and company.
Organise events in and outside our store and build on our existing party/workshop sales.
Become confident in our procedures, including: Cash Handling, Stock Control, People Management and Health & Safety.
Help us to grow our relationships with our local community.
Be able to direct our team on the shop floor to a high standard, ensuring 5* experience for our customers and the team.
Build links with local charities and be passionate about our campaigns.
How to apply
In order to apply for this role please send us your CV and a short motivational letter to hanka@lush.cz detailing:
Why you think our company is the right fit for you
How you would add value to our management team
A bit about who you are and what you are passionate about
Any details about any previous supervisory or leadership experience
Any other information you would like us to know
Important dates:
Deadline for application: Midnight on Sunday 20th August 2023
1st stage: group interview 25/8/23
2nd stage (if successful): one to one interview and time working on our shopfloor 2 hours max 28-29/8/23
Start date: negotiable, ideally 4/9/23
End date: 7/1/24

What's it like working for Lush
People are at the heart of our business. We want you to enjoy and challenge yourself, build a career, and teach us what we don't know, so we've created a culture where your job description is a starting point, not an end goal. Our working style is flexible, fluid, supportive, and authentic – if you've got the drive to push yourself and try different things, you will have our support.

You can find more information here – www.weare.lush.com
Employee perks:
25 days holiday allowance
50% discount on Lush products and spa treatments
Discretionary and profit-based bonus
Day off for weekday birthdays
Multisport card
Employee assistance programme
Flexible working
Refreshments available for staff in the BOH
*please note some of these benefits are based on length of service As we pride ourselves on internal development, priority will be given to candidates who have an in-depth knowledge of Lush, coupled with the relevant experience, skills and approaches.