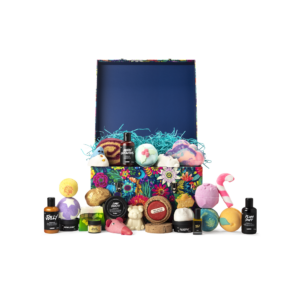 The Lush Advent Calendar 2021
is here!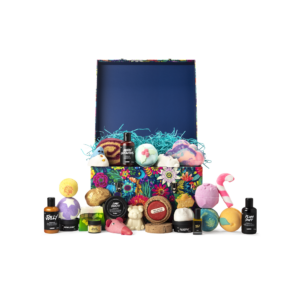 Available online from 26th August and in Lush shops from 23rd September
Reusable and recyclable packaging
25 vegan products – featuring a combination of products from different ranges including best sellers, exclusive retro products and gift exclusive products
On Thursday 26th August Lush will launch their Advent Calendar (£185) for Christmas 2021 online and in Lush shops nationwide from 23rd September. This will be the first time the Lush Advent Calendar will be available to buy in shops.
Beautifully presented in a reusable trunk made from 100% recycled materials, each Lush Advent Calendar contains 25 vegan products to discover and use every day and night in the lead up to Christmas day. Including 4 retro products from Lush Christmas past and 6 products that are exclusively available in the Lush Advent Calendar.
Inspired by a magical midnight wonderland, the Lush Advent Calendars elegant artwork design was created by London based designer, Sally Kelly. Sally has previously worked on new gift designs for Lush, everything she turns her hand to is distinguished by her free-flowing linework, exquisite sense of colour and richly appreciative eye for detail.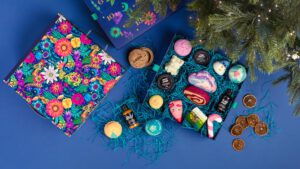 Lush Advent Calendar 2021 (£185) 
Gift includes: Kris Mouse bubble bar*, Sleepy Bath bomb*, Merry Christmas Shower gel*, Jolly Shower Gel, Plum Duff Shower gel, Sleepy bear bath bomb, Orange Pop bath bomb, Twilight bath bomb, Candy Cane reusable bubble, Cinnamon roll bubble bar, Sleepy bubble bar, Golden Pineapple lip scrub, Polar Bear Soap, Baked Alaska Soap, Lime bounty body butter, New Shampoo Bar with cork pot, Golden pear body scrub, Dream Cream body lotion, Cinders Bath bomb**, Thundersnow Bath bomb**, Christmas Penguin bubble bar**, North Pole bubble bar, Hey Hollywood Bath Bomb, Sleepy Body lotion and Keep it Fluffy Perfume**
* Gift Exclusive product 
**Retro product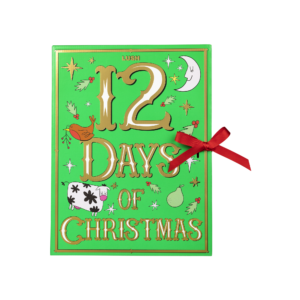 An alternative to the Lush Advent Calendar…
Those looking for an alternative to the Lush Advent Calendar can also shop the 12 Days of Christmas gift (£75.00) for a fun and festive Christmas countdown. Featuring 12 products especially selected to bring you joy in the lead up to the big day, the 12 Days of Christmas gift will be available online from 22nd September and in Lush shops nationwide from 23rd September.
The Lush gifts team always strives to introduce the most environmental materials…
Did you know that as much thought goes into where the packaging of your Lush gift boxes is sourced as the ingredients inside? The reusable Advent Calendar case is constructed and finished by hand using 100% recycled cardboard. The case also features ribbons made 100% from recycled drinks bottles. 
To reuse packaging, simply remove the layers from within the case once the countdown to Christmas is complete. The metal clasps will then fix the lid into place and the handles on the side allow you to use the case like a luggage trunk.
To keep up to date and be the first to know about further exciting Christmas product announcements, customers can subscribe to the Lush Newsletter. 
For further information on the Lush Advent Calendar, please email [email protected]
About Lush Gifts
When you buy a Lush gift, you're having a positive impact on the world – you're saying no to excess single-use plastic; you're supporting communities and artisans who've made the Knot Wraps, ribbons, and natural papers; you're buying products with beautiful ingredients that regenerate social and eco-systems. 
Large or small, each Lush gift is carefully thought out and crafted, from the handmade treats nestled inside, to the final tie of the ribbon. It's Lush's hope that by paying so much attention to every aspect from box to bath, the lucky recipient has extra incentive to keep the boxes, reuse the wrapping paper or upcycle the ribbons.