"There's nothing quite like it"
LUSH's sustainable and waterproof Bath Bot set to launch in time for Christmas
In time for Christmas, Lush is set to launch Bath Bot (think of it as a digital bath bomb) a first for the cosmetics brand, offering a consumer facing home technology product. Customers can pre-order now via the Lush app. 
Lush is well known for its innovations in bathing, from inventing the bath bomb in 1989 with global best sellers to now, with the Bath Bot elevating the bathing and wellbeing experience.
The product also offers a solution to some of the issues of the current consumer tech market. Manufactured in the UK, Lush's Bath Bot is sustainable, vegan and waterproof without the use of animal-derived glue. Although the Bath Bot is a bathing accompaniment for life, the components aren't glued so could be disassembled if required and reassembled by Lush for future use.
Lush's Chief Digital Officer, Jack Constantine, says the glueless design and sustainability of Bath Bot means "the product is an industry first, there's nothing else quite like it."
"At Lush, we believe in making immersive, handmade products and that same ethos is carried into our first tech product, Bath Bot. With Bath Bot and the Lushapp, our goal is to use tech for good – for unique and sensory-transformational experiences. Unlike other artificial bots that manipulate or frustrate you, Lush Bath Bot is likeable and honest". 
The world's first Bath Bot from Lush is playful, creative and pioneering how tech can enhance our everyday routines. 
LushBath Bot was invented, engineered and manufactured by the brand's in-house Tech & Digital teams in the UK over the course of five years. When paired with Bathe on the Lush app via Bluetooth and any of Lush's fresh, handmade bath bombs, the result is a highly personalised, sensory-transformational experience. 
Lush Bath Bot is a beautiful piece of design, identical in size and shape with Lush's iconic bath bomb and features a distinctive domed convex speaker for 180-degree sound and full-spectrum multidirectional lights that fill your bath and bathroom with a radiant light show.  
Fans of the Lush Spa offerings seeking similar sensory experiences at home will be mesmerised by the bubbling audio waterdance of tiny bubbles as they fizz across the floating speaker, and be hypnotised by the illuminating aquatic lightscape of spectacular colours (digital lavender, iced out pink, luscious red, emerald green, tranquil blue, sundial and verdigris).  

Incorporating a variety of experiences incorporating unique playlists and cult-favourite, this Lush product ushers in a new era of bathing.  
Bathe: Designed to maximise the ultimate self care moments

Bathing just got way more entertaining with additional playlists on Lush 'Bathe', a feature of the Lush app. Create any mood to accompany your bathtime; whether you're picking your favourite bath bomb to generate a unique playlist that matches your chosen product, choosing between the different audio-visual experiences for transformational me-monets, or plunging into the first series of The Lush Sound Bath (Lush's own podcast hosted by Aja Monet). 
To elevate your tub time even further, Lush Spa music is available as a playlist, enabling users to lay back and enjoy a series of musical suites that draw deeply on both a love of folk music traditions and bird song. These tracks are specifically composed to accompany Lush Spa treatments, so this feature will enable users to bring the Lush Spa to their own bathroom.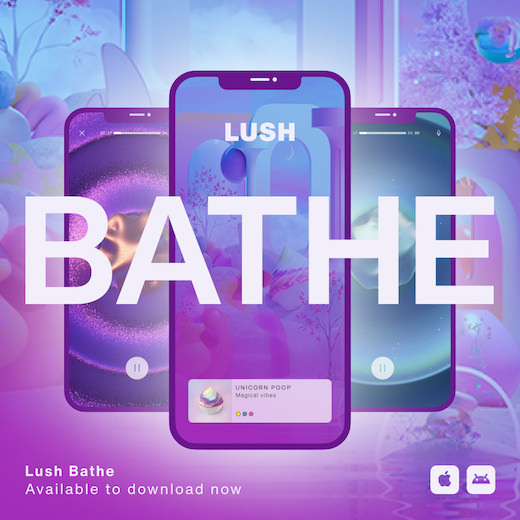 About Lush
Lush invents, manufactures and retails fresh handmade cosmetics, such as the fizzing bath bomb and solid shampoo bars. A beauty company with a campaigning heart, Lush is on a mission to create a product for every need and a cosmetic revolution to save the planet. The ultimate goal is to leave the world Lusher than we found it. Lush operates a strict policy against animal testing and is leading the cosmetics industry in combating over-packaging by developing products that can be sold 'naked' to the consumer. Today Lush operates in 48 countries with over 900 shops, 38 websites shipping worldwide and a global network of native apps and digital communities in over 30 languages.
About Lush Digital
When it comes to cosmetics, Lush is known to do things differently. Whether it's inventing new products that reduce unnecessary packaging, driving campaigns that reveal untold stories or raising the bar of what a retail experience can look and feel like, they are on a mission to leave the world Lusher than they found it. In essence, Lush aims to give more than it takes from society and the environment. And in a world where technology has become an essential part of every business, it is only natural that Lush drives best practices when it comes to digital ethics. As part of this passion to do things better, Jack Constantine – the son of Lush co-founders Mark and Mo Constantine – established Lush Digital; a cloud based, mobile-first technology infrastructure that supports the global business. Central to Lush Digital are its ethical policies, which represent a platinum standard that Lush aims to move iteratively closer to in each decision they make, they are guiding principles.
Lush further reinforces its leadership in digital ethics through its global Anti-Social policy – leaving popular social media channels due to their negative mental health impacts, including Instagram and TikTok, and developing authentic self care moments through other digital mediums.
For further information or interview opportunities, please contact [email protected]