Lush UK Carbon Impact, Comparison and Emissions Report
Impact Reports
We want to leave the world a Lusher place than we found it.
We want to Respond to the Climate Emergency and Become carbon positive.
This is a climate emergency.
How we choose to respond to it will define whether we continue to co-evolve with life, or not. At Lush, we have never been too keen on long-term targets, we believe we all know what needs doing – moving away from fossil fuels, using cleaner transport, protect and plant forests, divesting our money from climate destroying funds. All of that while keeping a viable business and customers happy. However, we all need to align ourselves to what science is telling us, going carbon positive is no longer a choice, it is an imperative. Ten years ago, we invested in 6,000 hectares in Peru of degraded forest, we have kicked out illegal loggers and maintained a team of people employed to protect the forest. We think that alone has made our main UK business carbon positive in the last ten years, but we don't want to engage in creative carbon accounting.
We want instead to focus on the long horizon of becoming truly carbon positive, no offsets allowed.
0

years
likely Carbon Positive (UK)
A SNAPSHOT OF OUR IMPACTS
In our direct operations, our biggest contribution to climate change is the movement of goods and people, 68% of total. Two suppliers (bicarb & citric acid) make up 33% of inward freight emissions.
Where we can choose the supplier (88% of the sites), 100% of the electricity and gas we use is with Ecotricity. If we were to use Ecotricity's own published data of the CO2eq impact of their electrical production, our emissions from electricity would be 34 tonnes. Instead we report 2251 tonnes of CO2eq as we use the national grid coefficients.
We are working on calculating our emissions from our very complex supply chain. Greenhouse gas emissions from the supply chain are still a big unknown, but we estimate it to be at least six times that of our operations. To give some perspective, just the carbon impact of card and paper alone (6437 tonnes of CO2eq) we buy in the UK, is nearly the same as ALL of our transport emissions combined. (6464 tCO2eq).
The estimated annual capacity to sequester carbon dioxide from Peru and the land we helped to buy in Sumatra is eight times the carbon footprint of UK direct operations, excluding supply chain.
Lush UK Carbon Comparison
The following image shows Carbon sinks in tropical lands vs carbon emissions Lush UK in tonnes of CO2eq.
Lush Peru Second Growth 6,000 hectares (67,200 tCO2eq)
Sumatra II Reforestation 300 hectares (7,080 tCO2eq)
Sumatra I  Agroforestry 50 hectares (310 tCO2eq)
Sumatra I  Reforestation 50 hectares (1,180 tCO2eq)
vs
Lush UK (Excluding Supply Chain) (9,530 tCO2eq)
This is uncertified and we are constantly looking to check these figures.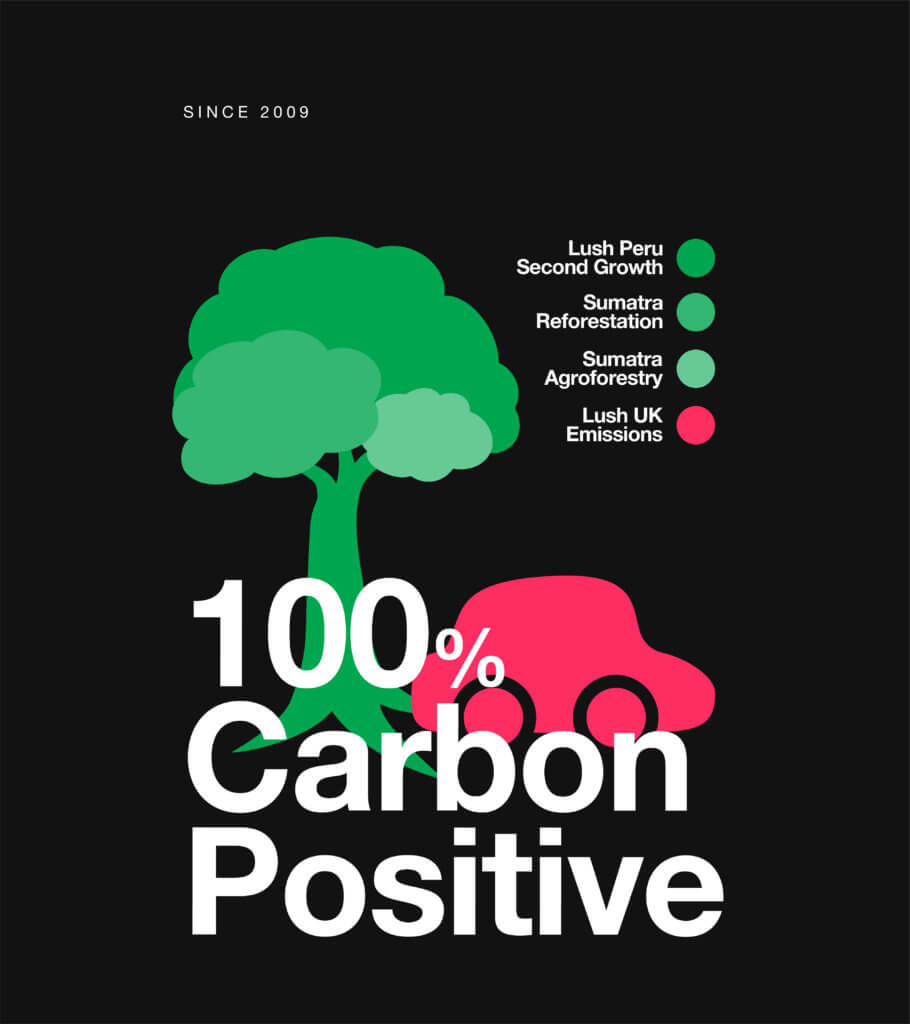 Lush's Energy
Across the UK, we have approximately 88% of our estate supplied by Ecotricity's fully renewable electricity and 94% of our estate with Ecotricity's frack-free gas supply. Why not use Ecotricity energy across 100% of our estates in the UK? Unfortunately, there are some properties where we are unable to choose our energy supplier. However, this situation is constantly monitored and we hope to continue building our business on truly renewable energy for the future.
Lush has proudly been supplied by Ecotricity for over 10 years. We consume 3% of their annual generation from wind farms directly controlled by Ecotricity. For the properties utilising Ecotricity's 100% renewable energy, we can record an emissions coefficient of 6g CO2/kWh compared to the National Grid's 253gCO2/kWh. This means we can celebrate renewable energy dropping our operational emissions by 1,365 tonnes for FY20/21.
Lush are excited to be supporting the evolution of renewable energy for Britain. Additionally, Ecotricity offer a £70 Lush voucher (£35 per fuel) to all Lush customers when switching to their energy, which you can learn more about here.
Whilst our Republic of Ireland & N Ireland properties are on a green tariff with SSE Airtricity, the tariff is only 34% renewable due to the generation infrastructure available to suppliers in Ireland. Many shopping centres, train stations and private estate properties don't allow us to choose a supplier and for this reason, we can't select a green/renewable energy tariff for them.
Around the rest of the Lush world, our factories and shops in Japan, Australia and Germany, also purchase green electricity (where we are able to choose the supplier). In Lush North America, we buy renewable energy credits for 100% of retail electricity use and 60% of manufacturing, while we work on the rest. In Germany, we buy Greenpeace's electricity and wind gas, a new technology that uses surplus wind power to create methane (natural gas)! In Croatia, we have solar hot water panels on the roof of our manufacturing site that greatly reduce their gas usage.
In Japan, the supply is 65% from renewable energy. Whilst it would be possible to purchase 100% renewable energy in Japan, this would need to be supplied by the company involved in the Fukushima disaster, so we do not believe this is the correct partnership for Lush.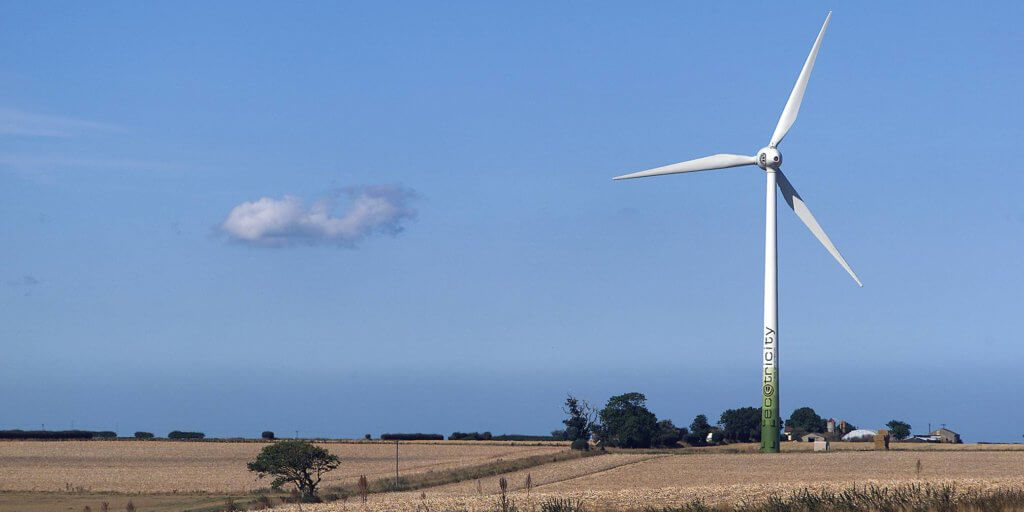 Introducing Electra, Lush's new bus!
Lush have announced that they will be using an electric bus to replace all of their taxi journeys in Poole, UK.
By switching to an electric vehicle Lush will be stopping around 8 tonnes of carbon from being emitted in Poole each year. It would take 3 acres of mature forest to sequester this amount of carbon!
The Lush team have fondly named the bus, Electra and it will eliminate around 10-20 car journeys a day.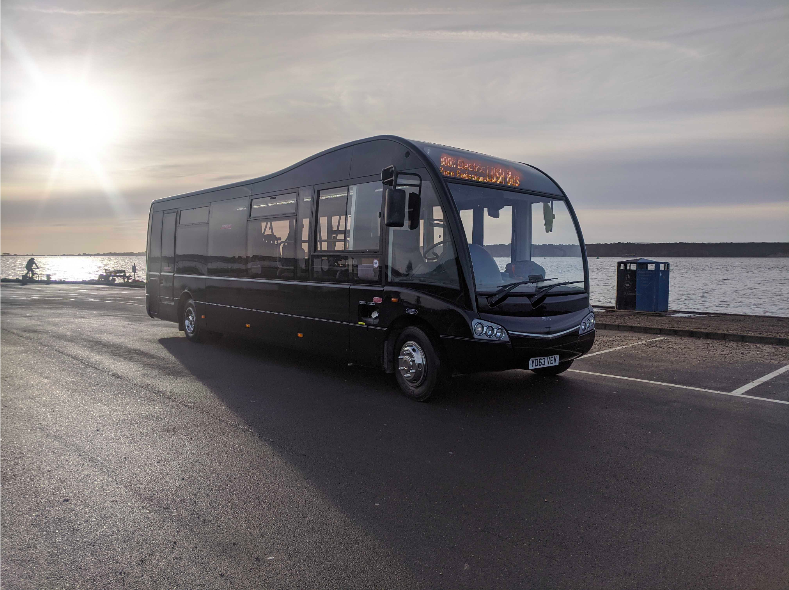 Cork Pots: Carbon Postive Packaging
After a full carbon study was carried out, the Carbon Trust have officially verified that our cork pots are sequestering carbon dioxide, making them Lush's first Carbon Positive pieces of Packaging!
Circular
Not only are our cork pots reusable but they are also biodegradable and fully compostable at end of life too.
Carbon Postive
1.2kg of CO2e removed from the atmosphere for every 35g cork pot sold, the equivalent weight of over 33 individual pots!
Regenerative
20,000 native trees planted in the first year of production directly supporting the wider regeneration of Cork Oak Forests in Alentejo, Portugal.
Minimally processed
No adhesives, harvested cork is simply boiled and shaped ready to house our solid shampoo bars.
Responsibly harvested
It takes 50 years of growth before the oak tree produces the right quality of bark for our cork pots, the harvest then follows a 9 year rotation thereafter.
Zero Deforestation goals
In order to achieve our climate emergency goals, we must ensure that there is no deforestation in our supply chain, quite the contrary, that we can actually achieve net afforestation through our purchasing practices. This work has four main paths:
Identifying which raw and processed materials may have high risk of deforestation in their supply chain.

Focusing on world's biodiversity hotspots, having local teams working on biodiverse growing techniques e.g. agroforestry, promoting alternative incomes which support local ecosystems.

Favour suppliers where we have traceability and can guarantee no deforestation. 

Work to reduce or replace materials for which we have less transparency, for example, the commitment to eradicate derivatives of palm. Working to diversify vegetable oil feedstocks to minimise risk and pressures on single Ecosystems.

Move towards regenerative solutions that can protect and restore forests, delivering positive impact rather than less bad trade offs. 

Utilise and purchase of non timber forest/ perennial ingredients where possible, protecting incomes generated from primary forests.
Here are a few examples of how we are working with forests in our supply chain:
Tonka beans, wild harvested from the Amazon 
Innovation around & purchase of palm free synthetics 

Vanilla, which requires forests for vertical growth

Sumatran Dark Patchouli, supporting the Leuser ecosystem 

Sierra Leone cocoa butter, on the boundary of the Gola rainforest 

Illipe butter, wild harvested from primary forests in Borneo

Retail fundraising campaign which purchased an old palm plantation & restored it back to forest/ agroforestry
Further reading
 →
Go Circular